Charles Rennie Mackintosh drawings sell in Edinburgh
A group of Charles Rennie Mackintosh (1868-1928) watercolours and drawings sold on behalf of the Glasgow Art Club excelled at Edinburgh auction house Lyon & Turnbull recently when they fetched over a total of £101,000.
The cache of seven works on paper, including four flower studies, had belonged to William Meldrum, Mackintosh's friend and fellow student at the Glasgow School of Art in the 1880s. They formed part of the 1933 Mackintosh memorial exhibition in the MacLellan Galleries on Glasgow's Sauchiehall Street and were gifted to the Glasgow Art Club in 1984. In short, they were appearing on the market for the very first time.
Mackintosh began creating pencil on paper flower sketches as far back as his student days in the 1880s. The 26 x 20cm pencil drawing 'Anemonie' is one such early example. He notes in the cartouche that the plant was found at Lamlash on Arran in 1893, pressed, and then sketched three years later in 1896. It was modestly estimated at £4,000-6,000 but sold for £37,700.
It was during a ten-month period in 1914-15, that Mackintosh – who had left his architectural practice in Glasgow under a cloud – created a celebrated series of botanical watercolour studies at Walberswick in Suffolk. One contemporary suggested Mackintosh produced them for a book commissioned by a German publisher (a project shelved after the outbreak of war) but it was also an opportunity to re-sharpen his artistic vision.
The 29cm x 22cm pencil and watercolour Lavender, Walberswick, 1915 is one of around 30-40 finished works painted at the tranquil coast village. The most detailed of the sketches offered, it was signed with both the artist's initials and also those of his wife Margaret Mackintosh, denoting, like a diary entry, that she was present when it was drawn. It too sold well above estimate at £37,700.
Elsewhere in the Design Since 1860 Sale other examples of Victorian and early 20th century decorative arts generated a total of £760,690.
Leading the line at £40,200, beating its estimate of £15,000-20,000, was one of a small handful of surviving cross-culture objects created by the architect-designer William Burges (1827-1881) for his own enjoyment. As inscribed to the gilt metal mount, this archaic Chinese gui-form jade censor later inlaid with coloured glass and gemstone cabochons was made for Burges with funds received from the completion of a commission in Scotland in 1870. The job was to design a stone reredos for the high altar of St Michael and All Saints Episcopal Church in Edinburgh – the only work he completed in the city.
This remarkable bowl was part of the furnishings at Burges' London home Tower House and later on loan to the National Museum of Wales from 1931 to 1953 was last sold at auction in 2013 for £18,500. It was recently part of the collection of the American musician John Gilbert Getty (1968-2020).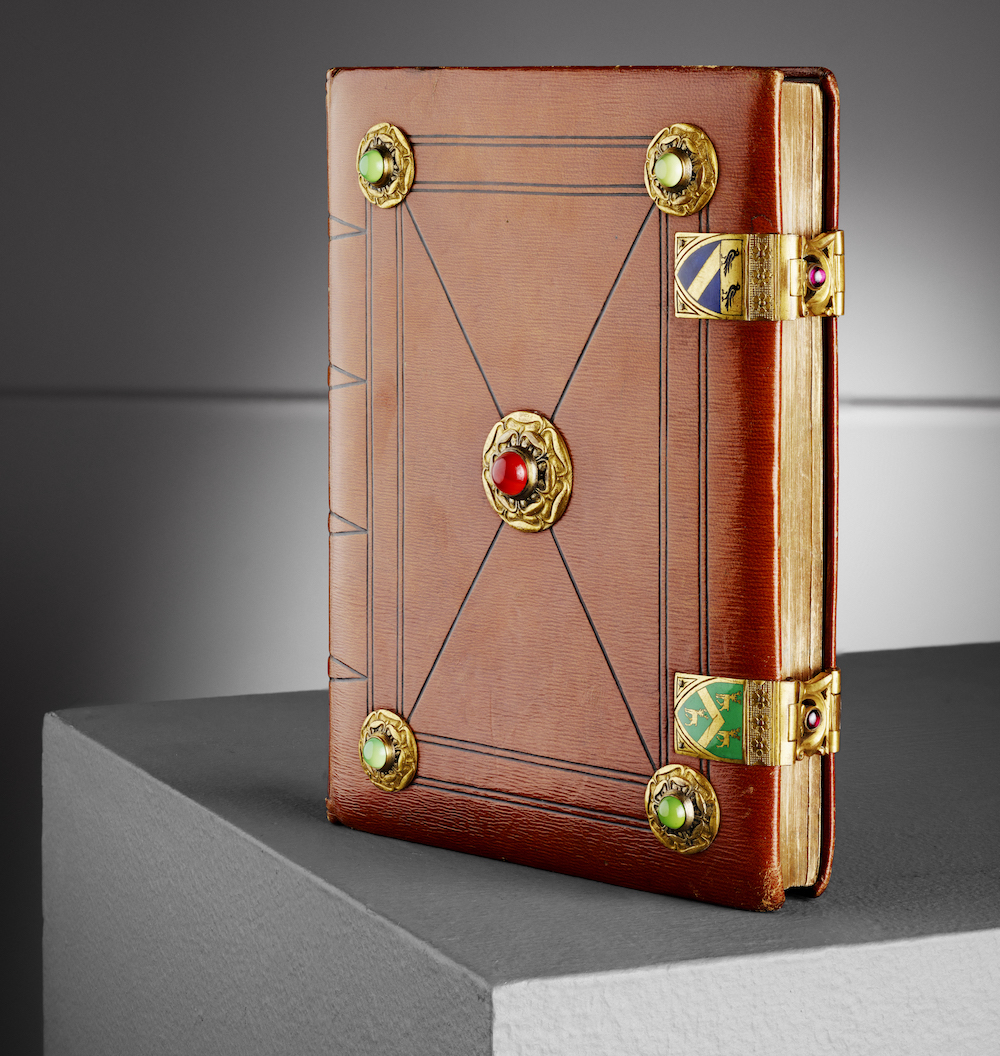 Another Burges design from the same source was a tooled leather book binding with enamelled and hardstone inlaid mounts by his favoured silversmith Jes Barkentin (c.1815-83). Sold at £8,316, this was part of the Burges commission for Lady Mary Vyner of Newby Hall, Yorkshire whose son Frederick Vyner (1847-1870) was kidnapped and later murdered by bandits while travelling in Greece. In his honour his mother and sister used the unspent ransom to commission two churches from Burges (The Church of St Mary, Studley Royal and The Church of Christ the Consoler, Skelton-on-Ure). The binding, that holds a copy of the 1871 Book of Common Prayer, mirrors some of the heraldry used in the decoration of the buildings. The original design is in the RIBA collection.
A lot combining two titans of Victorian design was a Morris & Co. stained, leaded and painted glass panel. The design featuring the apostle St Andrew is by Edward Burne-Jones and was first used in the 1870s but this window was part of a 1909 commission to glaze all the windows of a new chapel at Cheadle Royal Hospital near Manchester. The window, originally formed the left part of a three-light window, with St Matthew in the centre and St Peter on the right-hand side. It sold for £27,700.
Archibald Knox's work for Liberty & Co's Tudric range often drew on the rich cultural heritage of his native Isle of Man – his boldest designs for clocks taking their monumental and minimalist forms from the standing Celtic stones which populate the island's countryside.
Stripped of superfluous ornament, the much-admired model number 098 made in pewter and abalone shell dates from c.1902. It marries the two worlds which he valued deeply: the ancient Celtic tradition and the new and innovative aesthetics of the late Victorian period. The 37cm clock with a French movement is one of only a handful known although L&T have sold others in recent year. This one made and impressive £32,700.
A trio of high-quality French Art Deco lighting pieces were well received. Edgar Brandt's wrought iron and alabaster L'Elegance standard lamp similar to another exhibited at the 1925 Exposition in Paris sold at £15,120 while there were bids of £12,600 and £10,080 respectively for a hanging lamp and table lamp by Albert Cheuret (1884-1966). These two bronze and alabaster works, similar to others he showed in 1925 from a stall on the Alexandre III bridge close to the Expo, combine the clean lines of the Art Deco period and a taste of the Egyptomania that followed the discovery of Tutankhamun's tomb in 1922.
Head of Sale, John Mackie, commented: "The sale was a great start to our busy autumn design season, with new and established bidders from around the world competing for a broad range of design objects of wonderful quality."