Autographs by The Beatles could net windfall
A devastated schoolgirl Beatles fan who missed out on seeing the Fab Four in the 1960s was saved from despair by a Leicester taxi driver's random act of kindness. 
And now a piece of Beatles memorabilia he gave her 59 years ago because she was so upset  – the band's signatures penned on his business card – could net her an auction windfall.  
In 1963, Sandra Lambert (nee Gerrard) was 12 years old and immersed in the Beatlemania gripping the world. She was lost in fan adoration, soaking up every snippet of news, watching their films and playing their records – over and over.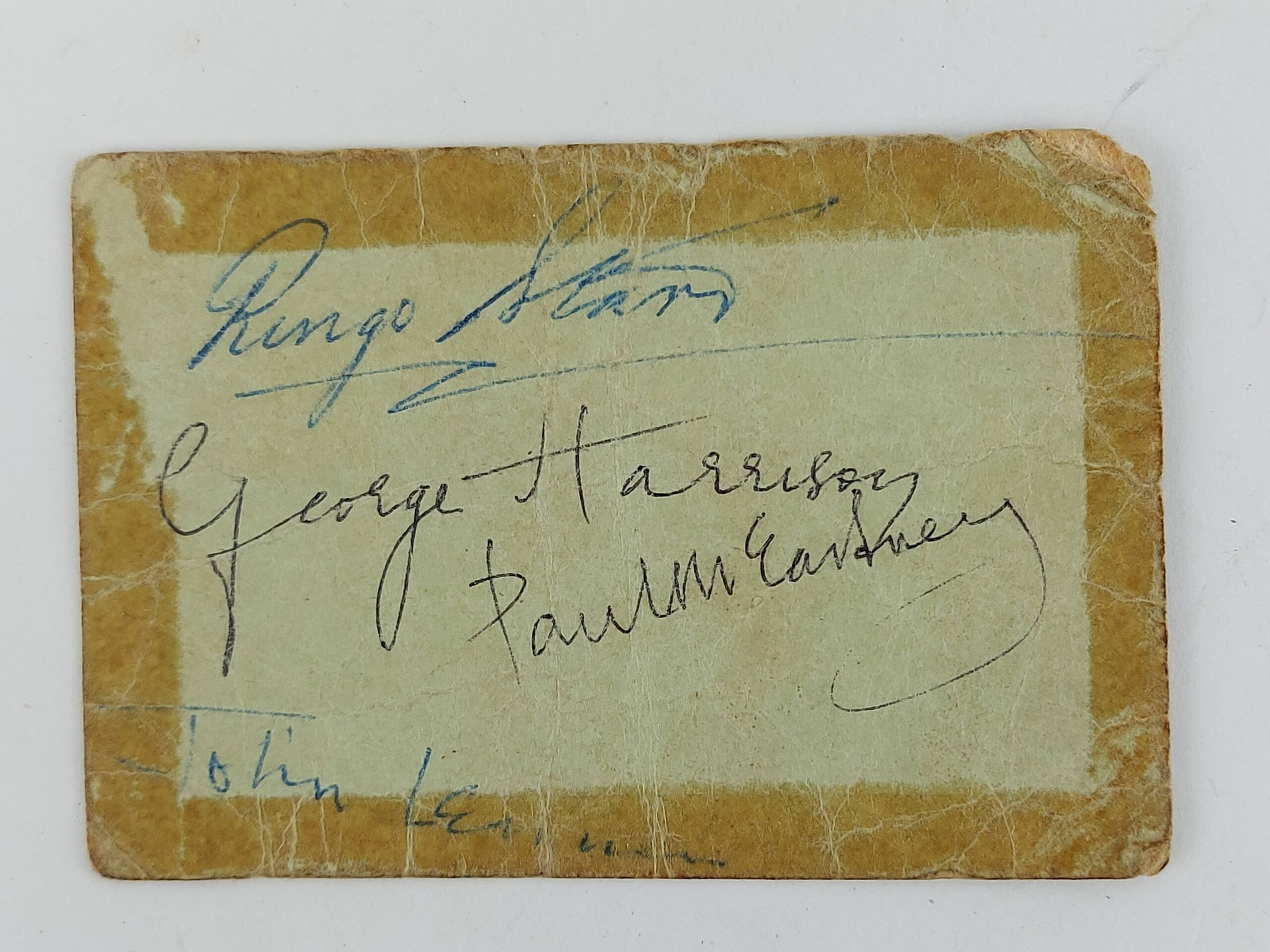 She was desperate to see the band play live and fate made that possible because they were booked to appear at Leicester's De Montfort Hall. However, such was the demand for tickets she just couldn't get hold of one, despite her best efforts. 
Sandra, 72,  a former engineering recruitment firm owner from Brighton, said: "In the early 1960s I was living in Leicester and The Beatles were booked to appear at the De Montfort Hall three times: March 31 and December 1 in 1963 and October 10, 1964. 
"In those days you queued up to buy your tickets at the venue and I queued all day to get mine. Sadly, they'd all sold out by the time I got near the front of the queues. I was devastated. 
"In 1964, when I was 13, The Beatles' film A Hard Day's Night was released. In those days films were shown all day continuously so you could spend all day in the cinema, which I did. I spent the whole of the school summer holidays there. When I was at home I played my Beatles LP over and over. 
"I adored all The Beatles but Paul McCartney was my favourite. By the end of the summer of 64 all I could think about was Paul, so not being able to see them perform was bitterly disappointing. 
"However, the boyfriend of my best friend's sister was a driver for Highfields Taxis of Granby Street, Leicester. The firm had been booked to take The Beatles from their hotel to De Montfort Hall. He knew how upset I was at not getting to see them and asked if they could sign a couple of business cards, which they did. To my utter surprise he gave me one! 
"It's been wonderful to own something so precious for 59 years. I kept the autographs in my bedside table. I was having a clear out and decided it was time to part with them. 
"I will always love The Beatles. It was amazing to be part of the excitement when they exploded on to the music scene. I still play their music." 
The Beatles autographs will be offered by Hansons Auctioneers' Tunbridge Wells saleroom in Kent  on November 21 with a guide price of £1,200-£1,800. 
Robin Fletcher,  head of Hansons' Kent saleroom, said: "I just love the story behind this find. It captures the madness, magic and mayhem of Beatlemania when the Fab Four took the world by storm in the early 60s.  
"A random act of kindness helped to heal the heartbreak of a schoolgirl mega fan. Who would have thought getting The Beatles to scribble their names on a business card all those years ago could have led to this." 
The autographs will go under the hammer on November 21.