Guide to Classical Indian Painting
Christie's specialist Romain Pingannaud offers an expert introduction to the different styles and schools in classical Indian art, including standout lots the fine art auctioneer's online sale, 10th-19th November.
India has a wonderfully rich tradition of court painting. The various centres of royal patronage have produced some of the greatest painters of all time — although many still remain relatively unknown to other than those with a specific interest in the field.
Learning about the different styles and schools is a good start but training your eye to look out for condition details can be as important when it comes to acquiring an artwork. Above all it is a great field for intricate detail. Look and look again, whether with the naked eye or with the aid of a magnifying glass, there is always a new detail to discover in an Indian painting.
Explore the schools
The Indian subcontinent is vast and most urban centres fostered a school of painting. These schools flourished from the 16th through to the early 20th century under the patronage of royal and princely patrons, recording the passions, pastimes, religious observances and courtly pomp and ceremony of the Indian elite. Indian painting can be divided into distinct yet interrelated schools which underpin the diversity and creative genius of the subcontinent.
The Mughal Schools
This is the art of the Imperial Mughal court ruling much of North and Central India from the 16th century to 1858. The Muslim Mughal dynasty, with its origins in Central Asia, was heavily influenced by Persian cultural trends, which they took to new heights of artistic realism.The Mughals were best known however for their fusion of Indo-Islamic culture, and early Emperors particularly Akbar (r.1556-1605) commissioned paintings to illustrate Hindu Epics as well as various Persian texts. In the twilight era of the Mughal Empire various cities in the Awadh region established their own schools of painting centred on cities such as Lucknow, Faizabad and Murshidabad.
The Deccani schools
Paintings from the various courts of the central Indian plateau — or 'Deccan' — represent some of the most fabulous Indian paintings, again with a strong Persian influence. The Muslim courts of Golconda, Bijapur and Ahmadnagar were strong rivals to the Mughals and developed a particular style characterized by a tropical ambiance, suave forms and silhouettes and surprising colour combinations.From the mid-17th century onwards more and more Mughal influence seeped into Deccani painting as these local courts were absorbed into the Mughal Empire.
In this painting of the procession of a prince on his elephant, a few elements tell us that it was painted in the Deccan. The strong turquoise background which fades into a deep purple and blue horizon is typical of the intensity of colours used in Deccani painting. This contrasts with the soft almost dream-like outlines of the figures as they float through the landscape.
The Rajput schools
Centred mainly in the famous towns of Jaipur, Jodhpur and Udaipur in Rajasthan, they rose from indigenous schools of Western Indian painting, and typically depict palace scenes, hunting subjects or illustrations of musical modes. Rajput paintings are influenced by Mughal art but incorporate strong local elements with bold colours and strong profiles.
The Pahari schools
The word Pahari means
'hills'
and refers to the Himalayan foothills in North India. A great number of local courts developed a rich painting tradition, which flourished particularly in the 18th and 19th centuries. Although influenced by Mughal art, it is very much rooted in the Indian landscape, and the favourite themes are taken from Hinduism. These later works are characterised by their soft clean lines and flowing pastel colour schemes with an unusual talent for effective use of negative space.
The south Indian schools
Centred in Mysore and Tanjore, these are independent from the Mughal style, and known for their richly decorated Hindu religious icons. The south Indian schools are now coming to more prominence as they have long been overlooked by collectors.
Get familiar with the subjects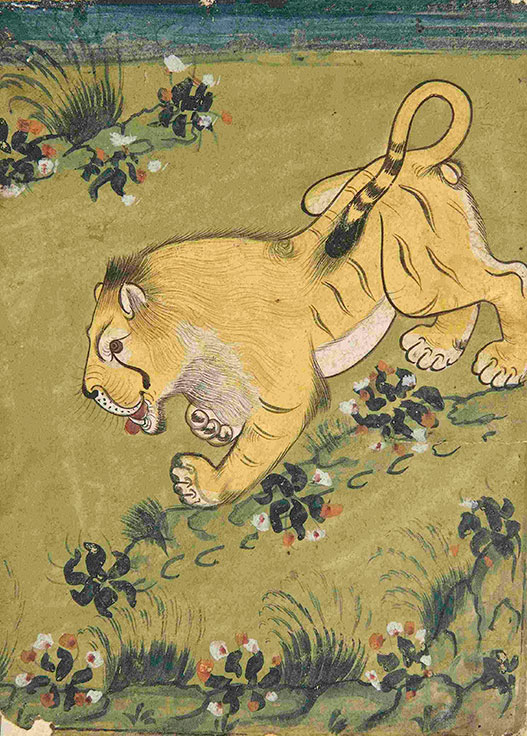 The range of subject matters depicted in Indian painting is quite vast. There are a number of recurring themes, however, which should be highlighted.Scenes of princely pleasures such as the hunt are relatively common and enjoy a long prosperity from the 16th to the 19th century. Mughal and Rajput paintings offer many examples.
The lion or tiger shown here is probably a fragment from a larger hunting scene, painted in the city of Kota or Bundi in the 18th century — it was a school famous for its large depictions of lion hunts. Depictions of a variety of musical modes (ragamala) arranged in series of dozens of paintings, or of the months of the year (bharamasa) are also preferred subjects of the Rajput and Pahari schools.
Illustrations of Hindu myths are common in Hindu courts of the Pahari region and, of course, in South India. The Mughals, particularly under Jahangir, who reigned from 1605 to 1627, favoured portraits of animals and flowers which are amongst the greatest achievements of that school.Indian masters also excelled in humorous and grotesque subjects, such as assemblies of drunken hermits, emaciated animals or portraits of deformed courtiers, often full of character and spirit.
Ask about the condition
Enquiring about the condition of a piece will give you an advantage when it comes to purchasing an artwork. Is it in its original condition? Has it been altered? Are some areas of the surface repainted? It is important to know about the amount of changes that have happened to a piece since its creation.Get into the habit of requesting condition reports for paintings. The report should help you notice details that perhaps you had overlooked before. If you can, inspect the piece in person.For paintings, looking at the surface to see how the pigments reflect the light will tell you if there are areas of repainting, or if it has been varnished. Viewing a work will also allow you to appreciate the pigments at their best.Examine the structure of a painting — has it been laid down on card? Has it been trimmed or retouched? Unfortunately, due to the Indian climate, paintings sometimes have condition issues. As a collector you need to decide how tolerant you want to be of these. The beauty of the draughtsmanship and the strength of the pigments can often make you fall in love with a work and prepared to overlook any potential condition issues.
Look around — and behind — a painting
It is often useful to look at the reverse of a painting. This is where owners, librarians, collectors will add their marks, including identification inscriptions, seal impressions and gallery labels. A wealth of information can therefore be found.The inscriptions are often in Persian or classical Sanskrit written in
Devanagari
script, or in local dialects in various other scripts. Deciphering these can be a challenge but they can give us a lot of information about the context in which the work was produced. Identification inscriptions are sometimes to be taken cautiously, however, as they can sometimes be put on long after the painting was produced — with the sitter's identity having been long lost.Look at margins and borders, which can be great additions to a painting. Although their primary effect is to protect the painting during handling, Mughal works are often decorated with lavishly illuminated borders, sometimes incorporating figural details such as birds in foliage, animal hunts or even figures of courtiers.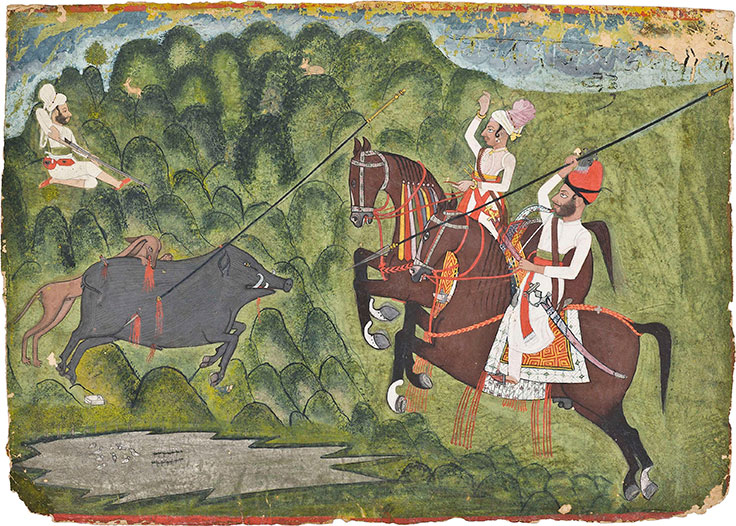 They also give us some information on the history of a painting, with some works having been mounted on card long after they were produced and in different geographic areas. For example, many Mughal paintings were taken to Iran and beautifully mounted there in the 18th century.In the 18th century painting shown above, the reverse reveals two studies for the figure of a standing courtier. The drawing is well executed and is an interesting insight in the artistic practice of the time.
Visit public institutions and auction houses
As with many types of art, the more that you see the more familiar the schools and subject matters will become. It is always best to see paintings in the flesh rather than relying on images in reference works.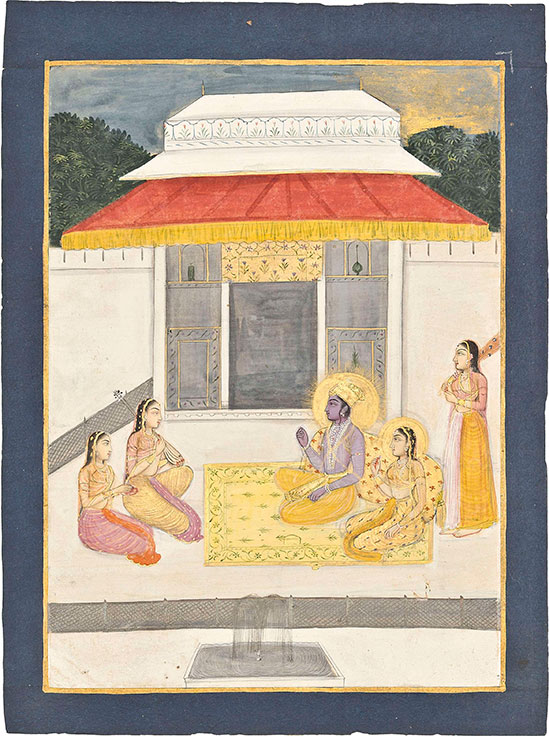 In New York, the Indian rooms at the
Metropolitan Museum of Art
provide a great way of spending a Sunday afternoon. Many American museums have rich collections of Indian Paintings, including the
Los Angeles County Museum of Art
and the
Virginia Museum of Fine Arts
in Richmond.In Europe, the
Victoria and Albert Museum
in London and the
British Library
should be two key stops on your journey through Indian painting.
The Rietberg Museum
in Zurich or the
Fondation Custodia
in Paris are two other places to visit — just don't forget to bring your magnifying glass to enjoy the fine details of these paintings.Auction houses also present a wonderful opportunity not only to view Indian paintings but also to handle them. There is no substitute for being able to get a feeling for the weight of the paper and to examine the layers of pigments first hand.In terms of reference works for Indian painting the most comprehensive is Linda York Leach's two volume catalogue of the Chester Beatty Library Collection:
Mughal and other Indian Paintings from the Chester Beatty Library
, London, 1995A number of recent exhibitions have also produced great catalogues on the subject, such as that for the 2012 exhibition at the British Library,
Mughal India, Art, Culture and Empire
.For studies on specific painters with great introductory essays which cover all of the major schools of Indian painting, I would recommend
Masters of Indian Painting
edited by Milo C. Beach, Eberhard Fischer and B. N. Goswamy (Zurich, 2011). For an example of a great collection of Indian paintings built up over decades by one of Britain's foremost contemporary artists, see the exhibition catalogue for
Visions of Mughal India: The Howard Hodgkin Collection
(Oxford, 2012).
This article originally appeared on Christie's website.