18th-century John Bartlam teapot sells for £460,000
A rare and significant ceramic 18th-century John Bartlam teapot that was bought for just £15 from a recent general sale in The Midlands has sold for £460,000 (£575,000 with premium) at Salisbury auction house Woolley and Wallis.
The antique teapot was attributed to the John Bartlam factory in Cain Hoy, South Carolina.
The teapot is only the seventh example of Bartlam porcelain to have been rediscovered. The other six pieces are all in the US, held in both private collections and museums.
When the vendor acquired the teapot from the general sale, it was originally attributed to the Isleworth Pottery in Middlesex, an English earthenware factory, which produced Staffordshire type wares.
However, following further research, the teapot was found to be made of a low-fired soft-paste porcelain and featuring a palm-style tree and crane design on one face, as seen on the previously discovered saucers in the other collections.
The teapot is only the seventh piece of recorded Bartlam porcelain that has come onto the market, alongside being the only known Bartlam teapot, making it the very first recorded American teapot to be discovered.
The teapot was offered with a starting price of £10,000, but quickly exceeded that as bidding rose in £5,000 increments to final settle at £460,000. The teapot was bought by London dealer Rod Jellicoe on behalf of the New York Metropolitan Museum.
About John Bartlam
John Bartlam (1735-1781) and his family emigrated from in Stoke-on-Trent, Staffordshire to establish a business as a potter in the then colony of South Carolina in around 1763. He established the first of two factories in the town of Cain Hoy.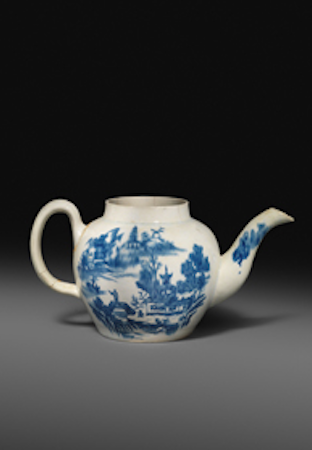 While the north of England had a thriving trade with the English colonies in America, Bartlam saw that he could reduce transportation costs for his high-quality ceramics by establishing a presence in the country. He also recognised the potential financial benefits of operating in this captive market.
His determination paid off, allowing him to become the first known manufacturer of American porcelain, ahead of recognised contemporaries such as Bonnin and Morris by five years.