Windsor antiques fair has royal connections
The first Windsor Art & Antiques Fair will feature some royal highlights among the 40 stands on display within two large marquees, part of the Royal Windsor Racecourse.
With the marriage of Prince Harry and Meghan Markle taking place just a few weeks before, objects such as silverware from London-based dealers Schredds may generate particular interest.
With Harry and Megham expected to be give a title by the Queen, with a good chance it will be the Duke and Duchess of Sussex, Schredds  will present a pair of silver skewers that once belonged to a former Duke of Sussex.
With shell and ring handles, the skewers were made in London in 1817 by Thomas Barker and engraved with the initials of Augustus Frederick, Duke of Sussex (1773-1840) – the sixth son and ninth child of George III.
Luck Schrager of Schredds commented, "Christie's sold his silver collection in 1843 and the skewers sold to Garrards for £2 11s (at 6 shillings per ounce) and weighed at the time 8 Troy Ounces, 10 dwt. This makes it as certain as we can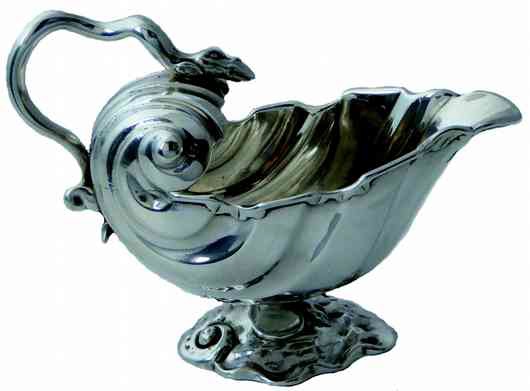 be that these skewers are those in the 1843 sale and that they have only lost 1 pennyweight since that time. They carry an asking price of £2,250."
Another item from the same silver dealer with a potential royal connection is a 'Sprimont' sauce boat with a price tag of £3,800. The small sauce boat measures 12.7cm long and 10cm high and is fully hallmarked for London 1747 but carries no maker's mark. The style is associated with the Huguenot silversmiths of the mid-eighteenth century, Nicholas Sprimont.
Elsewhere at the sale, other highlights include:
Drove House Antiques bringing several 19th century Parian items of Queen Victoria's extended royal family
WR Harvey will bring a spectacular Regency Mahogany sideboard from c.1820.
Newman Fine Art will offer a view of Windsor Castle by Charles Frederick Allbon (1856-1926), a Landscape and coastal scene watercolourist and etcher.
Time Wise London will bring a huge variety of watches, including an unusual Hanhart German Luftwaffe Pilots watch of World War II, which retains its original period strap.
The fair takes place from June 8 to 10.