Antiques Trade Talks – Janey Cave
Janey Cave has been buying and selling antiques for over twenty years. Initially inspired by her time at Christie's, she has now been selling from the beautiful Bayfield Hall in Norfolk for the past twelve years as well as increasingly online via her website, decocave.co.uk and Instagram. Her stock generally ranges from early 19th-century decorative painted furniture, foxed gilt mirrors and antique lighting through to mid century chandeliers and also other quirky items which create a mix to suit any interior project from traditional to modern.
What areas/items are currently selling well?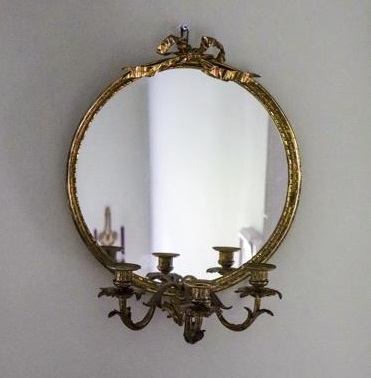 For me mirrors are always popular. I have a good range in stock and think that a mirror can change a room and looks beautiful as well as being practical.
What do you think are the current 'good investment' items – ones to watch?
Although I don't generally tend to sell brown furniture, given its affordability at the moment, I think that good quality, attractive and well made Georgian pieces will come back. I also think that quality always shines through, whether the piece is early 1700s or mid century – it has to be well made and original.
What antiques do you have at home and why?
My home is always changing but is definitely a reflection of the items I sell. It is an eclectic mix which creates a lived-in look and not too formal or 'done' (I hope!). I have quite a lot of original, painted furniture but also currently have a passion for bleached/scraped back wood. I love to put these pieces against a backdrop of a strong colour and add texture with early fabrics and textiles.
What do you think will be the antiques of the future?
I think that items which mix into any look will always stand the test of time. Clean and simple lines combined with quality and originality.
How is the industry changing and what will it look like in the future?
I think that the internet has a huge part to play in how the industry is going to look in years to come. Younger dealers have embraced it and Instagram, for example, is a fantastic tool to show and sell your stock.
Tell us some trade secrets – what are you top tips for buying antiques?
I personally think that you should follow your heart and if you love the item then go for it!  Quality, great patina, etc, always come out on top.
What antiques/artworks would you buy if money were no object?
How long can the list be?! For me it's more about the look as a whole. Having said that I would buy an amazing 19th-century Italian chandelier to go in our stairwell plus some early portraits (my current passion).
You are down to your last 50 quid.  What antiques /art would you buy?
I would buy some Bohemian glass – if I could find a piece in the price bracket!
Where are you favourite hunting destinations?
I love Golborne Road just off Ladbroke Road and also markets in France – you can always find one wherever you go.
What are some of the biggest mistakes that buyers make?
I'd say the biggest mistake is not checking the measurements…. Occasionally people buy a piece of furniture which turns out not to be suitable as it doesn't fit the space!
What key questions should buyers and collectors ask before buying?
The age of the item and its provenance.
What is the appeal of antiques in modern interiors?
They add texture, originality and a juxtaposition between old and new. "You won't find another", which means that each space will be unique.
Why should people buy antiques over new items?
Antiques have a history and tell a story. You never get this with new items, although it is good to mix it all up.
Do you think young people are interested in antiques and, if so, how do they appeal to them?
I think that some, but not all, young people are interested in antiques. The younger generation like to be individuals and are still finding their sense of style. Adding an antique to a room gives them something different that no-one else will have. I also think that young people are becoming tired of the 'throw away' culture we have adopted at the moment and they like items to have longevity … antiques give this.