Harold and Mary Wilson collection to sell in Staffordshire
Treasured items once owned by former British Prime Minister Harold Wilson and his wife Mary – including his iconic pipe and mac – will be sold at auction next week.
The Harold and Mary Wilson Collection – The Life of a British Prime Minister – will go under the hammer at Hansons Auctioneers in Staffordshire on May 10.
Hundreds of items that once belonged to the former Labour Prime Minister and his wife will be sold. The collection carried an initial estimate of £65,000 but the auction house has hopes that as so many political and royal treasures have been unearthed it could far exceed that.
Hansons' associate director Jim Spencer, who has been cataloguing the collection, said, "It's an unprecedented sale. Everything was kept over the years, every gift or signed book or presentation album of photographs.
"I don't think a Prime Minister's entire life has come up for auction like this before. But here it is, gifts from presidents, photographs, letters, Christmas cards, everything.Harold and Mary Wilson were held in high regard by presidents, politicians and royalty and their treasured mementos act as a wonderful reminder of their lives."
Here, Jim Spencer picks out 14 of his favourite items in the auction:
Harold Wilson's Iconic pipe
One of a number of pipes in the sale, this Comoy's Leonardo pipe was owned and used by Harold Wilson. It will be sold together with a pipe stand, a small photographic portrait of Wilson smoking a pipe, and one of his calling cards from the House of Lords. Estimate: £30-£50.
Harold Wilson's famous raincoat
The Prime Minister's famous raincoat. Wilson's original Gannex mac. Tan colour with corduroy detail to collar. Machine woven owner's label to neck, 'Harold Wilson'. Est: £200-£300.
A Watercolour by Prince Charles
This Prince Charles watercolour of a chateau in Burgandy, with accompanying correspondence (two autograph letters), was given as a gift to Mary Wilson. One letter reads:
Dear Lady Wilson,
You asked me for a watercolour. Here is one of a chateau in Burgandy –  a sketch – which I did in 1990 in December. I do hope it isn't too dreary and amateur for you – but it comes with heartfelt good wishes and kindest regards from the apologetic artist. Charles.
Prince Charles' paintings never generally come up for sale and his prints have sold for thousands of pounds. Estimate: £2,000-£3,000.
Punch Cartoon of the Prime Minister
An original watercolour cartoon for the cover of Punch, February 11-17, 1976, depicting Harold Wilson by satirical cartoonist Walter Ernest 'Wally' Fawkes. Now aged 94, Fawkes usually worked under the name of Trog. Estimate: £100-150.
Meeting an American president
Collection of photographs documenting Harold Wilson's visit to the United States to meet President Lyndon B Johnson. Estimate: £200-£400.
Photograph signed by Richard Nixon
One of a number of signed photographic portraits inscribed to Wilson by presidents and prime ministers from around the world. This particular Lot being from Richard Nixon and his family, inscribed in black ink, 'To The Harold Wilsons, With warm regards and best wishes from their friends, Pat Nixon [signed], Dick Nixon [signed]'. Presented in a silver frame bearing the Seal of the President of the United States, stamped to side, 'Tiffany & Co. Makers, Sterling Silver 23480'. Estimate: £500-£800.
Important first edition signed by Wilson
Keynes, John Maynard, The General Theory of Employment, Interest and Money, first edition, London: Macmillan and Co., Limited, 1936. Association copy, signed by Harold Wilson when he was a student at Jesus College, 1936. It is well documented that Wilson was a very good student. Keynes is widely considered to have been the most influential economist of the 20th century, and this is his magnum opus; its importance can be compared with Adam Smith's Wealth of Nations. Estimate: £700-£1,000.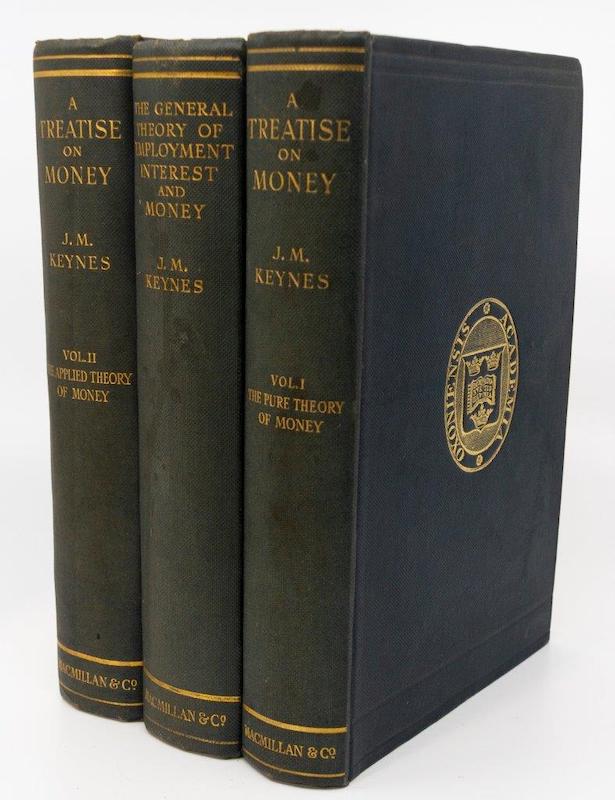 Gift from an astronaut
Frank Borman, NASA astronaut and Commander of Apollo 8, the first mission to fly around the moon, colour photograph (Earthrise or from that series of images), inscribed in bold black ink to mount, 'To Prime Minister Wilson – Best wishes and warm regards, Frank Borman, 5 Feb 1969′. Estimate: £300-£400.
Christmas card from the Queen and Prince Philip
One of a number of Christmas cards to Harold and Mary Wilson from members of the royal family, politicians, former prime ministers, broadcasters, authors and poets. This Lot, a typical example, is from the Queen and Prince Philip, signed by both, dated 1969. Average estimate: £50-£80.

Harold Wilson with the Beatles
Romano Cagnoni (1935-2018), black and white photograph of Harold Wilson with all four members of The Beatles during the Variety Club Showbiz Awards,1963, bearing a purple stamp for Cagnoni. Estimate: £30-£50.
Silver honouring England's 1966 World Cup win
An Elizabeth II silver presentation two-handled tray, the centre inscribed with autographs of the English World Cup winning team of 1966 including trainer and manager, the tray by Albert Edward Jones, Birmingham, 1968. Estimate: £450-£550.
Freedom of the City of London
Freedom of the City of London, awarded to Harold Wilson, Prime Minister and First Lord of the Treasury, 12 December 1975. Calligraphic scroll housed in a silver casket featuring an applied coat-of-arms for the city of London; engraved inscription to Harold Wilson to inside of lid. Estimate: £150-£200. 
Letter from Margaret Thatcher to Harold Wilson
One of a number of important letters in the sale, this particular Lot being from Margaret Thatcher (1925-2013), autograph letter as Prime Minister, on headed paper (10 Downing Street), addressed to Harold Wilson, typewritten and signed in black ink. The letter, dated June 21, 1985, thanking Harold for his suggestions about the retail price index. Estimate: £300-£400.
Harold Wilson's Passport
An example of one of the many personal effects in the sale, Harold Wilson's passport [part of a bigger Lot]. Estimate: £300-£400.
About Harold Wilson
Harold Wilson was Britain's Labour Prime Minister twice, from 1964–70 and from 1974–76.
He founded the Open University, and oversaw much pioneering legislation, including bills on equal opportunities, international aid, the abolition of hanging and of theatre censorship, and laws on abortion and homosexuality reform.
During his second period of office he held a referendum on staying in Europe, achieving a resounding 'yes' by a margin of two votes to one.
Find out more about the upcoming auction in this video