Quick Guide to Buying Louis Vuitton Luggage
With the holiday season now in full swing, why not pack your swimming cossies and sunglasses inside something extra stylish antique with vintage luggage by Louis Vuitton.
About Louis Vuitton Luggage
The Louis Vuitton brand was established in 1854 in Paris and by 1913 the firm had a retail shop on the Champs Elysees and added further shops in New York and London.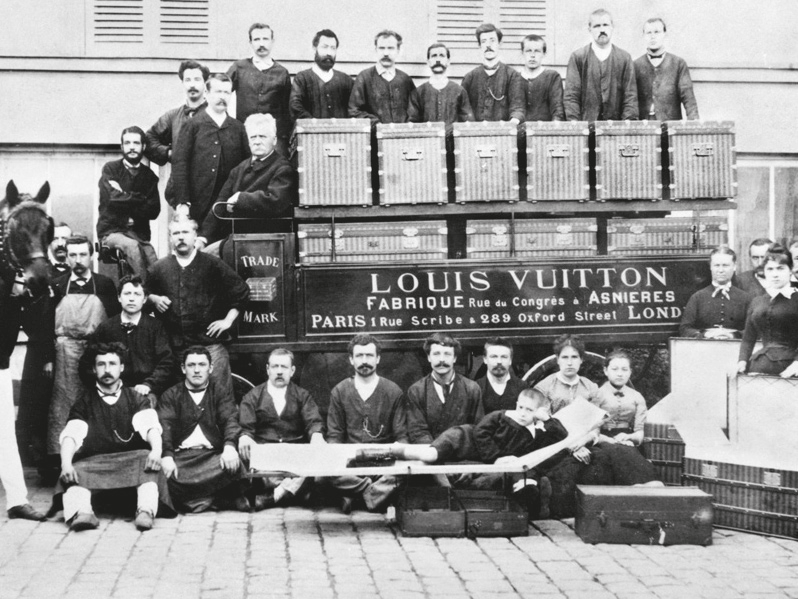 They developed trunks that were able to be stacked, they were lightweight, airtight and high quality and the label became a byword for dependable, timeless
elegance and refinement.
Simon Jones from Lawrences Auctioneers in Somerset who earlier this year sold some examples of Louis Vuitton luggage from a rare collection said: "The items dated from between the wars and included two large steamer trunks, two large suitcases, and four smaller cases including some in plain leather."
A Louis Vuitton monogram canvas wardrobe steamer trunk, c.1935, sold at Christie's New York in 2016 for $7,500 (£6,000) against a pre-sale estimate of $6,000-$8,000 (£4,800-£6,400).
Louis Vuitton – Trunk Master
Louis Vuitton was only 16 when he decided to become a trunk master having arrived in the French capital on foot in 1837, signing on as an apprentice under Romain Maréchal.
At the time, horse-drawn carriages, boats and trains were the main modes of transportation, and baggage was handled roughly and open to theft. It was only as travelling evolved as a leisure pursuit that travellers called on craftsmen for designs to protect their objects.
One such was Louis Vuitton who soon established a reputation at the Parisian atelier of Monsieur Maréchal where he was required to design boxes and, later, trunks according to clients' wishes. Louis Vuitton stayed for 17 years before opening his own workshop at 4 Rue Neuvedes-Capucines, near the Place Vendôme.
Modern Luggage
Considered as the birth of modern luggage, Vuitton's first trunk was designed in 1858 and unlike previous dome-shaped trunks, his were flat topped and rectangular, therefore more suited for travel.
In 1875, Vuitton created a wardrobe trunk for long distance travellers: a vertical armoire with two fitted-out halves. Advances in transportation and the expansion of travel generated increasing demand for Vuitton's trunks. It was a success, and attracted affluent clientele such as Emperor Napoléon III's consort, Empress Eugénie de Montijo.
As his reputation grew, he opened a wokshop north east of Paris in Asnières. Starting with 20 employees, in 1900 there were nearly 100 workers and by 1914 there were 225.
Louis Vuitton secure design
Part of Vuitton's success came from the revolutionary theft-proof five tumbler lock developed in 1890.
After several years of development, Louis's son Georges patented the state-of-the-art system which was so effective issued a challenge to Harry Houdini, the American escape artist to escape from a Vuitton box and lock.
Houdini didn't rise to the challenge, but the well-reported stunt established the lock's effectiveness throughout the world. In 1888, Georges created the LV monogram pattern as a backlash against counterfeiting.
Buying Antique Luggage
If you're thinking about buying some Louis Vuitton luggage or vintage suitcases by other well-known names, here are a few pointers to consider.
Condition
Look at whether the handles have been replaced, which could affect a case's value. Locks are also another area which are often replaced. Where possible, the luggage should retain its original lining and be in as good a condition as possible. Cracked leather, missing handles, and peeling canvas often cannot be fixed.
Maker Name
The most collectible brands in vintage luggage are Louis Vuitton, Hermès, and Goyard. Hermès created many of the small travel bag models, such as the Bolide, for automobile travel. These iconic models inspired generations of designers and have influenced almost all the bags you see on shelves today.
Type of Luggage
Opt for rarity. Steamer trunks are more difficult to find than other items of antique luggage. Most often, they are used as decorative "furniture," such as coffee tables or storage. Hard-sided suitcases suit the same purpose.
Patina
If it's a leather case look for a good patina that has aged well over the years. A set of three leather suitcases is also a nice find for an antique luggage collection.