Collection of Japanese kimonos in Cotswolds sale
The largest collection of Japanese kimonos to go under the hammer in the UK will be sold at a Cotswolds auction house next month.
One hundred and forty kimonos, along with uncut silk ready to be turned into tailor-made garments, will be sold at Moore Allen & Innocent's Oriental sale in Cirencester on November 15.
'Everyday' kimonos in cloth or wool could sell for as little as £80, while others – especially the large silk examples – are expected to make up to £800 each.
Vendor Masayo Long moved to the UK with her British husband in 1999, bringing her parents' vast collection of kimonos and antiques with her. Masayo's father Masao Sasaki and mother Fukuyo were kimono merchants in Hiroshima in the 1970s and 80s. They would buy rolls of woven material from Kyoto, and sell it to rich clients in Hiroshima. Many of those clients – and indeed the Sasaki family themselves – kept seamstresses as part of the household staff.
And although Masayo went into education – she established three English language schools in Japan and became the first Oxford and Cambridge University examination centres in the country – she never lost her love for the traditional Japanese garments and traditions.
"Until the middle of the 20th century, when Japanese people adopted a Western style of dress, the kimono was what everyone – from the Emperor to the farmers – wore," explained Masayo.
"There were kimonos for housework and kimonos for social functions." While peasants owned kimonos made from wool or cotton, the elite wore beautifully woven silk – with Japanese material considered far superior to the cheaper Korean and Chinese silk that finally replaced them.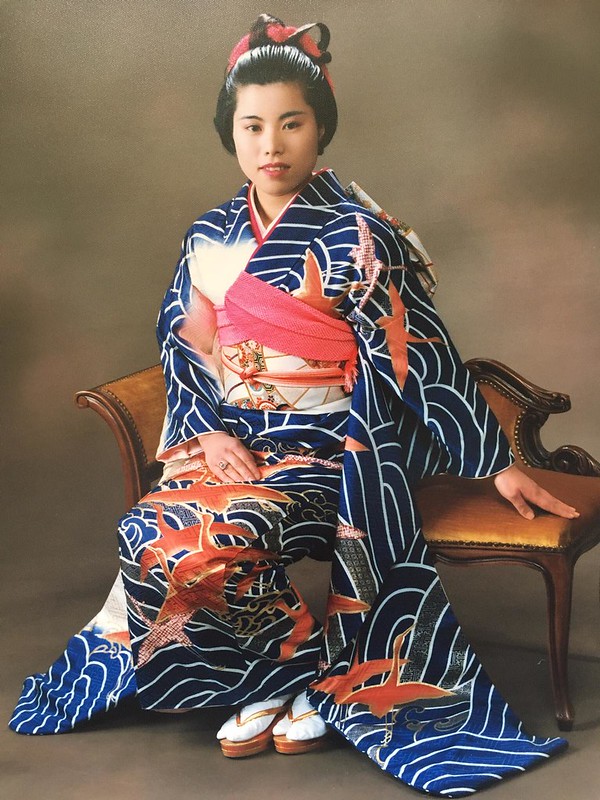 Meanwhile, strict etiquette about which patterns could be worn at various social and formal occasions, or at what time of year, along with rituals around storing the garments – they are folded and individually wrapped in paper sleeves called Tatoshi before being stored in silk-worm resistant cabinets made of paulownia wood called Kiri – meant some kimonos might only have been worn once or twice in the owner's lifetime.
The intricate designs are not printed, but woven into the fabric. Some of the kimonos included in the auction even contain threads of 18-carat gold and silver.
Among the 140 kimonos being offered for sale is a silk garment Masayo wore during the celebration of reaching adulthood, when she was 20 years old. It features copper-coloured cranes – a symbol of luck in Japan – flying over blue waves, and carries an estimate of £600 to £800.
Another – in orange with a spinning top design (estimate £250 to £350) – was worn by Masayo as a three-year-old and again at the age of 11. She was the third generation of her family to wear the 100-year-old garment: tradition dictates that the kimonos are pinned or cut down in size, or refashioned as other items of clothing such as jackets, to fit younger members of the family as they pass through the generations.
The oldest is a fourth-generation Yuzen-dyed yellow kimono (estimate £250 to £350), decorated with chrysanthemum, which Masayo wore as a three-year-old and again as a five-year-old, when her education included calligraphy, abacus, haiku, and tea culture.
Also over 100 years old is a patterned black coat designed to wear over the kimono. The garment, which carries an estimate £250 to £350, was owned by 'Lady Kanao', a relative of Masayo and friend to the Emperor Taishō, who reigned from 1912 until 1926. Lady Kanao lived near the Emperor's second home in Kobe, and would visit him to play music or read poetry.
The older kimonos were part of a much larger family collection, but many vintage pieces were lost during the war. Some were destroyed by bombing, others were traded with farmers for rice when food was in short supply.
Auctioneer Philip Allwood said, "Kimonos are often offered for sale here and at other UK auction houses in ones and twos, but I can't recall anyone offering anything like 140 in one go.
"While they are traditional Japanese attire, there is a market for kimonos among European Japanophiles and fashionistas, with Gucci, Zara, and even New Look at TopShop offering their own take on the garment.
"These, though, are the real deal, made from handwoven Japanese silk over weeks or months, and in some cases originally costing many thousands of pounds to buy. The craftsmanship is incredible and they are a real thing of beauty to behold, whether they are bought to be worn or displayed."
There will be a chance for potential buyers to view the kimonos – and other Oriental antiques – ahead of the auction on Saturday, November 9, and Masayo will be talking about kimono traditions, rituals and etiquette at the sale room in Cirencester from 6pm until 8pm on November 13.