How the antiques market is adapting to Covid-19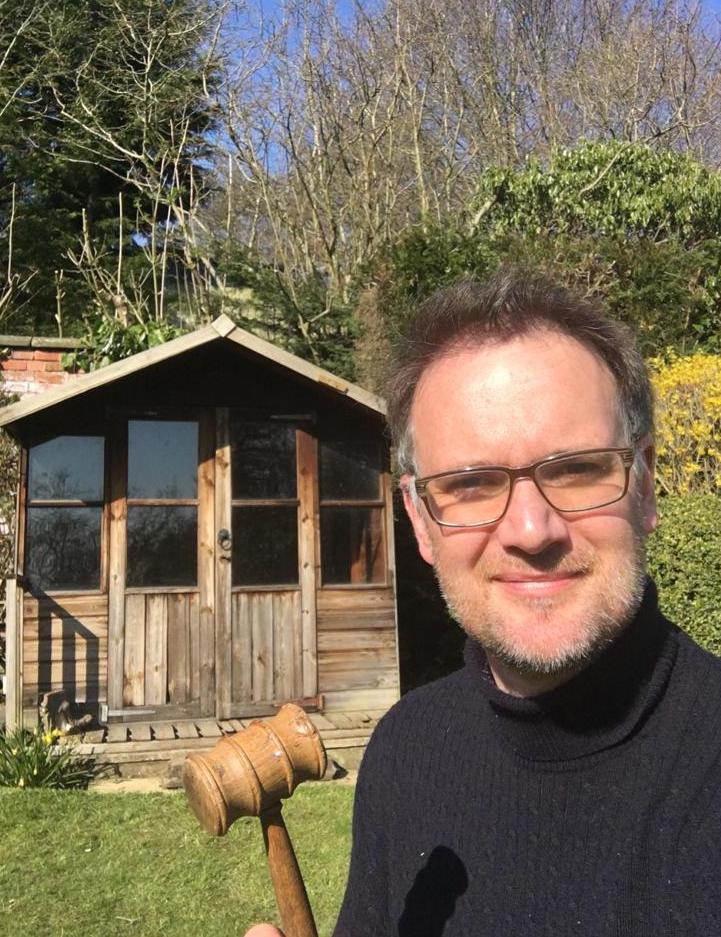 With online sales staged everywhere from living rooms to outdoors, and with the summer fairs' calendar in tatters, Antique Collecting considers how the antiques and art market is adapting to the many challenges posed by Covid-19.
Auction Houses go Online
With dozens of sales cancelled or postponed for the immediate future, increasing numbers of auction houses are putting their sales online, either broadcasting them live on their own or third-party platforms or in timed versions.
Early innovators within the newfound reality included Charles Hanson of Hansons Auctioneers in Derbyshire who hosted a charity sale from his garden shed, Edward Whitton of Whittons Auctioneers and Valuers in Devon who set his rostrum up in the garden
Birmingham's Fellows meanwhile, broadcast its successful jewellery auction from a living room, with director Stephen Whittaker holding the gavel while his twin daughters, Alexandra and Nicola, ran the bidding platforms.
Up to 400 people signed up for Fellows' own bidding platform (Fellows Live) alone.
Stephen Whittaker, said: "We have found the best medium at the moment is a timed sale. Our May and June auctions will be run as timed, online-only auctions, excluding the pawnbroker auctions. We hope that the July auctions will be run as live events given the time they are away."
Successful Sales
London-based Lyon & Turnbull also reported a successful sale of Decorative Arts on April 1 – the firm's first using the 'live online' format. Alone in the saleroom, managing director Gavin Strang stood for 12 hours on the rostrum, fielding bids via video-conferencing software from three online platforms and phones operated by staff remotely from home.
The international coins, medals, banknotes and jewellery specialist Dix Noonan Webb is also taking sales online while adding to its calendar. Chairman Pierce Noonan, said: "We anticipate during this period many collectors will have more time to spend on their hobbies. It is our intention, with the aid of our tried-and tested online technology to step things up a gear and host more auctions than ever before.
"DNW's auctions will continue to be run in the conventional manner with an auctioneer controlling the sale. We hope they will prove a source of interest and pleasure to our clients throughout this very difficult period."
While its printed catalogues will cease, DNW is offering free insured secure storage, while a plan to coordinate regional drop-off points is currently under review. At the time of writing its May online sales were: coins on May 6; tokens and historical medals on May 20; and orders, decorations and militaria on May 21.
Free Storage
Most salerooms are offering free storage for sold items while some were also giving allotted individual collection times for items to be picked up to ensure no personal contact.
While some auction houses moved their sales online, others shut up shop completely. In the case of one Suffolk auctioneers it was the first time trading had been halted in more than 150 years.
Elizabeth Talbot, from TW Gaze, said: "Not since its founding in 1857 have we been unable to hold auctions. We provided unceasing, valuable services to the community throughout both world wars and even the Great Depression did not stop us.
"For those for whom our regular auctions set life's rhythm, feed a passion, or provide a social hub, our absence will take some getting used to. Our auctions will be up and running just as soon as possible and we look forward to welcoming you back then."
Virtual Valuations
Despite closures auctioneers are still able to value items remotely. Richard Bromell from the temporarily closed Dorset-based Charterhouse Auctioneers which is still running online-only sales, said: "While some business have adopted a non-contact way of carrying on their business we think the best way is simply no contact. With many people staying at home, Charterhouse is inviting people in lockdown to email images of items they might like to include in one of our future specialists auctions."
Surrey's Ewbank's senior partner Chris Ewbank, said: "With people staying at home, this is the ideal time to sort through attics, cellars and sheds for any unwanted – but potentially valuable – items for sale at auction. We cannot be open for sale valuations in person but we can do them by email."
Keep Calm and Carry on Selling
But above all there was a determination to keep calm and carry on. Edward Whitton of Whittons in Honiton conducted an online auction on April 2 'en plein air'. Internet buyers could hear birdsong as they placed bids at the Devon auction house's silver and jewellery sale.
Maria Whitton said: "Edward was determined that the auction would go ahead if only to cheer people up. We also took the view vendors would need the proceeds of their items even more in such difficult times and so we took the gamble and went ahead where most other auctioneers chose to cancel." The sale was so successful its next sale on May 7 will be held in the same way.
Antique and Art Fairs
While some fairs are going online, both Masterpiece London and The Art & Antiques Fair Olympia have cancelled outright, with the Kensington Church Street Art & Antique Dealers Association's Summer Showcase also binned for the year.
A message on the Masterpiece London website said: "We are committed to supporting our exhibitors and visitors, and over the coming weeks will share details of a range of initiatives we will be launching in lieu of this year's edition."
Having to close early, the inaugural Open Art Fair went online where it can now be viewed for a year. Director Thomas Woodham-Smith, said: "The Open Art Fair was always planning to provide a virtual tour as a service to our exhibitors and to allow the world, not just local people, to visit the fair. Each stand is shown in high resolution in 360-degree format.
"If a dealer chooses he can contact a client, and they can remotely walk round the fair together, achieving intimacy across continents."
The 35th London Original Print Fair, which had been due to take place this month, can now be viewed online for the entire month of May at www.londonoriginalprintfair.com. The virtual fair will include curated selections chosen from the 51 dealers taking part, along with tips and advice.
Outside London many fairs scheduled a later date.
The Petworth Park Antiques and Fine Art Fair has been rescheduled from this month to September 11-13, and the first listed fair on the IACF website, at the time of writing, was Newark on June 4-5, with the Festival of Antiques in Peterborough (due to have taken place over Easter) rescheduled to July 3-4.
Antique Dealers Move Online
How are the dealers coping in the lockdown?
With all but essential shops closed, thousands of bricks-and-mortar dealers are moving sales online. Hemswell Antique Centre, near Gainsborough in Lincolnshire, which boast Europe's largest choice of antiques and collectables, closed its doors as soon as the lockdown was announced.
Managing director Robert Miller, who pledged to freeze traders' rents for two months, said: "Unfortunately, as a business, we have no option but to close our site to visitors as it is our responsibility to be part of the national effort to stop the spread of this horrendous virus."
The website now has more than 4,500 pieces online from the 350 dealers who trade from four buildings on a former WWII airfield.
Stewart Abbott of S&J Abbott Ceramics Plus, based in Oxford, said: "We are reviewing how to re-jig sales strategies and are making a new website as well as developing our Facebook page into a shop. Website work takes time, of which we have plenty.
"The easiest thing for us would be to pack up but I do not like to be defeated by anything, our business, small scale that it is, gives us focus in these difficult times. We see this shock to the normal as an opportunity to re-think and rebuild – not only the way we interact with customers, but the entire focus of our business."
Future plans include adding a video gallery to the website to display curated groups of objects with notes to engage readers' interest.
Anthony Gray, from the London-based Chinese porcelain specialist Guest and Gray, predicted a healthy future. He said: "Initially prices may increase due to the rush to buy anything physical such as art, antiques, gold etc. as an alternative to investing in a precarious stock market, sparking a temporary increase in auction prices followed by a not very dramatic decrease, with a strong recovery in about a year to 18 months' time."
Gallery Views
An East Sussex gallery is using state-of-the-art robotics to provide its audiences with remote access to its exhibitions while its doors remain closed. In a UK first, Hastings Contemporary, an independent charitable arts organisation, has teamed up with Bristol Robotics Lab to show would-be visitors round using a two-wheeled videoconferencing robot. Known as the 'Double' the robot can guide an operator and up to five people through real time tours of the gallery.
Meanwhile in Cambridge, Kettle's Yard has installed a webcam providing a live stream, via the gallery website, to see into the house. The wide-angled shot takes in a number of artworks and objects, including Gregorio Vardanega's suspended Perspex Disc and a tall pot by William Staite Murray, called The Heron.
Elsewhere, a Nottingham furniture retailer has gone a step further offering a video call allowing customers to take a close look at the products they are interested in. Would-be MY Furniture customers go to the website, click on the piece they would most like to see more of and then hit 'request video call'. They can even choose between FaceTime, Skype and WhatsApp to ensure the contact is made via their favourite app.
This article originally appeared in the May 2020 issue of Antique Collecting magazine – Want to get the UK's longest-running antiques and art magazine delivered to your door every month? Hurry up and take advantage of our special Lockdown Subscriptions offer until the end of April 2020.