English Delft puzzle jug leads sale
A rare 17th-century English Delft puzzle jug is one of the highlights of Tennants Auctioneers' upcoming Spring Sale , with an estimate of £2,000-3,000.
Thought to have been made in London or Brislington, the jug is dated 1670, and decorated with the initial 'H' surmounting 'I' and 'F' and is decorated with blue chinoiserie figures.
Puzzle jugs were very difficult to make and were the mark of a skilled craftsman; as such, they were often made as gifts for special occasions. It is possible that the jug was made as a wedding present for a couple whose surname started with the letter 'H'. This form of English Delft puzzle jug, with its distinctive knopped neck seems peculiar to the second half of the 17th century.
Elsewhere in the same sale, a Japanese cloisonné enamel koro and cover by Namikawa Yasuyuki is offered with an estimate of £3,000-5,000. The spherical pot and cover is worked in coloured enamels and gold and silver wire and decorated with chrysanthemums and insects.
Namikawa Yasuyuki (1845-1927) began working as an artist after the Restoration of the Meiji Dynasty, having previously been a Samurai. He joined the Kyoto Cloisonné Company in 1871, leaving three years later to form his own company, whose works were displayed at several international exhibitions, and visits to his workshop became popular with foreign visitors, including the likes of Rudyard Kipling.
The quality of his work received recognition in 1896 when he became one of only two cloisonné artists ever to be appointed Imperial Household Artist to create works of art for the Tokyo Imperial Palace and other Imperial residences. Examples of his work are on display in several major museums around the world, including the Victoria and Albert Museum, the Ashmolean Museum and the Los Angeles County Museum of Art as well as several Japanese institutions.
A bronze figure of a dancing faun, after the antique, is offered with an estimate of £700-1,000. The bronze is modelled on a Hellenistic marble sculpture of a dancing faun, that was in the famed Tribuna of the Uffizi in Florence from 1688, having previously been in the collection of the Grand Dukes of Tuscany. The model became popular with Grand Tourists of the age, and small bronze versions were produced to be taken home as souvenirs of their travels.
Two good longcase clocks lead the clock section of the sale. The first is a rare Chinoiserie quarter chiming longcase clock, signed Jos Green, North Shields, circa 1730, estimated at £5,000-6,000. A walnut marquetry eight day longcase clock signed Hen Massey, London, circa 1700, has an estimate of £4,000-6,000). Henry Massy is recorded as working from Charles Street, London and was freeman of the Clockmakers from 1692.
In the furniture section of the sale, a pair of 17th-century joined oak armchairs with provenance from the 1978 sale of the Contents of Gresgarth Hall, Caton, Lancashire, has an estimate of £2,000-3,000, an oak trestle dining table on 17th-century base is estimated at £2,000-3,000, and a George III green-painted pine dresser, late 18th century, has an estimate of £2,000-3,000. Also on offer are an Irish George II style carved padouk wood and marble top serving table is estimated at £2,000-3,000 and a George III Style giltwood suite from the late 19th century is estimated at £2,000-3,000.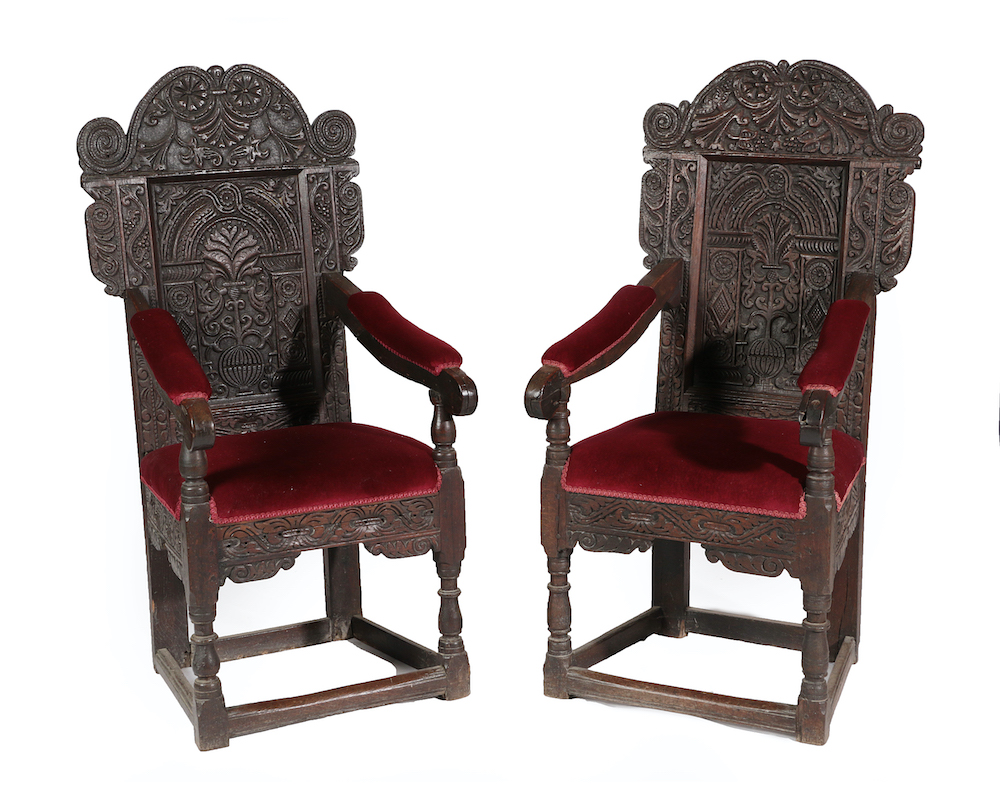 The sale takes place on March 19 and 20.