Collection from Samuel Pepys Cockerell in sale
A group of works directly from the family of the British artist Samuel Pepys Cockerell (1844-1921) are coming to auction for the first time since leaving the artist's family collection when they sell in Dreweatts Old Master, British and European Art sale on May 27.
The collection is led by a stunning portrait of Cockerell, by George Frederick Watts (1817-1904) one of the leading portrait and Symbolist painters of the late 19th century, known as `England's Michelangelo.'
The collection has several works by the Cockerell himself, including two portraits of the artist's daughter, Frederica Lucy, which offer a wonderful personal insight into his life.
Cockerell was the youngest son of architect, archaeologist and writer Charles Robert Cockerell, RA, RIBA (1788-1863). He established a career as a sculptor, painter and like his father, a writer. The two watercolours by him in the sale record his time at Oxford, where he was at Christ Church. He then entered the Royal Academy Schools and exhibited there almost annually between 1875 and 1903.
Cockerell had a particular interest in sculpture, as seen in his detailed portrayal of the statue of Pope Julius III in Perugia. Cockerell was also an avid art collector and had a particular penchant for works by the Pre-Raphaelites.
One of the most influential figures in Cockerell's life and career was his close friend, and later President of The Royal Academy, Frederic, Lord Leighton (1830-1896). Known for his grand classical pictures such as Flaming June, Leighton also produced enigmatic plein air landscapes and the collection includes three views of the 16th-century Lindisfarne Castle, on Holy Island, near Berwick-upon-Tweed, Northumberland, which Leighton gave to Cockerell while staying with him nearby.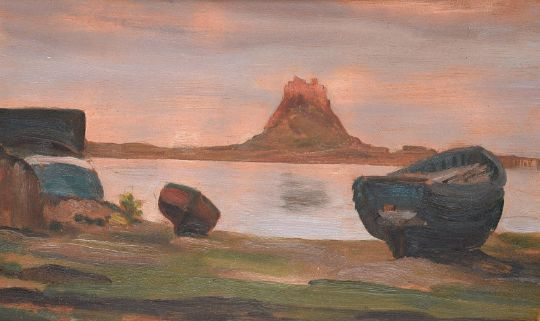 It is not only the Cockerell collection that is exciting, as four centuries of art are represented in this impressive sale. Commenting on the works on offer, Brandon Lindberg, Joint Head of Dreweatts Picture Department, said: "Our sale on the May 27 celebrates four centuries of European Art, from 16th-century Old Master picture and prints by artists such as Domenico Puligo and Albrecht Durer to Early 20th-century drawings by the first female artist to exhibit at the Viennese Secession. It includes works from important private collections including Sir David and Lady Scholey, the late David Fyfe-Jamieson, Samuel Pepys Cockerell and Portraits from the Heaton Ellis Family. Portraits are strongly represented and include works by Mary Beale, George Romney, John Opie and Rosalba Carriera."
Amongst the highlights is a fantastic collection of works from the magnificent Berwick House in Shropshire, including two paintings by British landscape artist Frederick Lee Bridell (1831-1863). As a promising apprentice with a picture restorer at an early age Bridell, who grew up in Southampton and later took a studio there, soon made his mark as a painter in his own right, exhibiting at the Royal Academy for the first time in 1851. He took three years to do the 'Grand Tour', as was fashionable at the time and spent hours in the Louvre, studying and copying significant works, before moving on to Munich and Tyrol. On his return to Britain, the works he created were exhibited at the Royal Academy, the British Institution and the Liverpool Academy, attracting numerous wealthy collectors, including James Wolff, a shipping merchant. Wolff became Bridell's main patron and built a Bridell gallery in his home, to house twelve of his large-scale landscapes.
Following on from this success and under the patronage of Wolff, Bridell moved to the continent for four years, where the two paintings in this sale were created. The Temple of Saturn, the Forum and the Colosseum, Rome (lot 55) and The Arch of Titus at Rome looking towards the capital are both created in oil and canvas and capture his passion for the landscape near Rome. They each carry an estimate of £20,000-£30,000.
Also from the Berwick House collection is an important work from the studio of the Flemish artist Artus Wolfforts (1581-1641), titled The Adoration of the Shepherds. Wolfforts was a highly-respected Flemish who predominantly carried out private commissions for large life-sized religious and mythological scenes, which he created in oil on canvas.
Wolfforts received formal art training, then took a role in the workshop of Otto van Veen, whose past pupils included the great artist Rubens, who Wolfforts would go on to work with on an important project in 1635. He was appointed one of the artists to work on the decorations for the Joyus Entry into Antwerp, of the new governor of the Habsburg Netherland, Cardinal-Infante Ferdinand. Whilst Rubens was in overall charge of the project, Wolfforts was assigned to create decorative paintings after Rubens' designs. As his own expertise and reputation grew, Wolfforts became a member of the Antwerp Guild of Saint Luke and began his own workshop. He became a prolific artist during his own lifetime, with pupils including Pieter van Mol, Pieter van Lint, and his son, Jan Baptist, Wolfforts.
This particular work, Adoration of the Shepherds, depicting the shepherds as witnesses to the birth of Jesus, has been painted in his later dynamic, Baroque style and dates from circa 1630. It has an estimate of £12,000-£18,000.
Another spectacular work from the Berwick House collection is a painting from the circle of Spanish master of still life, Juan van der Hamen y León (1596 – 1632), titled: A Basket, Dish and Plates of Fruit on a Table-Top with a Jug, Glasses of Wine. Hamen was Spanish born and of Flemish origin. His father had been a Royal courtier for Phillip II and Hamen followed in his footsteps, becoming court painter to the King and subsequently the courts of Phillip III and Phillip IV. His portraiture brought him great recognition, with Phillip IV being one of his many distinguished sitters. Hamen began to develop his popular still lives at this time, which were to become his most popular. These works were markedly Flemish in style and created in an austere, muted manner, such as the painting being offered in the sale.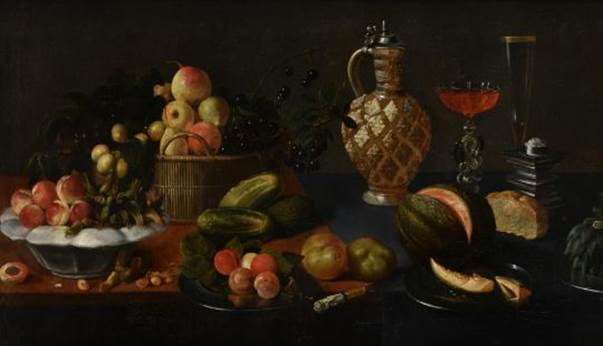 As well as a clear Flemish influence, Harmen owed some of his compositional style to Juan Sánchez Cotán (1560-1627), a Spanish Baroque painter and a forerunner of realism in Spain. This is demonstrated by his inclusion of elaborate objects, such as Venetian crystals and elaborate glassware. The silhouetted objects are illuminated against a dark background and the zig-zag arrangement of the items creates an exaggerated sense of space. From 1626, Hamen experimented with more complex and varied compositions, placing a reduced number of objects on different levels. It is therefore thought that the present work must have been painted by one of Hamen's contemporaries before this date. Hamen was an important influence on many artists working in Spain during this time, despite dying at an early age. The painting is estimated to fetch £15,000-25,000.
An early painting by one of Lombardy's leading painters of the mid-17th century, known for his portraits and religious scenes, Carlo Francesco Nuvolone (1609-1661), also features in the Berwick collection. Born into a family of painters, Nuvolone first worked with his father before studying at the Accademia Ambrosiana in Milan under Giovanni Battista Crespi.
The Madonna and Child with Saints is believed to be an early painting by the artist, dating from between 1630 and 1635. During this period Nuvolone's work shows the influence of recent developments in the Lombardy painting technique. During the second half of his career, Nuvolone worked on many important frescoes and altarpieces, often with the help of his brother Giuseppe. These included the frescoes for both the Cappella di San Michele in the Certosa di Pavia, and at the Sacro Monte di Orta, as well as contributing to the decorations of the Sacro Monte at Varese, an important area for local pilgrimage and a UNESCO World Heritage Site since 2003. The painting offered in the sale is in oil and canvas and is estimated to fetch £15,000-20,000.
Elsewhere in the sale is a portrait of Irish poet and writer Charles Hayden Irwin (1748-1817) by British artist George Romney (1734-1802). Born to Irish parents in 1751 and educated privately in Chiswick, London, he worked in a civil capacity for the East India Company in Madras, until he was suspended in 1775 and had to come back to England to plead for reinstatement from the board. Around this time he met and married a relative of Henry Brooke, the renowned Irish novelist and dramatist.
His position was reinstated by the company and Irwin returned to his post in Madras in 1780. He returned to England five years later to take up the position of Superintendent of the Company's affairs in China, which he held for two years. He was well-known for his writing, publishing several volumes of poems, primarily on historical subjects and was a member of the Royal Irish Academy, until he died in 1817.
The portrait artist George Romney was believed to have met Irwin via Irwin's brother-in-law, Major Thomas Pearson and Irwin sat for him in 1780. Romney was one of the most celebrated portrait painters of his time, along with Thomas Gainsborough and Joshua Reynolds. His commissions included portraits of leading figures and Emma Hamilton, Lord Nelson's mistress was his muse.
Romney was born in Lancashire, now part of Cumbria and initially had a studio in Kendal. He moved to London and was not to return for forty years. He travelled to Rome to study the great masters, even attaining permission from Pope, Clement XIV to set up scaffolding in the Vatican, to study the frescoes of Raphael. Having lived in London for many years he returned to Kendal to be looked after by his long-suffering wife, staying near Nether Bridge which now carries his name. He died two years after returning in 1802 and is buried in Dalton-in-Furness, Cumbria.
He won the Royal Society of Arts competition several times early in his career, however he always rejected the inclination to exhibit at the Royal Academy, or to even apply for membership, as Joshua Reynolds, with whom there was rivalry, was President. His high society client list and skilled portraiture sealed his enduring career as an artist and his portfolio of 2,000 paintings can be found in collections in 23 countries around the world.  His portrait of Charles Hayden Irwin in this sale is estimated to fetch £2,000-£3,000.
Amongst other note-worthy works in the sale, is a portrait of Samuel Ward, by Cornish painter John Opie (1761-1807), known for capturing many important figures on canvas, including the Royal family. He was coined as 'the Cornish Wonder' when he moved to London in 1781, his portraits and historical works receiving great acclaim. In 1782 he exhibited at the Royal Academy for the first time and in 1786 he was elected as associate of the Royal Academy, becoming a full member in 1788. During his lifetime he painted a total of 508 portraits, mainly in oil and 252 other works.
In 1805, Opie was assigned the title of Professor at the Royal Academy and from May 1806 gave a series of four lectures, which were published as a book following his death in 1807. His portrait painting featured remarkable light and dark contrasts, combined with intense realism, as displayed in the present work in the sale, Portrait of Samuel Ward. In oil on canvas, it is estimated to fetch £3,000-£5,000.