Marble candelabra light up saleroom
A rare pair of marble candelabra was the top-selling lot in a recent North Yorkshire sale, hammering for thousands at Tennants Auctioneers' Summer Fine Sale.
Coming on the second day of the sale, the pair of French ormolu-mounted white marble and porphyry candelabra, signed 'Joan FR Lorta, Sculp., 1788', sold for £68,000.
The candelabra featured classical, robe-clad female figures representing Summer and Autumn bearing aloft incense burners and candle arms lavishly garlanded with fruit and flowers. The pair stand on 19th-century octagonal marble pedestals.
The figures are inspired by the famed Four Seasons candelabra made by sculptor Jean-François Lorta in 1788 for two of Louis XV's daughters, Adelaïde and Victoire, to decorate the grand salon of the Château de Bellevue on the outskirts of Paris. The set were removed from the Chateau following the Revolution, and firstly resided in Empress Josephine's salon in the Tuileries before being split up and housed in Fontainebleau and Versailles. The set was later reunited at the Louvre in the late 20th century, where they remain today.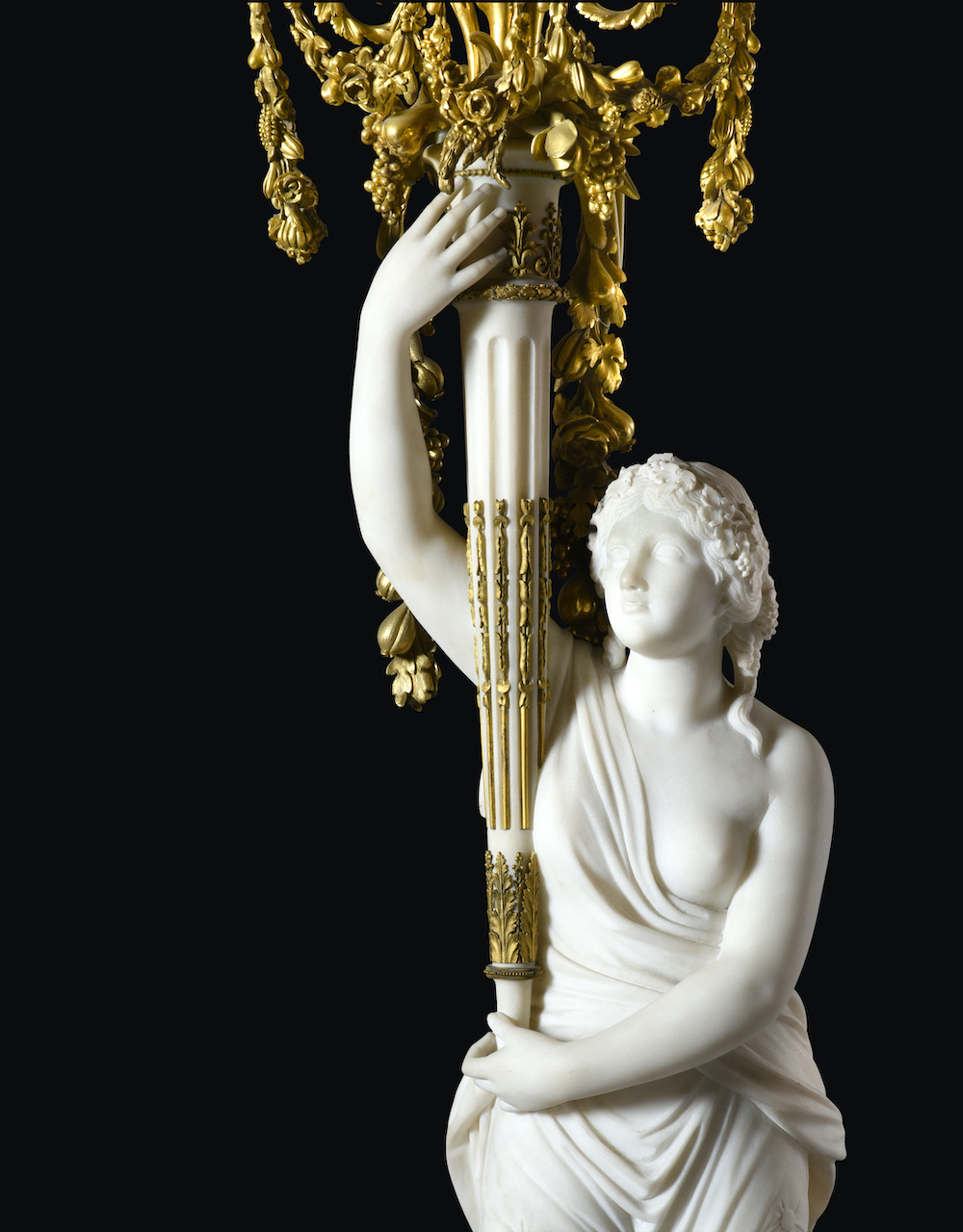 The first day of the sale opened to a strong start with a good selection of antique drinking glasses, including a small private collection of 18th-century examples. Confident bidding resulted in top prices for a circa 1710 large wine glass and a circa 1730 glass goblet, which sold for £3,000 plus buyer's premium apiece. Glass was followed up with British and European ceramics, highlights of which included a circa 1720 English Delft posset pot and cover made in either London or Bristol, which sold for £1,500, and an early 20th-century Wemyss pottery pig decorated with pink roses, which sold for £1,900.
Asian Art sold well throughout, with a host of bidders joining in the sale online and on the telephones from around the world. With the majority of the section selling above estimate, standout results included a Japanese cloisonne enamel koro and cover made by Namikawa Yasuyuki circa 1880-1890 that sold for £12,000, a Chinese porcelain rouleau vase bearing the Chenghua reign mark but probably of the Kangxi period that sold for £5,500, and a Chinese porcelain jar of the Kangzi period that sold for £3,900.
Further highlights included a pair of George III Carved giltwood girandoles, made in the 3rd quarter of the 18th century, which sold for £7,200.
A pair of Victorian mahogany and ebony strung cabinets, mid-19th century sold for £5,200, and a mahogany triple pillar dining table, 2nd quarter 19th century, which sold for £9,500. A Victorian brown oak and parcel gilt console table, in the manner of William Kent sold for £5,000, and a matched lot comprising late George III satinwood, tulipwood and polychromed neo-classical card tables and chairs sold for £8,500.
Also of note in the sale were an Italian ebony and ivory inlaid chess board by Ferdinando Pogliani, circa 1880 that sol for £8,500, a rare and early brass striking lantern clock signed Richard Beck at Ye French Church, Londini, circa 1655 that sold for £5,000, and a walnut marquetry eight-day longcase clock, signed Jos Foster, London, circa 1799 that sold for £5,000.