Fashion illustrations in London exhibition
Drawing on Style, an exhibition celebrating rare and unseen fashion illustrations from post-war 1940s to the present day, is returning to London to coincide with London Fashion Week this September at London's new hub for the Arts, Cromwell Place.
Gray M.C.A, leaders in the field of original Fashion illustration, are returning to the gallery space, following a three-year interval, with a ravishing portfolio of new and unseen work.
For the first time, Gray M.C.A will showcase exquisite drawings by a roster of contemporary illustrators and powerful forces in their individual fields. Works by the international illustrator and portrait artist David Downton, whose original works from his book 'Drawing Carmen ', published to coincide with the 90th birthday of fashion icon Carmen Dell' Orefice, will be on display marking their first showcase within an exhibition.
Further contemporary highlights of Drawing on Style 2021 include illustrations by the extraordinarily talented multi-disciplinary artist and creative director Ali Mahdavi and one of the most influential fashion illustrator-journalists of her generation, Gladys Perint Palmer, the esteemed New Yorker Steven Stipelman; whose work will be available to buy for the first time, and modern-day Italian master Andrea Ferolla who captures the elegance and beauty in Italian society.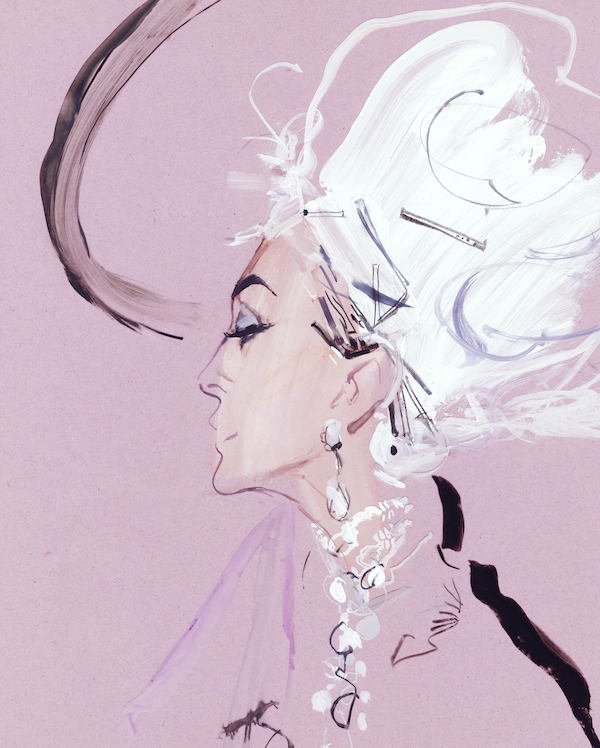 Many works by some of the original masters of the genre will also be featured such asAntonio Lopez, leader of the hedonistic New York fashion crowd who burst onto the scene in the 70s and was instrumental in introducing Jerry Hall and Jessica Lange to theworld; world-famous fashion illustrator
René Gruau, who epitomised the glamour and sophistication of Fifties couture and René Bouché, particularly known for his work in Vogue between the 1930s and 1960sand includes the original work for Elizabeth Arden from 1949.
With over 85 unearthed drawings on show, many have since remained in private collections or artists' estates and will be displayed publicly for the first time in the exhibition.
David Downton said: "It's an honour to be included among my peers in Drawing on Style2021, and a special thrill to be showing alongside Gruau, Eric, Bouché and Vertès, giants in the field. These extraordinary artists were pioneers of the concept that fashion drawing could be a fine art as well as a decorative one. We all owe them a debt."
Drawing on Style will showcase an assemblage of rare original works that adorned the pages of influential magazines and newspapers throughout the 20th century, capturing the iconic designs of the world's fashion powerhouses. With fashion shows largely taking place behind closed doors over the past year, contemporary fashion illustration has taken on a whole new meaning. Its creation is simplistic, artistic and entirely in line with the current appetite for individuality. The genre of fashion illustration not only strips thingsback to a natural ease, but also brings to life the latest seasonal trends and historic collections through a simple line, brush stroke or splash of colour and instantly provokes a visual reaction.
Accompanying the exhibition will be a ticketed series of in-person curated evening talks with artists such as David Downton, Ali Mahdavi, Jason Brooks, Andrea Ferolla and Gladys Perint Palmer. All events will also be live streamed for those unable to join in-person and the exhibition will also feature an online viewing room.
Prices will range from £450 – £15,000.