Rolex Military Submariner is one to watch
An historic Rolex Military Submariner (MilSub) issued to a diver in the Royal Engineers is set to cause a bidding frenzy at a Birmingham auctioneers. 
The watch was worn during military operations throughout the 1980s, including diving missions in the Falklands and the raising of the Mary Rose in 1982.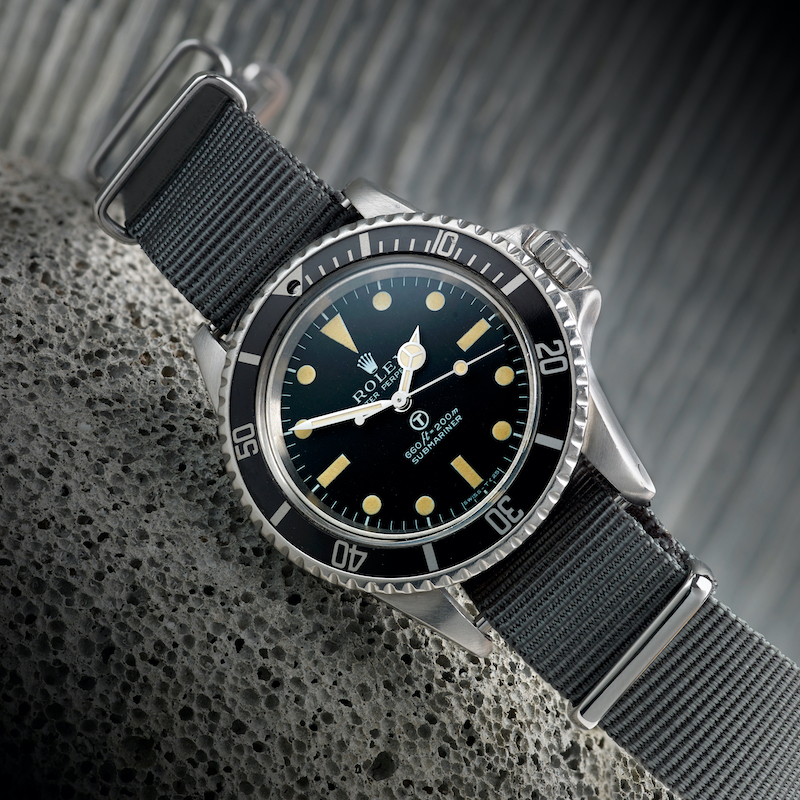 It is being sold alongside the diver's log book, certificates, and service photographs. A Royal Engineers diving jumper belonging to the individual is also being sold with the lot. 
It is believed around 1,200 Rolex MilSub watches were issued, and only a few hundred have surfaced to this day. The watch for sale sports a 5513 reference, and was issued in the mid-seventies by the British Ministry of Defence, before the diver acquired it a few years later. 
Featuring in Fellows' Luxury Watch Sale, the auction will take place August 16. It has an auction estimate of £18,000 – £26,000. 
Peter Melhuish, from Tunbridge Wells, completed his course at the Royal Engineers Diving School in 1978, he received a further diver's certificate of competence from the Royal Engineers in 1981. 
Enlisted by the Army in 1979, Melhuish requested one of these watches from the Royal Engineers in 1980. He then spent the following decade travelling around the world, diving in various military operations. 
Melhuish's full list of diving operations is documented in his log book, which is also included in the lot. 
In September 1982, one of Melhuish's operations included the Mary Rose prior to it being raised, which is currently on display at the Portsmouth Historic Dockyard. 
After leaving the Royal Engineers in 1990, Melhuish continued to wear the Rolex until recently. It has been sat in a sock drawer for the last five years. 
The MilSub's automatic movement still works, and there is evidence on the watch of a bracelet being fitted. It is currently fitted to a dark green nylon 'NATO' style strap. 
The Rolex was designed with luminous hour markers to aid with underwater use. 
It will go under the hammer alongside just under 300 lots in the Luxury Watch Sale. A high-end watch auction which can be viewed in London and Birmingham on selected dates. 
Fellows is offering free shipping on the purchase of the timepiece. 
The company previously broke their house record for the sale of a watch when a Rolex MilSub sold for a full price of £174,800 in August 2020. 
Steven Yambo, Senior Watch Specialist at Fellows Auctioneers, said: "We rarely see watches with military history as fascinating as this. The Rolex would have been worn during diving operations around the globe and we will undoubtedly see a high demand to view it. 
"It is hard to imagine the sheer scope of the diving operations where Peter would have worn this timepiece. The log book details his fascinating period in the Royal Engineers throughout the 1980s and we are grateful to Peter for selling his watch with us. This timepiece has the potential to spark a bidding war at auction."