Victorian carriage donated to National Trust

A descendant of a Victorian coachman has given the carriage his great-grandfather once drove to the National Trust's carriage museum at Arlington Court in Devon.
The carriage was driven by coachman Thomas Pedler to take members of the Chichester family from their home near Barnstaple in Devon for trips to town and back.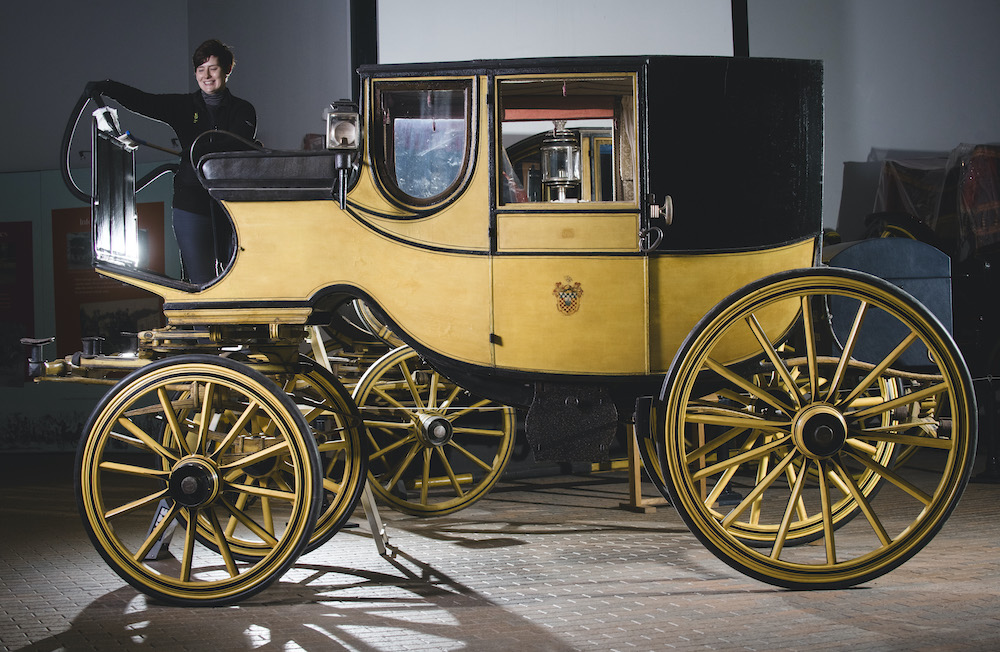 It now joins the collection of over 40 historic carriages at the Trust's Carriage Museum at Arlington Court, regarded as one of the country's finest, with a wide and representative range of carriages on display from a glass hearse to a State chariot.
 The carriage was owned by a branch of the Chichester family – one of the most prominent families in North Devon for 500 years – who were cousins of the family who lived at Arlington Court. It is the first carriage with a family connection to be displayed at the museum.
It was owned by Robert Chichester who lived at a mansion called Hall, near Bishop's Tawton, in Devon and was a cousin of Colonel John Chichester of Arlington Court. Their homes were two of the four large estates belonging to different branches of the Chichester family in Devon. 
Painted a distinctive bright yellow with a black roof over the passenger compartment, the carriage still carries the crest of the Chichester family on the doors. It was originally designed as a family travelling carriage or town chariot, it was converted at a later point in the 19th century to a slightly larger and less formal carriage for regular family use.
Thomas Pedler's great grandson, Mr Garth Pedler, acquired the carriage in 1996 when it came up for sale, because of the family connection. He had some conservation work carried out on the carriage and has since gifted it to the National Trust, who will be doing further conservation on it.  
Phillippa Turner, Collections & House Manager at Arlington Court said: "It is wonderful to have this important and fascinating carriage at Arlington.  Not only does it provide us with the first Chichester carriage at the Carriage Museum, but it was also modified by a local company, Pettle of Barnstaple within ten miles of Arlington Court.  This means that we can learn more about local craftspeople and the business of nineteenth century carriage building.  We can't wait for people to come and see it and enjoy it." 
Joanna Cairns, National Trust registrar said: "The process of moving the Victorian carriage from its current home near Totnes to Arlington has been fascinating. Due to its size and age, a specialist art handling company transported the carriage to Arlington Court. Once here it was then transferred into another specialist lorry where it went through a 24-hour process of warm air treatment to kill woodworm (and any other pests). Once it had the all-clear, it was admitted into the museum to ensure no pests could affect the rest of the collection."
The Carriage Museum at Arlington Court has a significant and wide range of carriages, mostly dating from the 18th and 19th centuries but it also houses the Speaker's State Coach, dating from around 1698, which is on loan. Other carriages on display range from a glass hearse and the Marquis of Bute's invalid carriage to the Earl of Craven's State Chariot. The museum is housed in the original stable block built for Sir Bruce Chichester in 1864.
Kate Godden, Visitor Operations and Experience Manager for the National Trust said: "When the National Trust first established the Carriage Museum in 1966 it decided to house it in the Chichester's fine Victorian stable block at Arlington Court. However, no Chichester carriage remained at the Court to directly link the Museum collection and its stories to Arlington. The arrival of the Chichester carriage, an unusual vehicle with strong Devon connections, at last allows us to do that."
The carriage is now on display at Arlington Court's National Trust Carriage Museum, which is open every Friday, Saturday and Sunday until Sunday 19 December 2021