Hepworth Wakefield acquires Magdalene Odundo vessel
A vessel by esteemed ceramics artist Dame Magdalene Odundo has been acquired by The Hepworth Wakefield.
Asymmetric Vessel, 2021, has been acquired through grants from the Art Fund, Arts Council England/V&A Purchase Grant Fund, Henry Moore Foundation and The Hepworth's Collection Circle
Asymmetric Vessel
was selected from a small number of new works created by the artist this year – the first new pieces she has completed in three years.The vessel is an outstanding example of Odundo's ability to create dramatic sculptural pieces that allude to the forms of the human body and are fired to create dramatic cloud-like bursts of black and orange which shift around the contours of her work.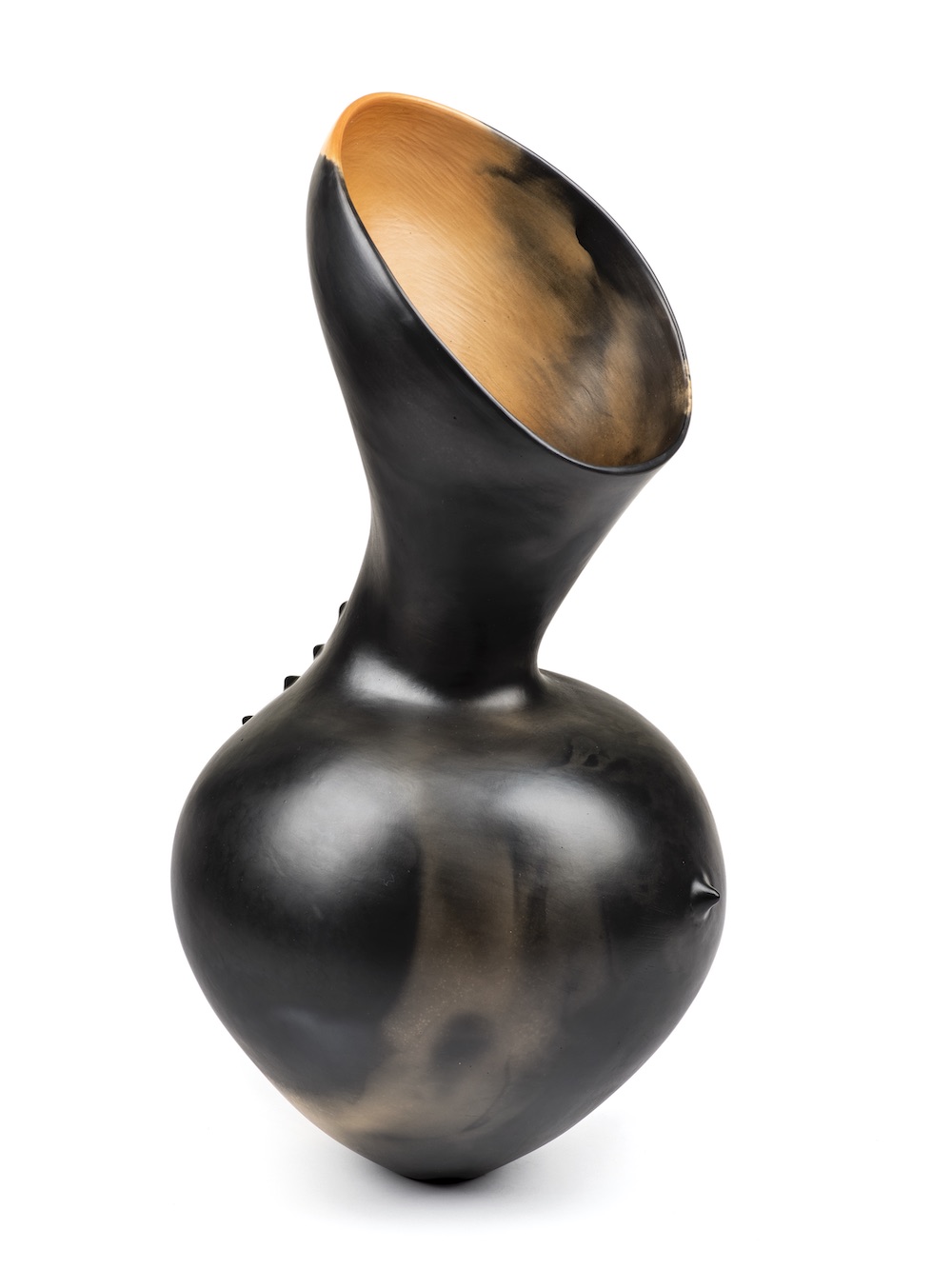 In 2019, The Hepworth Wakefield worked with Odundo to curate her first major retrospective exhibition in the UK – The Journey of Things – which presented Odundo's work in the context of the very many influences from around the globe and different periods in history that have informed and helped develop her distinctive style. In researching the exhibition, Chief Curator Andrew Bonacina discovered that Wakefield was the first public collection to acquire a work by Odundo, in 1976. The stoneware piece, Esinasulo (Water Carrier) was made in the mid-1970s following Odundo's residency at the Abuja Pottery in Nigeria.
Andrew Bonacina, Chief Curator at The Hepworth Wakefield said: "Odundo's use of hand-building and coiling, rather than throwing on the wheel, allows her to create oversized forms, distanced from traditional domestically-scaled vessels and pushing them into the realm of sculpture. While the relationship to the human body is the most fundamental aspect of her work, Odundo's forms are also informed by a diverse range of influences from around the globe. We look forward to being able to present Odundo's work within the context of our collection of British studio pottery and the organic sculptural forms of Modern British artists including Hepworth and Moore."Simon Wallis, Director of The Hepworth Wakefield, said: "We are so grateful to the Art Fund, V&A Purchase Grant Fund, Henry Moore Foundation and our Collection Circle members for making it possible for us to acquire this major work by one of the most important artists of our time. This new vessel will now complement the first one by Odundo ever acquired for a British public collection. We are delighted to be able to exhibit Odundo's early and mature style, developed over the last four decades."