First Cotswolds Curated features CADA members

Nine members of The Cotswold Art & Antique Dealers' Association (CADA) are participating in the first Cotswolds Curated taking place from Saturday 2 to Sunday 10 April 2022 in shops and galleries in Gloucestershire, Oxfordshire and Worcestershire.
The selling exhibitions cover many different subjects and centuries, offering paintings, exterior and interior sculpture, samplers, carpets rugs and textiles, campaign furniture and travel accessories, writing furniture and work by Cotswold artists and designers. Opening over two weekends, a tour of the area will be full of interest and inspiration in early April for lovers of art, antiques and interiors.
In Gloucestershire: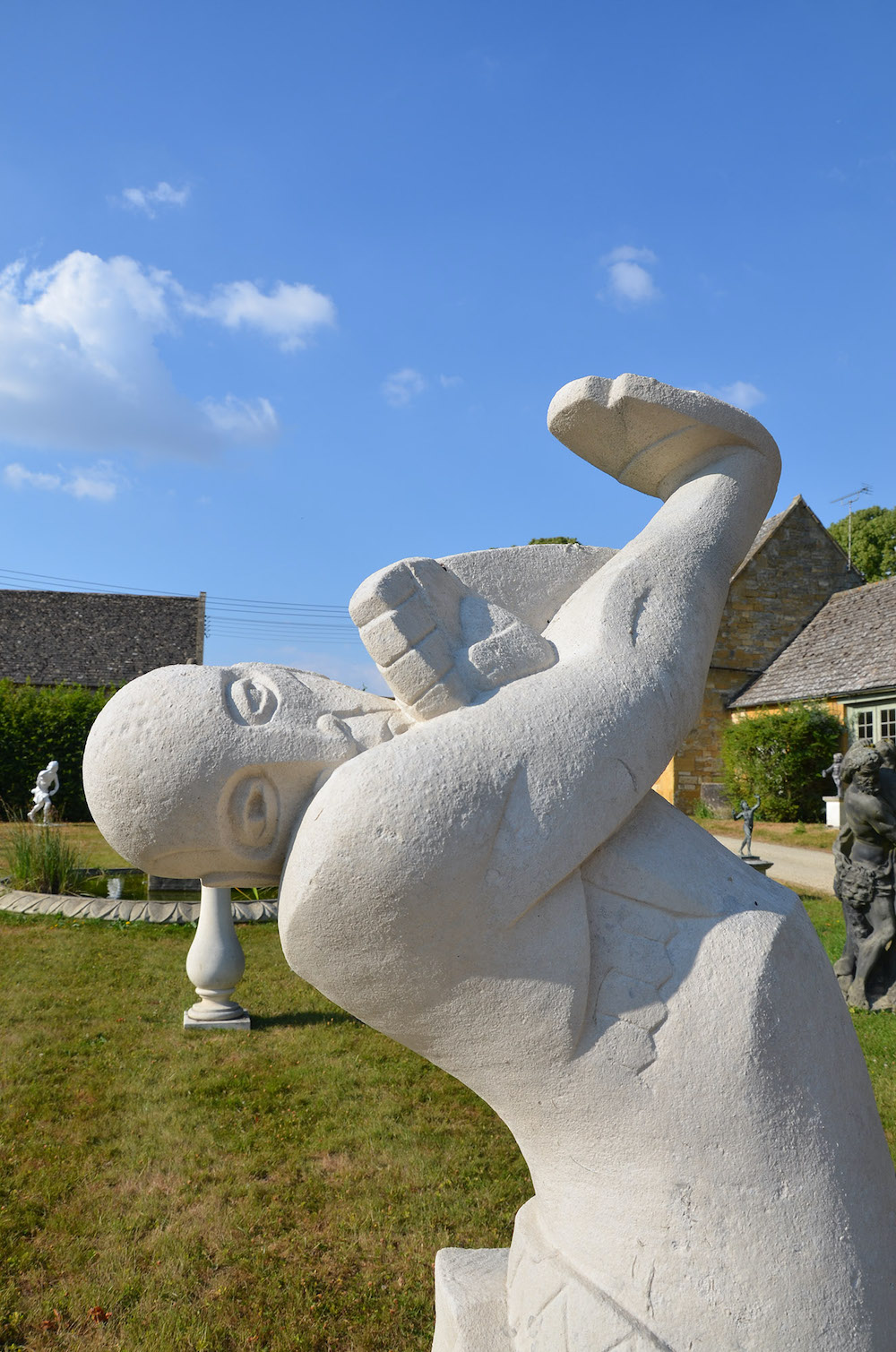 Architectural Heritage (Taddington Manor, Taddington GL54 5RY) 'Evolution to Extinction and Back' is a journey through Modern British sculpture starting with Edward Bainbridge Copnall's The Evolution. Although one of Copnall's first carved works, circa 1930, this was in fact the beginning of the end of this genre of work. The extinction point is represented by the dinosaur drawings by Bryan Kneale.
Exhibition Opening Hours: 11am to 4pm
Christopher Clarke Antiques (The Fosseway, Sheep Street, Stow-on-the-Wold GL54 1JS) 'Furnishing The Empire' featuring 18th, 19th & 20th century campaign furniture & travel Items. An extraordinary range of items were made to ease the life of a British soldier or traveller. The furniture and accessories they used from campaign chests and tables to lighting and folding globes all make up the exhibition. The exhibition covers a wide range of travel items from a Georgian campaign table, circa 1760, to an early 20th century salesman's sample pith helmet. Highlights include a trunk belonging to the officer in charge of the last 'battle' on English soil in 1838. Catalogue available.
Exhibition Opening Hours: Monday to Saturday 9am to 5.30pm, Sundays 10am to 4pm
David Pickup joins Architectural Heritage at Taddington Manor to showcase his exhibition 'On The Cotswold Hills' showing a selection of fine English furniture and works of art dating from the 17th to the 20th centuries, including Cotswold arts and crafts pieces made on the Cotswold Hills. One highlight is a well-drawn Cotswold Movement walnut side table and a Gordon Russell English oak hanging cupboard, lined with cedar, made in The Russell Workshop in Broadway in the thirties.
Exhibition Opening Hours: 11am to 4pm
In Oxfordshire:
Sarah Colegrave opens a pop-up gallery at 14 Market Square, Woodstock OX20 1TA for her exhibition 'The Cotswold Group'. Selling works by members of the Birmingham School of Artist-Craftsmen with particular interest in those who settled in the Cotswolds, artists include Charles and Margaret Gere, Bernard Sleigh, Henry Payne, Arthur Gaskin, Kate Eadie, Maxwell Armfield and Frederick Cayley Robinson. A highlight must be Kate Eadie's watercolour of Fair Rosamond, mistress of Henry II, who he kept hidden in a maze in his park in Woodstock, Oxfordshire until his queen, Eleanor of Aquitaine, discovered her and forced her to choose between the dagger or a bowl of poison.
Exhibition Opening Hours: Monday to Saturday 10am to 5pm, Sundays 11am to 4pm
W.R. Harvey & Co. (Antiques) Ltd (86 Corn Street, Witney OX28 6BU) 'Biting My Truant Pen' (after Sir Philip Sidney) a special exhibition of English antique writing furniture over two centuries and covering the reigns of eleven British monarchs, amongst which is a superb George III period free standing mahogany secretaire library centre cabinet by Gillows of Lancaster, circa 1790, priced at £17,500.
Exhibition Opening Hours: 10am to 5pm
Legge Carpets Ltd* (25 Oakthorpe Road, Oxford OX2 7BD) 'Tribal Weavings' with original artefacts woven by tribal and village women for use in their homes, tents and on migration. The bags, rugs and carpets from Iran and central Asia, mostly dating from the 19th century, were often symbols of identity and status for important occasions like weddings. Highlights include an early 19th century Tekke Main carpet from Turkmenistan and a 19th century Afshar bag, from southern Iran, one half of a khorjin (saddle bag) using natural dyes.
Exhibition Opening Hours: Monday to Saturday 9.30am to 5pm, Sunday 11am to 4pm
Witney Antiques* (100 Corn Street, Witney OX28 6BU) 'A School Room Exercise' is an exhibition of samplers from the 18th and 19th centuries.
Exhibition Opening Hours: 10.30am to 4pm
In Worcestershire: 
Haynes Fine Art (Picton House, 42 High Street, Broadway WR12 7DT) Celebrating its 50th anniversary 'Spring Exhibition' is the first of many events for this very special occasion marking its a proud third generation family business. The selling exhibition shows 19th to 21st century art and sculpture with over 300 pieces beautifully displayed in the award winning gallery. Highlights include paintings by Cecil Kennedy and Harold Clayton.
Exhibition Opening Hours: Monday to Saturday 9.30am to 5.30pm, Sundays 10am to 4pm
Trinity House Paintings (35 High Street, Broadway WR12 7DP) 'The Spring Salon 2022' with highlights from the latest collection of paintings and sculpture featuring a carefully curated selection of Impressionist, Modern British and contemporary pieces at the new gallery in Broadway, including works by Sir John Kyffin Williasm, Jacques Martin-Ferrières, Jean Jules Louis Cavaillès, Samuel John Lamorna Birch and Francis Campbell Boileau Cadell. Exhibition Opening Hours: Monday to Saturday 10am to 5pm, Sundays 10am to 4pm