Sir Nicholas Goodison collection at Christie's

Christie's is sell the collection of businessman, arts patron and philanthropist Sir Nicholas Goodison next month, in the sale The Collection of Sir Nicholas Goodison – British Art: Innovation and Craftsmanship on May 25.
Hugely respected within the world of banking and the arts, Sir Nicholas Goodison (1934-2021) was a businessman, patron of the arts, scholar, philanthropist and polymath. The Chairman of the Stock Exchange (1976-1986), for which he was knighted in 1982, Sir Nicholas Goodison was also Chairman of TSB Group (1988-1995), and deputy chair of Lloyds TSB (1995-2000). He chaired an impressive array of important cultural institutions including the Courtauld (1982-2002), the Art Fund (1986-2002) and the Crafts Council (1997–2005).
Comprising approximately 250 lots, his collection spans: modern British art and sculpture; modern and contemporary ceramics and glass; Victorian and British impressionist art; English furniture, clocks, watches, barometers, sculpture, silver and works of art by Matthew Boulton. The top lot of the sale is a unique bronze sculpture, Ancestral Totem, conceived in 1956-58 by William Turnbull, whose exploration of material and form has secured his place as one of Britain's most important post-war sculptors, is estimated at  £200,000-300,000. The collection is expected to realise over £3 million. 
Charles Cator, Deputy Chairman, Christie's International, said: "It is a great honour for Christie's to be entrusted with the sale of Sir Nicholas Goodison's collection and a very special personal privilege for me, having known Sir Nicholas and Lady Goodison for so long and bearing in mind the close bonds of friendship that have connected Christie's to the Goodisons over many years. Having played a vital role in the arts in the United Kingdom, Sir Nicholas was a polymath in the true sense of the word, and this collection – in fact a series of distinct collections – reflects the wide-ranging and varied interests of a great connoisseur whose collecting spanned artists, objects and materials separated by many centuries but united by their aesthetic beauty, innovative design, exceptional craftsmanship, and their contribution to the British cultural landscape."
Modern British Art in the collection
Sir Nicholas Goodison's collection includes over 100 works by British artists of the 20th century. The highlight of the collection, Ancestral Totem is a unique bronze by William Turnbull, conceived between 1956-58, when Turnbull began to explore figures in a further abstracted, metamorphic direction, using two or more stacked totemic poles, cubes and ovals in bronze, wood and stone. It is estimated at £200,000-300,000. These balanced elements allowed Turnbull to establish a tension and movement in his work and became a very significant, recognisable feature of his practice. Inspired by archaeological and anthropological objects, Turnbull created ambiguous sculptures that appeared both acutely modern yet derived from ancient, often ritualised forms from distant cultures: incised with intricate markings or raised simplified geometric shapes alluding to organic elements of human features, tattooed skin, and limbs. Ancestral Totem's anthropomorphic shape and distinctive features is a strong example of this intention. Demonstrating Turnbull's further exploration of materials, works such as this sculpture were created as free-standing objects, taking inspiration from Constantin Brancusi removing the base to form a strong relationship between the sculpture and the ground. 
Further Modern British highlights include Peter Lanyon's Two Close, 1962, an excellent example of the artist's experimentation with colour and paint application, dating to an important and highly-sought after period by Lanyon, where his output was most intense. It is estimated at £180,000-250,000. Lanyon's Tree Top Nest, 1956, captures the rich green and earthy tones of the landscape of the artist's native Cornwall, while also suggesting more emotional themes of refuge and human
connection, shown by the nesting paired forms (estimate: £100,000-150,000). The work has connotations with Lanyon's 'Susan Series' which he began in 1955 during his relationship with Susan Hunt, where Lanyon used the landscape as representation for romantic themes. 
Keith Vaughan's Sixth Assembly of Figures, 1962, is from a group of nine Assemblies paintings, painted between 1952 and 1976, estimated at £100,000-150,000. This painting is particularly impressive (measuring 45 x 50 in.) and was previously in the collection of entrepreneur and publisher Sebastian Walker, who formed one of the most comprehensive private collections of the artist's works at the time. The collection also includes works by Eileen Agar, Lynn Chadwick, Elizabeth Frink, Barbara Hepworth, Roger Hilton, Paul Nash, Stanley Spencer and Bryan Wynter, among others. 
Matthew Boulton
Presenting a very rare opportunity for the market, the collection includes a pair of George III ormolu and blue john 'lyre vase' perfume-burners, by Matthew Boulton and John Fothergill, circa 1771 (estimate: £150,000 – 250,000, illustrated left).
Published in both editions of Sir Nicholas Goodison's seminal volume on Matthew Boulton – Ormolu, 1974 and the 2nd edition in 2002 – these beautiful vases are stunning examples of Boulton's production, combining luxurious and precious materials with elegant classical design. 
Clocks and Watches
Leading the group of nine clocks included in the sale is The Goodison Tompion – a Queen Anne ebony and ebonised table clock by Tompion & Banger, London, No. 444, circa 1705, estimated at £150,000 – 250,000. This important clock has long been associated with the Goodison family, having been sold at Christie's in 1912 where it was bought by a dealer and then acquired by H.E. Goodison, Sir Nicholas Goodison's grandfather. Its dating can be fairly precisely pinpointed to the short period of time when Thomas Tompion worked in partnership with his nephew Edward Banger from 1701-1707. 22 watches will be offered, led by an engraved gilt and glass oval watch, by David Ramsay, first half 17th century, estimated at £15,000 – 20,000. This rare and early pre-balance spring watch is signed David Ramsay, a Scot who moved to England at the request of King James I and VI circa 1610, was Chief Clockmaker to the King and the First Master of the Clockmaker's Company in 1632. 
Barometers
Nicholas Goodison published his seminal work on Barometers in 1968 (with a second edition in 1977) and the collection fittingly includes sixteen barometers and one weather vane dial, by a variety of important makers spanning the 18th and early 19th centuries. The group is led by a George III mahogany wheel barometer by George Adams, London, circa 1765, estimated at £30,000 – 50,000. This barometer was published in both editions of Barometers, when it was part of the celebrated collection of Samuel Messer. The Messer Collection was offered for sale by Christie's in 1991, where Sir Nicholas Goodison acquired it. The quality and craftsmanship are superlative, with a beautiful matted dial, engraved steel plates and fine mahogany case. 
The Nottingham Alabasters
The Agony in the Garden, parcel-gilt polychrome alabaster relief, late 15th century, estimated at £40,000 – 60,000, is one of a group of nine Nottingham Alabasters collected by Sir Nicholas Goodison. Produced as a means of communicating the stories of the New Testament to Medieval England, it is rare to find such a group together, with some retaining their original polychromy, each in itself a rare survival of both the iconoclasm of the Reformation and of the 500 plus years since their creation. 
Furniture and Decorative Arts
The collection also includes focussed groups of British antiques including furniture, ceramics and silver. One highlight of the furniture is a George III mahogany armchair, attributed to Thomas Chippendale, circa
1775, estimated at £7,000 – 10,000. A lovely example of the output of Thomas Chippendale's workshop – this chair bears all the hallmarks one would associate with Chippendale: an elegant yet restrained design, extraordinary craftsmanship and the finest mahogany. The Arts & Crafts ceramics include a small group of vases and dishes by celebrated designer William de Morgan, led by a Victorian vase decorated with peacocks, circa 1880 finely decorated by Fred Passenger in beautiful Iznik style and is all the more striking for its size, measuring 15½ in. high and estimated at £15,000 – 25,000. The small group of silver includes pieces by Matthew Boulton and Omar Ramsden. 
Contemporary Art
Among approximately 20 lots of contemporary craft lots offered from the collection is this striking vessel, conceived in 2004, by John Ward, and carries an estimate of £5,000 – 8,000. John Ward studied ceramics at the Camberwell School of Art in the late 1960s under both Lucie Rie and Hans Coper. His vessels have simple forms, but with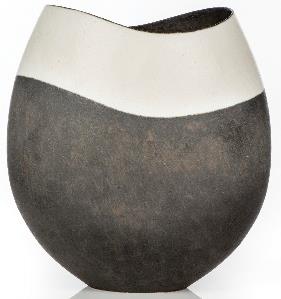 complex structures with the shapes cut and altered. His oeuvre is said to have drawn influence from the form of ancient Chinese and Egyptian pre-glaze pottery and early Cypriot and Persian bowls. 
About Sir Nicholas Goodison
 Sir Nicholas Goodison published 'The Goodison Review' on saving art for the nation, which included what was to become the Cultural Gifts Scheme. He also held the title Honorary Keeper of Furniture at the Fitzwilliam Museum, from 1973; was Vice-Chairman of the English National Opera (1980-1998); and Chair of the oral history charity National Life Stories at the British Library (2003-2015). A founding member (from 1964) and long-standing President of the Furniture History Society (1990-2020), Sir Nicholas Goodison wrote the definitive books on Barometers and Matthew Boulton. A passionate advocate on the importance of Craft, he commissioned and gifted several new works of modern craft spanning different mediums, from furniture and ceramics, to glass, metalwork and jewellery to the Fitzwilliam Museum; detailed in a 2016 publication Contemporary British Crafts: the Goodison Gift to the Fitzwilliam Museum. His career began at HE Goodison, later Quilter Goodison, where he was a Partner (1962) and then Chairman (1975).