Bridgerton Effect boosts West Sussex sale
West Sussex auctioneers, Bellmans, has reported the 'Bridgerton Effect' has created strong demand for ceramics and antiques in their recent sale.
The auction house said that porcelain did particularly well, when three lots of the very rare and probably unique Royal Crown Derby from the Judge Gary service saw lots of interest with a sauceboat and stand selling for more than double its low estimate of £2,500 for £5,500  , while a pair of small plates made £4,500 against an estimate of £1,000 – £1,500 and a goose egg cup £480, estimated at £150 – £250). They were made in circa 1908/09 and each painted by A. Gregory with flowers and within gilt frames against a cobalt-blue and turquoise ground finely gilt by G. Darlington. The gilt printed marks include the Royal arms and Tiffany & Co. New York and there is a 'G' monogram on each of them.
Perhaps inspired by the opulence of the second season of Bridgerton, a pair of Copeland 'Jewelled' bone china dessert plates from the 1890s, each painted by Samuel Alcock with portraits of fashionable young women was estimated at £220 – £320 and fetched £650,
while a Meissen yellow-ground chocolate cup with cover and trembleuse saucer from the late 19th century with two lovers in a landscape and flower panels sold for £1,400 against an estimate of £400 – £600. A stunning Limoges porcelain plaque with Venus emerging from a clam shell by Thomas Bott, dated 1881 sold for three times its low estimate at £2,400.
Highlights among the picture auction a Venice scene by Antoine Bouvard (French, 1870-1956) sold mid estimate for £6,000, while a gondola scene by Henry Scott Tuke (British, 1858-1929) sold for £3,000 against an estimate of £700 – £1,000 was part of a group of four paintings by the British artists which all sold above estimate. Paintings of dogs also did particularly well with the hammer going down at £4,800 for a red setter by
Heywood Hardy (British, 1842-1933) which had been estimated at £2,000 – £4,000, while a black pointer in a landscape by John Frederick Herring Snr (British, 1795-1865) sold for £3,800 whilst estimated at £1,500 – £2,000. A portrait of a lady by German artist Adolf Heller (1874-1914) from 1899 had been estimated at £600 – £800 and made four times its top estimate. A 17th century painting of men and women drinking and playing cards in a tavern with a man playing the bagpipes by Monogrammist HC who was active in Antwerp sold for £2,400 against an estimate of £1,500 – £2,500.
Needlework panels were leading the way in the Works of Art sale with a George III panel depicting a pastoral scene and estimated at £200 – £400 fetched £1,600 and an English allegorical needlework panel from the 17th Century sold for £2,200 against an estimate of £300 – £500. A rare French papier-mâché growler pull-along bulldog from the late 19th Century carried the same estimate and sold for £800.
The silver auction saw an enamelled cigarette case with a semi-clad woman and her suitor make £650 against an estimate of £70 – £100 and a gorgeous miniature tea set of six sold for seven times its low estimate for £700. An Irish silver oval nutmeg grater, possibly by James Keating from circa 1800, surprised when the hammer went down at £1,300 against an estimate of £250 – £350.
Top lot in this section was a beautiful silver Lincoln Cathedral vinaigrette, made by Nathaniel Mills in 1845 which made £2,400 against an estimate of £700 – £1,000.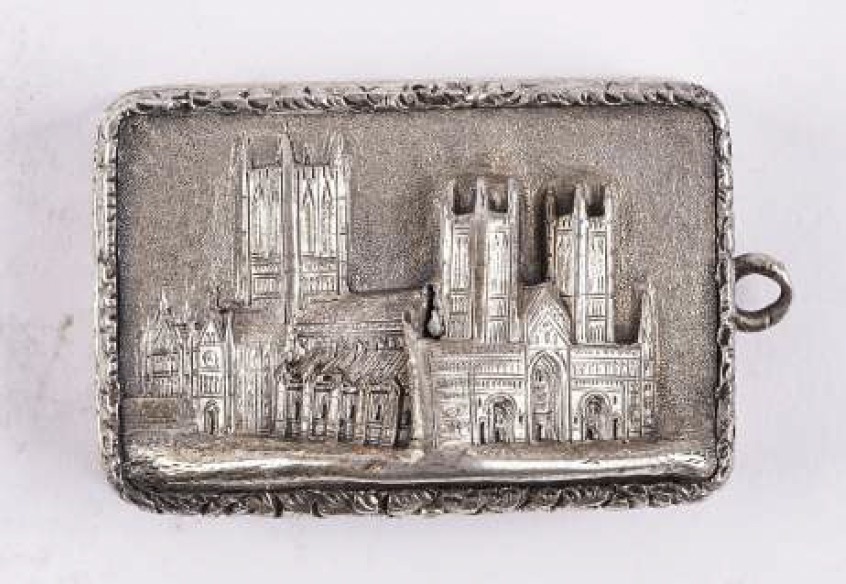 A beautiful antique gold and diamond ring had been estimated at £1,800 – £2,200, but sold for £2,400.