Pilkingtons dragon charger in Cotswolds sale

A Pilkingtons Lancastrian St George and the Dragon charger is to be offered by The Cotswolds Auction Company in Cheltenham on August 9.
The blue-ground lustre piece was designed by Walter Crane and painted by William Slater Mycock with date mark 'XI 1911'. It depicts St George mounted on a rearing horse holding a lance and piercing the head of a dragon, all within a dragon border. The inner is rim inscribed Un Chevalier Sans Peur et Sans Reproche (the knight without fear and beyond reproach).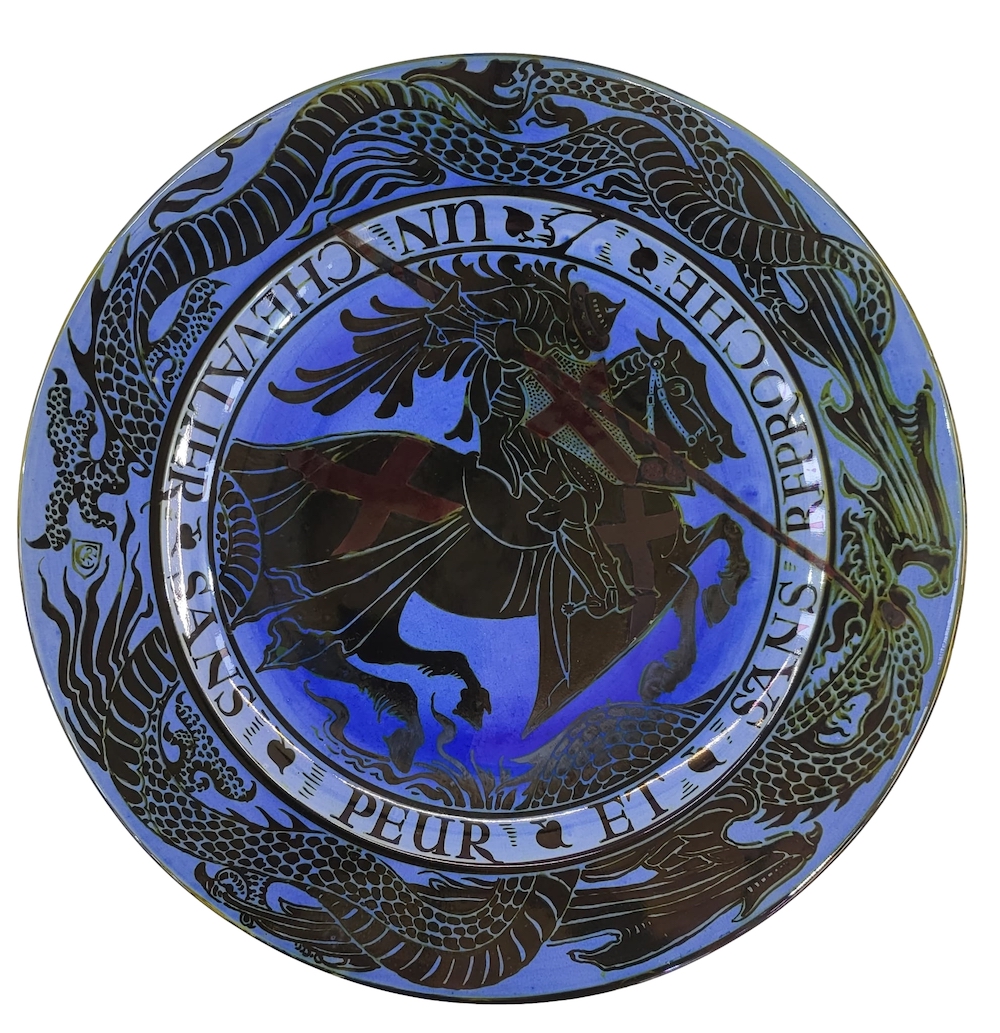 Pilkingtons Tile and Pottery Company was founded in 1891 near Salford, Greater Manchester. William Burton, who previously worked with Josiah Wedgwood & Sons was with the firm from its early years until 1915. Together with his brother Joseph, William developed the glazes for which the company became famous.
To the base of the charger the marks include 'WSM' in monogram, the P and bee mark and no.2477. The front border bears the shield mark of Sir Walter Crane, one of the most influential book illustrators of the 19th century, who was also a founder member of the Arts & Crafts Exhibition Society.  It measures 48.5cm in diameter.
The charger was found in a property by two brothers, who had sadly recently lost their mother. Photographs were sent to Liz Poole, Director, in Cheltenham, who was extremely excited and requested further photographs to include the potters' marks. The brothers' family hailed from the Potteries and it is believed that the piece was given to an aunt as a wedding present. As a family heirloom it had hung in its latest home for at least 60 years. The auctioneers expect the piece will generate much interest and it has an estimate of £5,000 to £8,000.
Elsewhere in the sale is a dramatic bronze by renowned sculptor David Goode. This is the largest work in his oeuvre at 3.8m high, entitled The Mermaids, it is a statuesque bronze fountain which is being sold in situ. It features two mermaids with arms outstretched and at present is situated in a dramatic garden setting in open countryside with the Uffington White Horse visible in the distance. This is one of a series of five, three having been cast, and is estimated at £80,000 to £100,000.
In 1988, at the tender age of 21, David Goode was the youngest portrait sculptor ever engaged by the London Studios of Madame Tussaud. During six years at the waxworks he created sculptures of notable figures such as Freddie Mercury, Joan Collins, Madonna, Michael Jackson and Ronald Reagan.  He then set up his own studio and started to create the extensive collection of works known as the Goblin Collection, as well as many figure studies.
In the same sale is a highly desirable and humorous print by Harland Miller (b. 1964) from his iconic series of re-imagined classic vintage Penguin paperback covers with witty and fictitious titles. This one features a tatty and well-thumbed copy of a paperback in familiar format – with the title You Can Rely On Me, I'll Always Let You Down and the author Harland Miller.
The artist started production of the series in 2001 and this particular print was issued in 2011 – an inkjet on paper – in a series of 35. This one is number 11/35 and is signed in pencil by Miller. It was bought in 2011 from Other Criteria, the gallery who sell works by Damien Hirst among others.
"There's bound to be a great deal of interest in this 'single-owner' print from a series which is hugely collectable at the moment," said auctioneer Lindsey Braune, "We hear that celebrities are on the lookout for them, probably because of the humorous twist on a familiar format and their striking and bold design." This work bears an estimate of £12,000 to £18,000.