London Art Week returns for summer

London Art Week, taking place in galleries and online from Sunday 3 to Friday 8 July 2022, will offer an exceptional series of wide-ranging selling exhibitions and highlights by a huge range of dealers.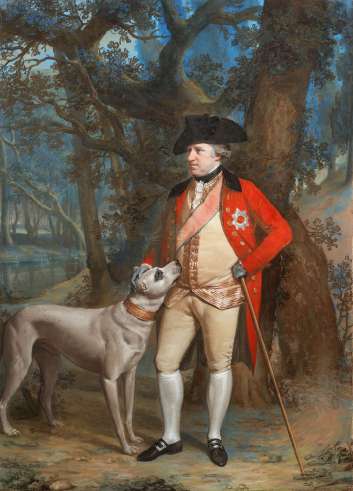 From important 16th-century portraits to early Italian terracotta sculpture, Glasgow School modernism to 18th-century Venetian drawings, an extraordinary collection of newly discovered works by some of the most important British artists of the 18th century to an equally extraordinary Renaissance memento mori carved boxwood Janus Head, gallery shows are not to be missed  in person this July.
This year, London Art Week also introduces a special theme, Music & Dance, creating an artistic thread between galleries. Augmenting this theme is an exciting new partnership between LAW, Cromwell Place and the Philharmonia Orchestra, to present a series of chamber concerts in intimate gallery settings for those who enjoy music and art.
Music and Dance
This summer's theme can be enjoyed across LAW's galleries, and online. A special tour will be offered to see some of the following highlights:
● Ben Elwes Fine Art will showcase the exhibition Mozart and Beethoven: Portraits and Personality, featuring works representing several famous musicians. Among them is an oil by Basile Lemeunier (1852 – 1922) of The Child Mozart, a Spirit of Music, Conducts the Starling with his bow, which was painted in May 1872.
● Agnews will show A young lady playing the tambourine, possibly Miriam the prophetess, sister of Moses by the Pseudo-Caroselli, a lively representation of music-making by a Caravaggist artist active in Rome in the early 17th century.
● Philip Mould & Company will present an exhibition, A Speaking Likeness: Highlights of British Portraiture, which will include Jonathan Yeo's portrait of English National Ballet artistic director and lead principal dancer, Tamara Rojo, from 2014.
Some Highlight Exhibitions
Miles Wynn Cato will be showing British Art Rediscovered: Unseen Pictures, Untold Stories at Gallery Ten, Cromwell Place (from Tuesday, 5th July). This ground-breaking exhibition includes 14 rediscovered paintings and drawings by some of the most important British artists of the 18th century – Thomas Lawrence, Thomas Jones, Angelica Kauffman, Joseph Wright of Derby and remarkably, five rediscovered pictures by Thomas Gainsborough. Over his 30-year career, Miles has a solid record of finding 'sleepers', and all of these works had been long lost, mis-catalogued or previously unrecorded. The pictures are also notable for stylistic reasons, or because the sitter or scene is exceptionally rare. In two instances (Gainsborough and Lawrence), the image on view is one of the artist's earliest known works to survive – so these significant new finds will shed fresh light on the early technique of these outstanding artists. A particular highlight are three paintings by early female artists, including a lost painting by Angelica Kauffman.
Georg Laue, Kunstkammer Ltd., is a guest at Stuart Lochhead Sculpture, contributing to the gallery's exhibition of contemporary Vanitas Still Lives by Josep and Pere Santilari (Spanish, b.1959) by displaying an exceptional 16th century Renaissance Memento Mori Janus Head. Made by a German or Dutch master around 1550, the head is carved in boxwood with the utmost precision and consummate skill. Half of the head is carved as if covered with skin; the skull is exposed on the other side. This radical depiction of death, a memento mori, reminds the viewer of the transience of all earthly things and their own mortality.
Benappi Fine Art is showing The Pull of Paris: the city's attractions and influence on artists throughout Europe. At the turn of the 20th Century Paris had cemented itself as the foremost centre for art in Europe. Artists from far and wide, pulled by the gravity of the city, travelled to be inspired, study and work. This international atmosphere of different cultures and ideas added to the vibrancy, and in turn, the production of modern art. This small exhibition focuses on specific artists from Italy, including Libero Andreotti (1875-1933) and Scandinavia, who worked and studied in Paris during the early 1900s, and considers how this came to influence their own oeuvre.
Highlight Works
Elliott Fine Art also presents 'Paintings: 1850-1900' featuring two works by Italian artist Juana Romani (1867-1924), who from 1887 spent time in Jean-Jacques Henner's studio as a model and student. Critics praised her work, including Camille Mauclair, who wrote in 1901: "Mlle. Romani's pictorial temperament is of an energy very rare amongst female painters, yet is however not weighed down by masculine pretentions." The two paintings on view, Femme au fond rouge and La Vénetienne, are fine examples of her work. The former's original title is lost, but almost certainly depicts an Italian literary or historical heroine, and it likely dates to the turn of the century.
Without doubt it is one of the artist's highest pictorial achievements. In Femme au fond rouge we see Romani at the height of her talent and fame, just a few years before her hallucinations would confine her to a psychiatric hospital, leading to her subsequent obscurity, which is only now being overturned. La Vénetienne, a porcelain-skinned beauty turning her head in profile, is a significant rediscovery within the artist's oeuvre, marking an important step in her stylistic development as well as shedding light on her links with Henner. The work is visible behind the artist in the famous photograph taken of her by Edmond Bérnard in 1892 in Ferdinand Roybet's studio.
The Weiss Gallery has a collection of important highlights, among them an intriguing portrait of an Elizabethan courtier circa 1590, probably Sir Thomas Drake of Buckland Abbey, Yelverton (1556 – 1606) by Hieronimo Custodis (fl.1585 – 1593).
The painting has an interesting inscription in the upper left of the oil 'Fatto a tempo' ['done/ made in time']. Presumably commissioned by the sitter, it went to his daughter Elizabeth Bampfylde (1592 – 1631) and stayed in the family for several centuries. The exhibition will also include two 17th century examples of courtiers in their finery, one male and one female, which give a good representation of court life at the time.
Bonhams, Christie's and Sotheby's will hold their evening auctions during LAW with a selection of highlights including a Nymph by Lucas Cranach I at Christie's, a battle scene by Willem van de Velde the Younger at Sotheby's and a trompe l'oeil still life by Edward Collier at Bonhams.