Barcaglia sculpture raises expectations in Cheltenham
A striking marble sculpture of a young girl with her hand raised, standing on a circular plinth, was highly contested at the Cheltenham Country House Sale held at Mallams recently.
Measuring just under a metre in height and made by the Italian sculptor Donato Barcaglia (1849-1930), it was inscribed with the artist's name on the base, and carried an estimate of £5,000-£7,000. However, it clearly piqued interest, with the hammer finally falling at £10,200 to a UK telephone bidder.
Also proving popular was a charming, signed oil on canvas by Jan Zoetelief Tromp (1872-1947) a painter and lithographer who was born in Jakarta and later lived and worked in the Netherlands and France.
Entitled Children Sledging with a Dog, it sold to a European telephone bidder for the low end estimate of £6,000.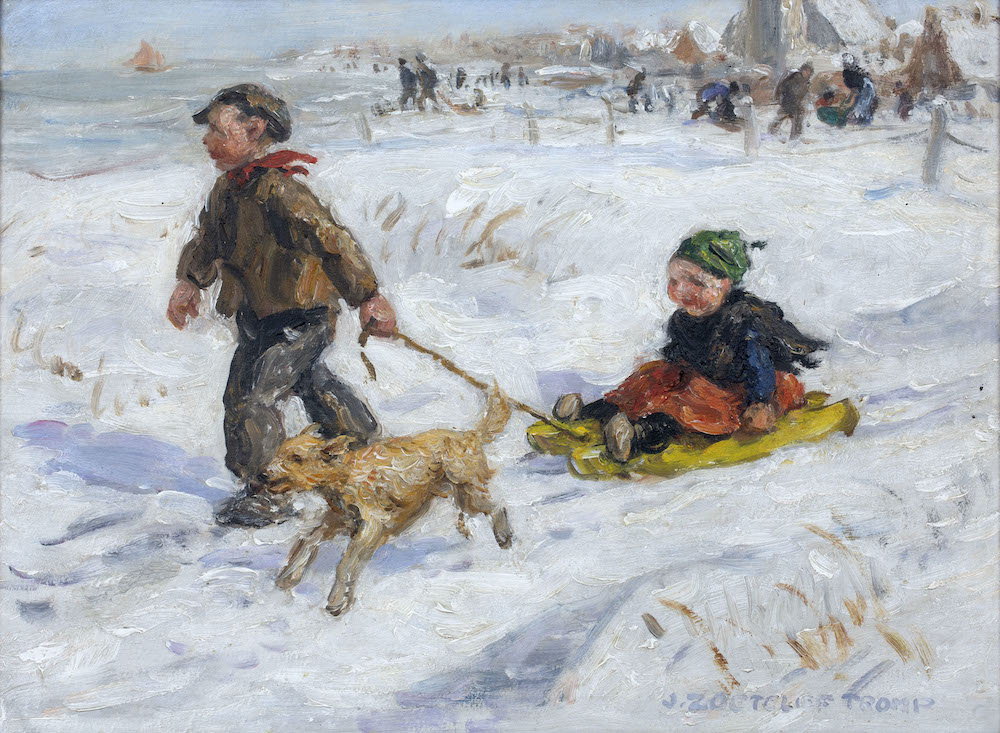 Sailor's sweetheart or valentines terrariums were often made by sailors as love tokens during their long trips away from home, and would have helped to pass the interminable hours at sea. A pair of Victorian sailor's sweetheart terrariums was included in the sale and featured various sea shells arranged in an intricate pattern, depicting floral arrangements and birds under glass domes. Standing at 46cm high and with wooden bases, these terrariums clearly captured bidders' hearts with a final, winning bid of £3,600, well above the £300-£500 estimate.
A painted, porcelain plaque from the Berlin KPM (Königliche Porzellan Manufaktur or Royal Porcelain Factory, founded in 1763 by King Frederick II of Prussia) also featured in Mallams' sale. Dating from the 19th century and measuring 40 x 34.5cm, it was entitled The Violin Recital and featured a young man playing a violin with a sleeping maiden resting her head upon his knee. Signed by J Foyl it was estimated at £500-£700 but significant interest saw the price rise to double top estimate, eventually selling for £1,400.
Another lot that performed well, was a pair of late 17th-century English Delft baluster vases. Possibly made in London, they featured tin glazed pottery, and were decorated in the Ming style, with figures and landscapes. Estimated at £400-£600, interest amongst bidders took the price to £1,100.