Picture frames sale at Sotheby's
Over 120 pictures frames from the esteemed collection of the Richard Green Gallery in London are being offered at Sotheby's New Bond Street in the auction house's first dedicated frames sale in two decades.
In a departure from their typical display, the frames will remain empty, in this first-ever collaboration between Sotheby's and Richard Green, one of the capital's most prestigious galleries.
Works of art in their own right, frames were often carved by the most celebrated sculptors of the day, their popularity growing to the extent that by the 17th and 18th centuries framemakers were frequently able to charge more for their creations than the artists whose work they adorned.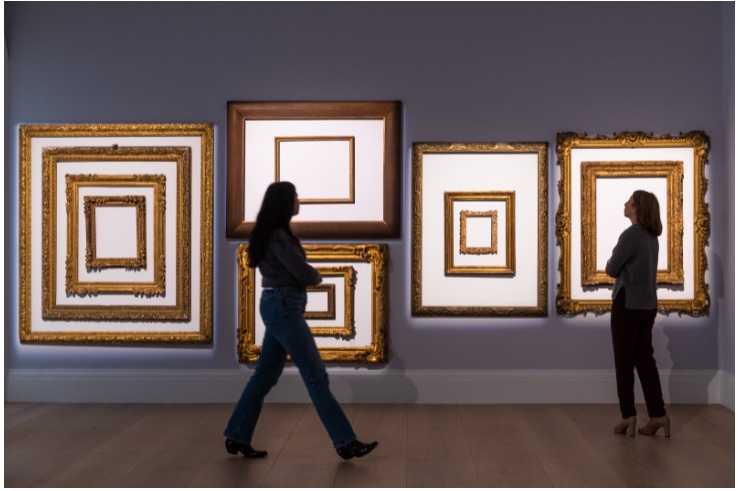 Many of the antique frames to be offered at Sotheby's – some dating back over three hundred years – are presented with their original gilding and dimensions, a rarity given the alterations that frames typically undergo during their lifetime. Spanning the 17th to the 20th centuries, examples of British Baroque, French Rococo, and a variety of Italian styles, as well as 19th-century Impressionist and 20th-century Modern frames are included, offering the opportunity for collectors to reunite 'orphaned' frames with the paintings they were originally intended for.
Richard Green, Chairman, Richard Green Fine Paintings, said: "Ensuring that a painting is presented in a frame that is contemporary and sympathetic to the style and period of the artwork is hugely important in our field of work. We're delighted to offer at Sotheby's these highlights from our collection of frames, many of which we acquired almost thirty years ago. I hope that this sale inspires a deeper appreciation for frames in their own right, with many finding their ideal partner paintings, or perhaps even a new use."
Georgina Hardy, Head of Evening Sale, Old Master Paintings, said: "Although frames are often overlooked as simply a means to encase, protect, and hang a picture, they can offer so much more. Some are beautiful works of art in their own right or have their own stories to tell as they have travelled through the centuries. Others, when chosen carefully, can greatly enhance, contextualise and draw the eye into a composition – something well-understood by artists from the Old Masters to the Impressionists. We are delighted to be engaging with the age-old tradition of framing and reframing through this sale."
Highlights in the sale from the Collection of the Richard Green Gallery include a French 17th century rose corner frame, estimated at £800–£1,200, which reflects the costumes of the period, such as the curled wigs worn by men and the fashion for women to style their hair piled high. It is carved with fanned lambrequin corners and sunflowers, narcissi, roses and
violets.
Picture frames were part of a holistic approach to interiors in France, often complementing an entire scheme of decors. In châteaux and palaces, fireplaces, chairs, ornaments and frames would have all been created in a complementary style.
French transitional frames, popular in the 18th century, combined Rococo curves with classical ornaments and symmetry. An example of which in the sale was designed to house a 17th-century seascape by one of Holland's leading marine painters, which has an estimate of £1,000-£1,500. The back of the frame bears clues to its past, including a label for its loan to exhibitions at the Royal Academy of Arts and Manchester Art Galleries in the 20th century.
During the 17th and 18th centuries British Baroque and Rococo frames typically hung in English country houses, with the architects of several grand homes designing frames as part of the character of the building. Yet, when these residences and their contents were inherited or sold by successive generations, paintings were often reframed in more modern, avant-garde styles in keeping with the latest fashions. The offer of 'orphaned' frames from this era provides an opportunity to reunite paintings with the frames that were originally intended for them.
The Impressionist movement in the 19th century saw the popularisation of far simpler frames, a trend which developed in order not to distract from the painting it surrounded, or the environment in which it hung. By the turn of the 20th century it had become common practice for artists to exert their creative influence beyond the artworks themselves by designing their own frames, in collaboration with framemakers.
Today, surviving Impressionist frames are relatively rare. Degas-style frames are characterised by their flat, minimalist compositions and neutral colours which complemented artworks, seen in French Impressionist Degas' own sketchbooks. Degas was known to feel particularly strongly about the frames he paired with his works. An account by renowned art dealer Ambroise Vollard recalls that Degas once visited a friend who had purchased one of his paintings and reframed it without permission in a gilded setting. Upon setting eyes on the artwork Degas took the painting down from the wall, removed the frame, and walked out of the house with his painting under his arm.
Frames from the Collection of the Richard Green Gallery – Part I is now open for bidding until April 5, with Part 2 offered in September 2023.