Robert Kime Collection in Berkshire sale
The personal collection of Robert Kime, the celebrated designer, antique dealer, decorator and 'great assembler' of beautiful things will be sold at Dreweatts in Berkshire.
Robert Kime's unique eye and aesthetic sensibility led him to become one of the leading design figures of his generation. The culmination of his lifetime of collecting will form a three-day auction at the auctioneers, titled Robert Kime: The Personal Collection, which will take place on October 4, 5 and 6, comprising of over 750 lots ranging in value from £30 to £100,000. It is expected to achieve in excess of £1.5m and charts his passion, curiosity and delight in beautiful things through the contents of his homes in London and Provence.   
Robert Kime Collection
The auction house said that the sale of this iconic collection will be a landmark in the history of English taste and a celebration of one of the most respected and loved decorators of his generation. The auction presents a once-in-a-lifetime opportunity to obtain works from Robert's very own personal collection, which he meticulously formed over his lifetime, through his travels around the UK, Europe, the Middle East and beyond, encapsulating many contrasting cultural traditions and mediums. 
Day one of the auction will present works of art from Robert's Warwick Square home in London, whilst Day two will offer the collection from his much-loved Provencal house: 'La Gonette.' Day three's auction will contain a variety of the more decorative items from both locations.   
Commenting on the sale and collection, Will Richards, Deputy Chairman of Dreweatts, said: "Dreweatts is honoured to be entrusted with the sale of Robert Kime's personal collection from his family homes. Robert was a widely admired and greatly respected figure in the art and design world. He was foremost a collector, driven by an innate curiosity, combined with a deep academic knowledge. Robert loved to travel and his collection of treasured objects reflects a lifetime of looking, engaging and gathering – from classical antiquities to Chinese porcelain, from Indian textiles to Eric Ravilious. Each layered with a story or circumstance and together they paint a portrait of an inspirational man remembered with great affection across generations."
Childhood fascination
Robert's fascination with objects grew from his childhood and he began selling antiques while studying Medieval History as an undergraduate at Oxford. His passion and broad knowledge encompassed Middle Eastern art, including textiles and antiquities, European antiquities and works of art and ceramics, as well as modern art.
Robert's enthusiastic intellectual engagement created wonderfully varied, fascinating and comfortable interiors filled with the exotic and every day. Robert's 'eye' and academic rigour drew the royal family and collectors from around the world to ask for his help in building their collections and designing their homes. King Charles III said of his unique aesthetic sensibility: "You often hear of people who are said to have 'a good eye', but Robert Kime's must surely be one of the best.'' It was this keen eye that enabled him to bring comfort to a room by harmoniously mixing beautiful antique textiles, with fascinating objects, furniture and paintings, while creating an atmosphere of safety and warmth, as if the interiors had developed a special atmosphere naturally. 
This immensely personal collection, while providing a portrait of the man through his objects, also charts the creative partnership he had with his wife Helen Nicoll, the celebrated children's author and audiobook pioneer.  This sale will be an insight into the countless decisions the couple made together over the course of many decades and in a succession of homes, the interiors of which are now ingrained in the psyche of English interior decoration.  
The works that recur in their different residences chart a shared life shaped by discerning collecting, constant evolution and the sheer delight of discovery. The collection's final formation at 'La Gonette' and his townhouse apartment in London, represents a distilled view of his favourite things, which now carry forward their stories with them in the knowledge that they were selected for their aesthetic quality, by an unrivalled eye that still continues to inspire across generations.  
Joe Robinson, Head of House Sales & Private Collections at Dreweatts, said: "Few phrases garner as much excitement or respect as 'supplied by Robert Kime'. It is synonymous with a refined understanding of interiors marked by variety, sublime subtlety, and quality. When discussing this immensely personal collection, which stands as testament to Robert's own passion for collecting, the knowledge that these works were hand-picked and retained over a lifetime, offers an assurance of an aesthetic quality that is simply unmissable."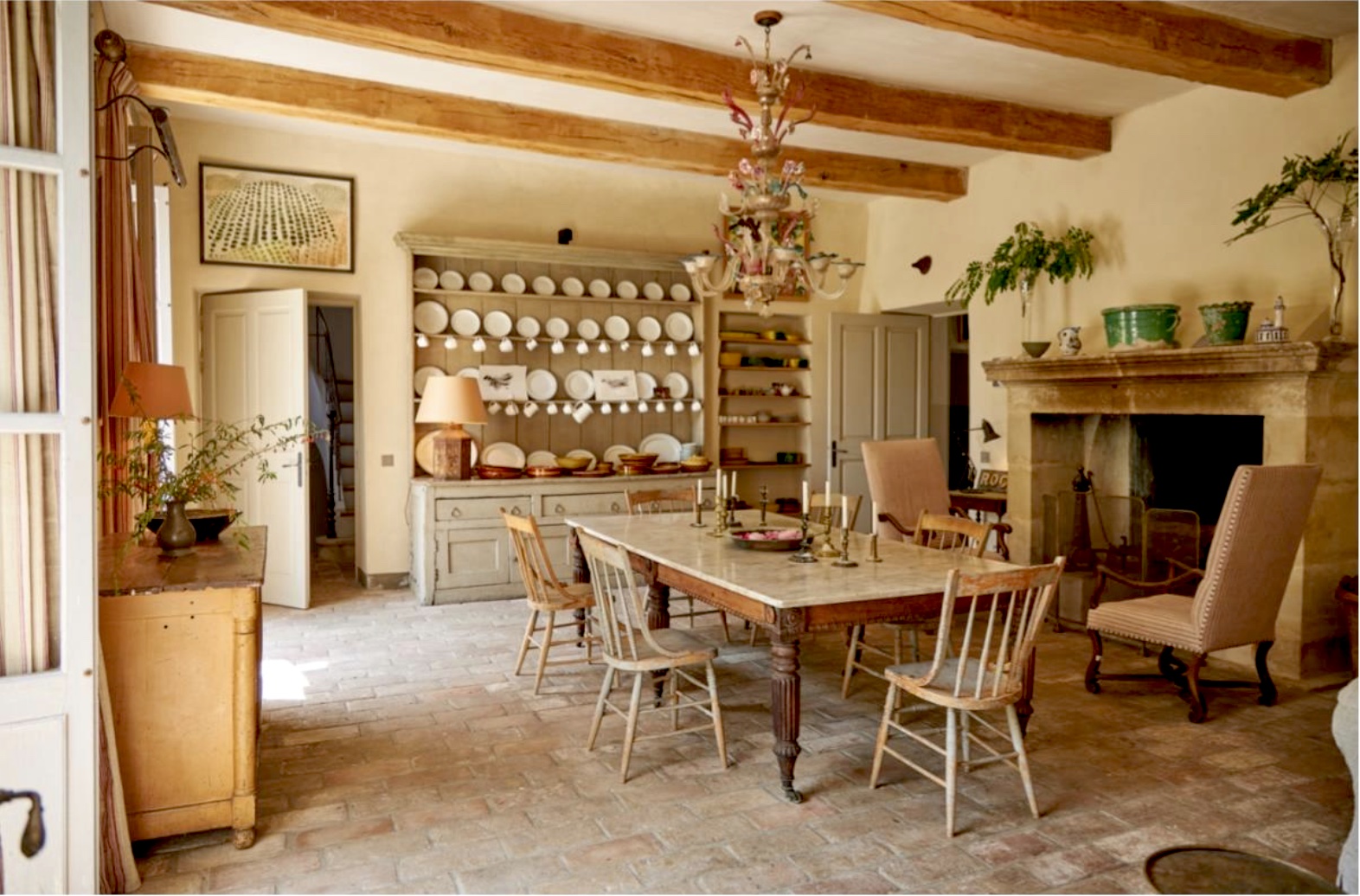 Robert Kime's favourite things
Among the highlights  is a striking watercolour and pencil landscape by Eric Ravilious (1903-1942) titled New Year Snow. The painting was loved by the whole family and has hung in several of Robert's homes, as is customary with many of Robert's pieces. This depiction of the snowy British countryside is signed by the artist and carries an estimate of £100,000-150,000.
An Elizabethan Portrait of a Man with Pickaxe and a Spade in a Landscape was another firm favourite that moved between several of Robert's homes. It is an example of the relationship that Robert had with each of the objects in his collection – they were not merely 'things', but pieces that evoked a sense of feeling and engagement.
The English School 16th century oil painting carries an estimate of £10,000-£15,000. 
A pair of 17th-century English carved and painted strapwork framed psalms are believed to have previously hung at Longleat House in Wiltshire. They are inscribed "I am the Bread of life, which came down from Heaven" (John 6, verse 51) and "I will take the Cup of Salvation & call up only Name of ye Lord" (Psalms 116, verse 13). The pair carries an estimate of £3,000- £5,000. 
A large and rare bezoar stone dating from the 16th/17th century is one of the more unusual objects in the sale. Bezoar stones are calcified concretions of stone or hair, covered in layers of calcium phosphate. They are found in the stomachs of some animals and were introduced to Europe from the Middle East in the 11th century. Originating from the Persian word pād-zahr meaning 'preserver from poison', bezoar stones are believed to have curative properties that negate the effects of poison. It was believed that scrapings from the stones were an effective antidote to deadly poison, such as  arsenic and were also used to treat fevers. The example in the sale has traces of grating, which indicates it was used in this context. Rare to obtain, especially of this unusually large size, they were highly prized by Royal courts and the nobility and their cost could be ten times more than their weight in gold. The stone, which is 13.5cm wide and 10cm high is estimated to fetch £6,000-£10,000. 
Travel and the Far East
Robert's zest for travel is a central theme amongst the works in the collection and he would delight in the objects that he observed and discovered. As a result, the collection is richly textured and showcases Robert's interest in the contrasting cultural traditions of China, India, the Islamic world and beyond. 
Robert was particularly drawn to the beauty and fragility of Chinese, Ottoman and Delft ceramics. In the sale is a Ming Dynasty Chinese blue and white lotus jar, decorated with stylised flowers, estimated at £4,000-£6,000 and an Iznik pottery jug, displaying the typical range of colours of this type of craft, which was practised during the 16th and 17th centuries in Iznik, a town in north-western Turkey, estimated at £3,000-£5,000.   
A 19th-century oil work titled The Great Pyramid of Cheops, Gizeh was created sometime during the mid-19th century for the Niagara Falls Museum in Canada, which was founded by Englishman Thomas Barnett, in 1827. The museum was devoted to displaying natural history, curiosities and local relics. With a growing public interest in ancient Egypt, artworks such as this painting were commissioned to enhance and compliment the setting of these artefacts. The museum was so popular that it was visited by important dignitaries such as the opera singer Jenny Lind, the statesman Henry Clay, American Presidents Abraham Lincoln, Ulysses S. Grant and Theodore Roosevelt. The Great Pyramid of Cheops, Gizeh carries an estimate of £4,000-£6,000. 
Elsewhere, a painting by the great British artist Walter Richard Sickert (1860-1942) reflects Robert and Helen's joint love for Venice. Sickert visited Venice on many occasions and painted this work titled Scuola di San Marco (Ospedale Civico) circa 1895. It captures the famous building that used to house the four main schools in the city and faces one of the largest squares in Venice. The work in oil on canvas, was painted between 1895-1896 and carries an estimate of £50,000-£80,000. 
Works by The Bloomsbury Group
A work titled Still Life of Narcissi by Vanessa Bell (1879-1961), is one of several works in the collection by members of the Bloomsbury Group –the group's central belief was in the importance of the arts, which they carried through into their work and views. The jug present in the work is now known to still be at Charleston. Still Life of Narcissi carries an estimate of £10,000-£15,000. 
Other interesting works include Woodland by Duncan Grant (British, 1885-1978) on oil on board carries an estimate of £10,000-£15,000. A table painted by Grant is also in the sale with an estimate of £10,000-15,000, illustrating Robert's fascination with all things Bloomsbury. Other Modern British highlights include Fells, Ambleside by British artist and founder of the National Portrait Society William Nicholson (1872-1949) estimated at £20,000-£30,000, as well as Figures in a Garden with a Church Beyond by the artist Christopher Wood (1901-1930), which has an estimate of £10,000-15,000.  
Antiquities in collection
Among the antiquities in the collection is a fascinating Egyptian wooden funerary boat with crew. Carved funerary boats were buried with the dead in their graves during the Middle Kingdom period of Egypt to help transport the deceased into the afterlife.
The more important the deceased, the more elaborate the carved boats and figures were. This particular example is painted and decorated and dates from circa 2133-1797 B.C. and carries an estimate of £15,000-£20,000.
Continuing with the Egyptian belief that the afterlife is just as important as life on earth, are two polychrome painted canopic boxes dating from the period, 304-30 B.C. canopic boxes held the internal organs of the deceased during the mummification process. Egyptians believed that everything had to be perfectly preserved to journey into the land of the afterlife, so the person's organs were delicately placed into canopic boxes to be buried with the deceased. The examples from Robert's collection carry an estimate of £20,000-£30,000. Classical culture is also represented within the collection, including an ancient Greek red-figure column krater from the middle of the 5th Century B.C. which is expected to sell in excess of the £6,000-£8,000 estimate. 
Robert Klime's collection of rugs

Robert was hugely inspired by antique textiles and designs and his collection of exceptionally important rugs reflects this. Amongst them are two important 16th-century Ushak rugs which Robert displayed as artworks on the wall at his Warick Square apartment, one
of 'Lotto' design, estimated at £30,000-£50,000 and one of 'small pattern Holbein' design, estimate of £40,000-£60,000 from the West Anatolia Region (Turkey). The latter is a particularly rare and apparently unpublished example. It derives its name from the painter Hans Holbein the Younger, as a rug of this design appears in his Portrait of George Gisze of 1532. However, rugs of this design also appear in the work of many European artists from the mid 15th until the 17th century.
One of Robert's particular favourites was a rug he bought in New York. The Ushak 'medallion' carpet comes from a well-documented group, usually with a red ground and the large circular medallion or medallions indigo. The example in the sale has the inverse colour arrangement, making it particularly rare. It is being offered with an estimate of £30,000-50,000. 
Furniture in sale
A striking selection of furniture in the sale includes a green painted and parcel gilt four poster bed, dressed with antique fabric, estimated at £4,000-£6,000.
Robert Kime was widely known and respected for the beautiful fabrics he designed and produced. Many of the pieces of furniture in the sale display Robert's use of antique fabric in his personal interiors, and many of these would go on to influence and inspire the designs produced today. 
A late 19th-century red leather armchair, is by the eminent Victorian furniture makers, Howard & Son. The armchair is another example of Robert's design philosophy, of combining comfort with high quality design, he bought it many years ago and it was seen as an 'old friend' that travelled with him from house to house. It carries an estimate of £3,000-£5,000.
A late 17th/early 18th century Indian ivory inlaid hardwood cabinet from the Sind province in Pakistan once again shows the diversity of the collection. It stands on a later walnut stand in the Cotswold School taste and is estimated to fetch £6,000-£10,000.  
A George II carved giltwood pier mirror from circa 1755 is the last piece that Robert ever bought. It was formerly in the collection of Gerald Tyrwhitt-Wilson, 14th Baron Berners (1883-1950), a British composer, novelist, painter and aesthete, who inherited his title alongside Faringdon House, Buscot in Oxfordshire. Here he would host visitors that included the literary, musical and artistic avant garde of the early 20th century, such as Salvador Dali, Igor Stravinsky, Daisy Fellowes, H G Wells, Cecil Beaton, John and Penelope Betjeman, Stephen Tennant, Nancy Mitford and others from the 'Bright Young Things' set. Berners himself was a prolific composer and wrote over 100 works, including operas, ballets, orchestral pieces and chamber music. As a successful novelist he wrote several well-received works, including The Camel (1936), a biting satire on English society and The Girls of Radcliffe Hall (1937).  Berners was also a proficient painter, creating works reminiscent of the French landscape and portrait painter Jean-Baptiste-Camille Corot (1796-1875) in his Italian period. The architectural pediment and frame of the mirror is carved with a pierced shell, foliate scrolls and a trellis ground. Its' bevelled plate is thought to be original and its' gilding shows traces of 18th century gilding. The rectangular 'tabernacle' design is derived from designs of the 1720's by eminent architect James Gibbs (1682-1754), who was influenced by one of the most important architects in British history, Inigo Jones (1573-1652). It carries an estimate of £40,000-£60,000. 
Elsewhere in the sale is a mid/late 15th century Nottinghamshire carved alabaster relief panel of the Resurrection, belonging to a group of panels produced by the 'alabastermen', 'kervers' and 'marblers' working in and around Nottinghamshire in the 15th and early 16th centuries. Like the examples at Compton Verney and the Walters Art Museum, each share the same composition layout, with the figure of Christ rising from the tomb, his right leg stepping over a braced fence to step onto a sleeping soldier, his cross-staff in his left hand and right hand raised in blessing. The panel carries an estimate of £6,000-£10,000.