Christopher Payne reveals his favourite British furniture
Christopher Payne, a regular on the BBC Antiques Roadhow and author of a new book, British Furniture 1820-1920: The Luxury Market, chronicling 100 years of British furniture, reveals the piece he would most like to own
In more than 50 years of assessing antique furniture, including my time as a director of Sotheby's and as a regular on the BBC's Antiques Roadshow, there have inevitably been many pieces I have coveted.
One that immediately springs to mind is a bureau cabinet made by Michael Kimmel in c. 1750 for Augustus III – and one of the most magnificent pieces of cabinet work, now in the V&A, which I had the pleasure of cataloguing and which carries the letter 'H' number in my handwriting under one of its drawers.
Researching my recent book British Furniture 1820-1920: The Luxury Market there have been some wonderful trouvailles by well-known makers whose names will be familiar to furniture collectors, including such leading lights as Collinson & Lock, Edwards & Roberts, Gillows, Holland, Maples and Morris & Co. But the absolute number one in my current top 10 may well surprise readers.
Jackson & Graham
It is by a maker whose name may not be known to many – the Victorian company of Jackson & Graham. One of the founders of the firm Peter Graham (1811-1848) was a native Cumbrian although details of his partner, Thomas Jackson (1807-1848) are less known.
The piece in question is an ebony and ivory-inlaid writing table, almost certainly made in the workshops of Jackson & Graham, which was inspired by a chiffonnière supplied by Jean-Henri Riesener to Marie-Antoinette queen consort of King Louis XVI in c.1781.
Queen Victoria
The firm had extensive showrooms in Oxford Street, which, as well as supplying high-quality furniture also offered soft furnishings, an increasing trend adopted by all the major metropolitan and provincial firms. Their work was supplied to, among others, Queen Victoria for Buckingham Palace, the Khedive of Cairo and even the King of Siam.
Jackson & Graham first exhibited at the Crystal Palace Exhibition in London in 1851. At this stage their work, although remarkable for its quality and finish, can only be described as 'High Victorian' employing the skills of fashionable designers such as Alexandre Eugène Prignot, Hugues Protât and even the celebrated sculptor Carrier-Belleuse.
Their cooperation with the best Paris firms was sealed by the inclusion, in 1851, of a large bronze-mounted, ebony-veneered display cabinet by the bronze foundry of Ferdinand Barbedienne.
High Renaissance style
For the 1867 Paris Exposition, as well as a rare, signed display cabinet, Jackson & Graham chose to show a large hardstone-encrusted cabinet in the High Renaissance style.
It was designed by the French-born Alfred Lormier, Jackson & Graham's principal designer, whose misspelt name is often confused with the Scottish designer, Sir Robert Lorimer (1864–1929).
The cabnet was made by one of the best ivory workers at the firm – a Danish immigrant called Ole Petersen who died aged 39 in 1876. According to Peterson's obituary he had 'for many years past been almost exclusively engaged upon the exhibition work of Messrs. Jackson & Graham'.
Jackson & Graham were clearly under enormous pressure to finish their exhibits on time. So much so that they were only able to show the lower portion and the cabinet failed to sell.
Four years later it was shown in completed form at the 1871 International Exhibition in London. George Wallis, the keeper of the art collections at the South Kensington Museum, later V&A, wrote: 'The CABINET… will be classed amongst the most admirable specimens of its class: perhaps no country, in our time, has produced a work so perfect.."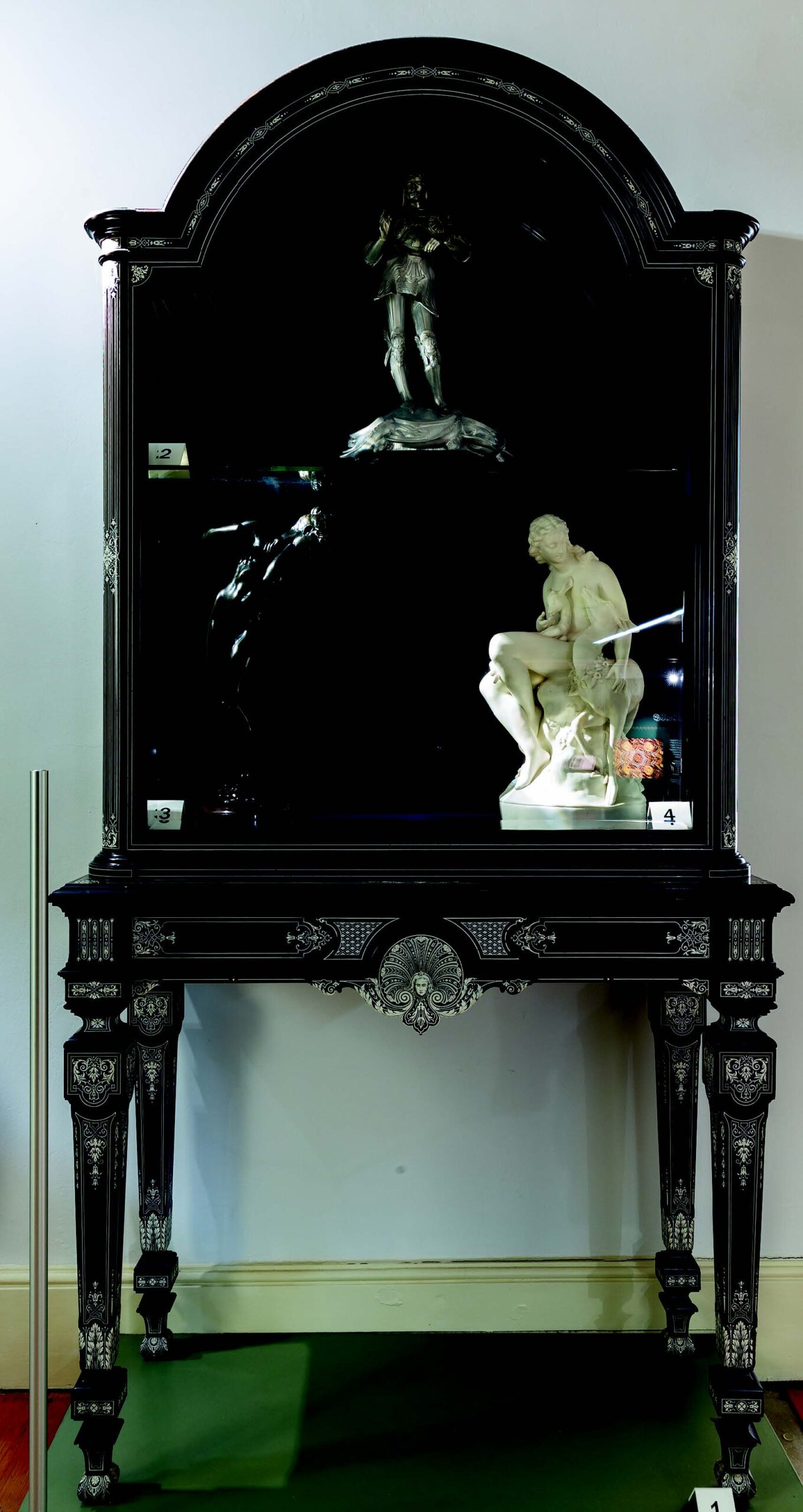 £5m today
However, it again failed to find a buyer, probably because of a combination of two factors: cost and a waning British interest in large, Renaissance-style cabinets.
Sent abroad again, this time to Vienna for the 1873 World's Fair, it was eventually returned to Jackson & Graham in London. Intriguingly, for such a fine = piece that would have taken countless hours to make with a considerable outlay of materials and time, the precise circumstances surrounding the commission are uncertain.
There was speculation that it was commissioned by the future Earl of Bective (1844–1893) to celebrate his marriage to Lady Alice Maria Hill in 1867. The cost of the cabinet is seemingly unparalleled at £4,000, the equivalent of close to £5m today. However, this does not square with the fact that the cabinet was shown again in London and Vienna over the next six years, and eventually sold at auction for 500 guineas.
My Favourite Piece
And so we come to another piece which must be from the same workshops of Jackson & Graham – the little ebony and ivory-inlaid writing table, seen earlier, and one of the most fascinating examples of British furniture made in the French idiom.
The black-and-white detail is a startling and innovative modernisation of the dressing table now at Waddesdon Manor, made in c. 1781 by Jean-Henri Riesener (1734-1806) for Marie-Antoinette.
Riesener was one of the greatest French cabinetmakers of all time. From humble beginnings as a German immigrant in Paris, he found fame through the delivery of a magnificent roll-top desk to Louis XV in 1769 and went on to become Marie-Antoinette's favourite cabinetmaker, supplying the queen and the court of Louis XVI with sumptuous furniture of superb quality.
Revolutionary sales
Dispersed during the revolutionary auctions, by c. 1852 the original table had found its way into the collection of the 10th Duke of Hamilton whose wealth was boosted by marriage to daughter of the richest commoner in England, William Beckford. There were two occasions as to when the 'copy' might have been made. The first opportunity was when the original desk was exhibited on loan to the South Kensington Museum as exhibit number 826 in 1862, the description and provenance in an unillustrated catalogue.
The second was when it was offered on behalf of the 12th Duke's sale of part of the contents of Hamilton Palace on June 20, 1882, as lot 303, where it was purchased by the dealer Samson Wertheimer on behalf of Baron Ferdinand de Rothschild and is now at Waddesdon Manor.
Striking inlay
The 1882 auction price was an astonishing £6,000, far and above other furniture at the auction. The Jackson & Graham interpretation, made by Ole Petersen, is not dated, all we have to go on is the lock stamped simply 'VR' but this author's guess it was in the 1860s, at the height of the firm's production and audacity.
With superb cabinet work, the maker has echoed the 'ormolu' of the original in two-dimensional form, with beautiful and striking inlaid and engraved ivory interpreting the original marquetry. Even the pierced ebony gallery meticulously copies the design of the original, but in ebony.
Owen Jones
Much of Jackson & Graham's success was due to their employment of talented professional designers. Among those who worked for the firm were Bruce Talbert, Christopher Dresser and the British architect, orientalist and decorator Owen Jones (1809-1874) whose 1856 book The Grammar of Ornament and later The Grammar of Chinese Ornament in 1866 had a great influence on furniture design of the day.
From 1862-1864, Jackson & Graham was commissioned to furnish new rooms at the country house of Alfred Morrison of Fonthill, in Wiltshire. They were also commissioned to work on Morrison's London home, Carlton House Terrace three years later.
Alfred was the son of the successful entrepreneur, haberdasher and MP, James Morrison, who had, years before, entertained the young Owen Jones at his family home. So it was no surprise when Jones was called on, along with Jackson & Graham, to design the new rooms.
Two recently-discovered tables (one of which can be seen here) show a style in complete contrast to Jackson & Graham's ivory inlaid furniture. Both reflect Jones' highly-stylised and radical new form, embracing his love of the "Mauresque", drawing inspiration from the Alhambra Palace in Granada.
One of the tables is inlaid on a satinwood ground, with the other walnut. The maker has chosen different methods of top support to the undersides.
Posthumous exhibition
It is probable that the tables were made as companion pieces to a suite of furniture supplied by Jones to Alfred Morrison and are comparable to an armchair and a centre table now in the Art Institute of Chicago.
In 1874, the year of Jones' death, there was a posthumous tribute to him at the London International Exhibition. While there are no photographs of the exhibition, and the catalogue is not illustrated it does tantalisingly list 'Forty Drawings, in Three Portfolios. Exhibited by Messrs. Jackson & Graham' with number 198 being an "Inlaid Table (Drawing Room) …. Exhibited by Mr. Alfred Morrison", unfortunately not a full enough description to allow a positive identification.
Christopher Payne is the author of British Furniture 1820-1920: The Luxury Market which, decade by decade, charts the century's main stylistic periods including gothic revival, rococo revival and art and crafts. Published by ACC Art Books and priced £125. Subscribers to Antique Collecting magazine can buy the book for just £95 plus £6 p&p.