Antique hunting in New York – the top places to visit
Planning some serious antique hunting in New York? The Big Apple is a must-visit for collectors, so Nicholas Martin reveals the best places to go.
For collectors, enthusiasts and art lovers New York is an antique hunter's paradise.
Home to some of the best antique fairs in the world, the city encompasses a large and important sector of the art world, offering some of the best international museums, galleries, and exhibition spaces in the world, ranging from the didactic and the expressionistic to the jarring and bizarre.
On Fifth Avenue, The Metropolitan Museum of Art – or more affectionately "the Met" – is the biggest art museum in the whole of the United States. Both tourists and locals alike flock to the Met for special exhibits and its 16 collections which specialise in everything from arms and armour to American art.
Whether visiting as an admiring beginner, or an expert looking for something specific, the Met is the best starting point.
Fifth Avenue is home to the "Museum Mile", so alongside the Met, visit the Solomon Guggenheim Museum, a masterpiece of Frank Lloyd Wright design. Playfully circular, it is the only Wright building in New York City.
The Guggenheim's quirky structure suits the passionate collectors and progressive art lovers that it tends to attract.
Antique Hunting in New York – Saturday
The Evolution Store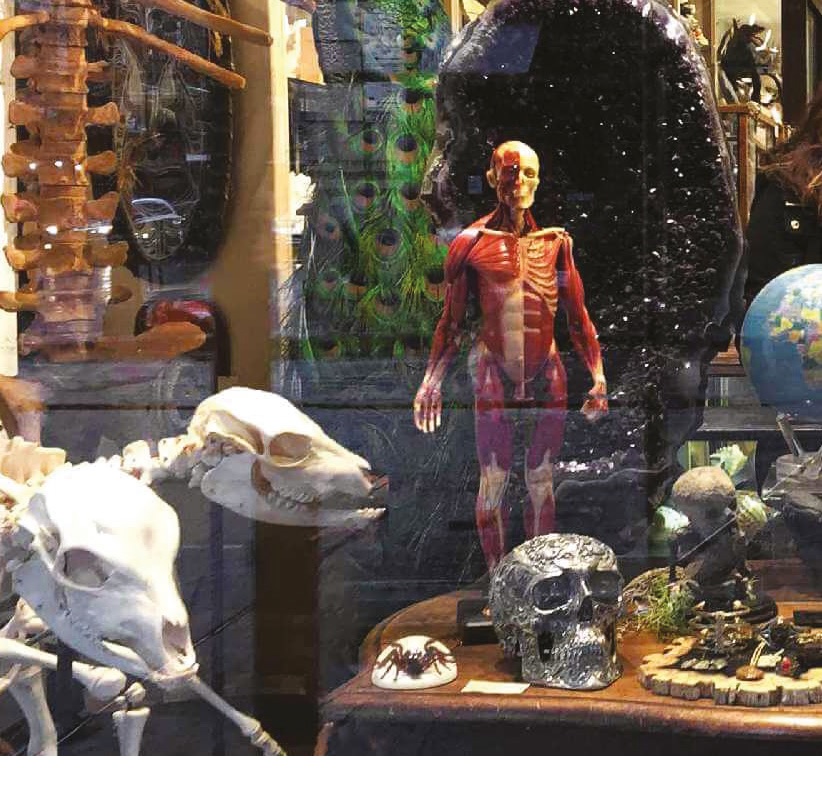 Spend your first day antique hunting in New York by hitting the East Village, one of the city's most fashionable areas, with four antiques venues to visit. Luckily they are all in a half-mile radius, roughly a 10-minute walk.
Tucked in a corner of the Bohemian capital of Greenwich Village, the Evolution Store is probably one of New York City's most interesting shopping spots. Stepping into this store is an experience between looking around the props room on a movie set and spending time in a natural history museum or in a huge wunderkammer.
It is a naturalist's dream, whether your interest lies in high-quality, museum standard collectable pieces or simple replicas to decorate the home.
Taxidermy accounts for the store's more expensive pieces with a mounted white peacock on sale for $4,995 (£3,700).
Evolution Store Fact File
Address: 687 Broadway, New York, NY 10012
Tel: (212) 343 1114
Website: www.theevolutionstore.com
Twitter: @TheEvolutionNYC
Open: Monday – Sunday 11am-8pm
Olde Good Things Bowery
Olde Good Things Bowery, which started out as a regular stallholder at flea markets and is now one of the largest architectural antique dealers in the USA. The owners used to rifle through trash to find and restore treasures, and now have a reputation as antiques salvagers who remove valuable furnishings from buildings prior to demolition.
The atmosphere and interior set-up of the Olde Good Things stores (there are three stores in NYC, one in L.A., and a massive warehouse in Scranton, PA) is like entering a museum.
Conveniently located between the East Village, Greenwich, and Little Italy, Olde Good Things Bowery offers a wide selection of tastefully reclaimed furniture and vintage decor to suit a multitude of palates. Staff are also highly knowledgeable.
Olde Good Things Bowery Fact file
Address: 302 Bowery, New York, NY 10012 (between Bleecker street and East Houston street)
Tel: (212) 498 9922
Website: www.ogtstore.com
Twitter: @OldeGoodThings
Open: Saturday 10am-7pm, Sunday 11am-7pm, Tuesday 10am-6.30pm
Obscura Antiques and Oddities
If all things macabre, ghoulish and peculiar are your thing, head to Obscura Antiques and Oddities – a 45-minute walk from Times Square, or a 10-minute stroll from the Evolution Store visited in the morning.
It feels rather crammed, the space is small and with a handful of people inside, customers will already be knocking elbows.
Prices are on the high side, making it tricky to find a decorative momento from this unique venue. Budget at least $20 (£15) for the smaller pieces, with the larger items selling for around the $200 (£150) mark.
Obscura Antiques and Oddities Fact File
Address: 207 Avenue A, New York, NY 10009
Tel: (212) 505 9251
Website: www.obscuraantiques.com
Open: Monday to Saturday 12pm-8pm,
Antique Hunting in New York – Sunday
Cure Thrift Shop
Cure Thrift Shop destroys thrift shopping stereotypes by offering very high-end pieces at discounted prices, as well as a selection of antique ornaments, home furnishings, and a few more obscure objects. In fact, so good is the shopping experience that Cure was recently named by Time Out New York as one of the "Top 50 NYC Stores of All Time".
Walking into Cure Thrift Shop feels like entering a high-end boutique. Stretched over two floors, this huge space is utilised to the maximum making it a pleasure to explore its nooks and crannies. Liz Wolff founded Cure Thrift Shop in 2008 as a non-profit venture to support research and advocacy for juvenile diabetes. The more that is bought, the nobler the deed done by the shopper – which makes the experience all the more enjoyable.
Cure Thrift Shop Fact File
Address: 111 East 12th Street, New York, NY 10003
Tel: (212) 505-7467
Website: www.curethriftshop.com
Open: Monday to Sunday 12pm-9pm
Chelsea Flea Market
More than just another weekend shopping venue, taking place in the shadow of the Cathedral of St. Sava, the Chelsea flea market is an institution evoking the original Annex Antiques Fair and Flea Market, begun nearby on 6th Avenue almost 40 years ago.
Up to 150 vendors offer antiques, collectables, ephemera, decorative arts, vintage clothing and jewellery. If you are an expert bargain hunter you won't be disappointed.
Most vendors at Chelsea Flea Market are ultra-friendly fellows, some of whom drive in from around New York State and beyond before the crack of dawn. They are stalwarts who have developed a faithful following in the neighbourhood over the years, with still avid groupies from Chelsea's glory years.
Chelsea Flea Market Fact File
Address: West 25th St.(between 6th Ave and Broadway), New York, NY 10010
Telephone: (212) 243 5343
Twitter: @AnnexMarkets
Website: www.annexmarkets.com
Opening time: Saturday and Sunday 6.30am-7pm
Hell's Kitchen Flea Market
Hell's Kitchen Flea Market (HKFM) sets a standard for distinctive vendors and it is no wonder it was named one of the top 10 shopping streets in the world by National Geographic. Year round, the street is closed to weekend traffic as it welcomes 150 vendors with booths full of furniture, jewellery, ephemera, objets d'art and retro decorative items.
One asset of HKFM is its slightly out-of-the-way location, making vendors lower their prices comparative to elsewhere in the city.
Hell's Kitchen Flea Market Fact file
Address: West 39th Street at 9th Avenue, New York, NY 10018
Telephone: (212) 220 0239
Twitter: @AnnexMarkets
Website: www.annexmarkets.com
Open: Saturday and Sunday 10am-5pm
Artists & Fleas Chelsea
In the afternoon staying in Chelsea, head to the Artists & Fleas, which is the destination for artists, designers and collectors. Established in 2003 by Amy Abrams and Ronen Glimer in a former warehouse in Brooklyn, Artists & Fleas has since become a vital destination for a community of artists, designers, vintage collectors.
It opened permanently inside Chelsea Market in April 2014 and today boasts more than 30 sellers in an environment uniquely curated to offer an alternative retail experience.
Artists & Fleas is located directly beneath the High Line, New York's elevated rail line turned urban park and walkway. It is situated in the southeast corner of Chelsea Market with access to the market's dozens of eateries and shops.
Its location, in the heart of the Meatpacking District, puts it steps away from a scenic path along the Hudson River. All in all a great place to spend Saturday afternoon and evening.
Artists & Fleas Fact File
Address: 88 10th Ave West, 15th Street, New York, NY 10011
Telephone: (917) 488 4203
Twitter: @artistsandfleas
Website: www.artistsandfleas.com
Open: Monday to Saturday 10am-9pm, Sunday 10am-8pm
Grand Bazaar NYC
Brooklyn is our destination on day three of the tour, starting with the Grand Bazaar NYC.  Formerly known as Green Flea Market, the Grand Bazaar NYC has been operating every week, rain or shine, since 1985 on the Upper West Side of Manhattan, making it one of the oldest flea markets in the city. It was among the first open-air markets in the city, and is still considered today one of the best indoor (and outdoor) flea markets in Manhattan.
With more than 100 vendors it is an ideal place to find a variety of antique, vintage, and handcrafted pieces. And, like many other of the city's markets, the profits go to charity, in this case local schools.
Grand Bazaar NYC Fact File
Address: 100 West 77th St., NY, 10024 (at Columbus Avenue)
Website: www.grandbazaarnyc.org
Twitter: @GrandBazaarNYC
Open: Sunday 10am-5.30pm
Brooklyn Flea Market
Founded in April 2008, the "Brooklyn Flea" is one of New York City's top attractions, operating flea markets every weekend of the year. In fact, The New York Times called it: "One of the great urban experiences in New York". Until 2013 Brooklyn Flea was located inside One Hanson (a former bank built in the 1920s). But today it holds two distinct markets. From April to November, it is located at "DUMBO" (short for Down Under the Manhattan Bridge Overpass).
From November to March, it moves inside Industry City's premises, taking the name the Brooklyn Winter Flea and Holiday Market. At either event you can be sure to track down a bargain.
Brooklyn Flea Market Fact File
Address: Summer: 80 Pearl Street, Brooklyn, NY 11201; Winter: 241 37th Street, Brooklyn, NY 11232
Telephone: 718 928 6603
Website: www.brooklynflea.com
Twitter: @bkflea
Open: Varies, check website
RePoP NYC
End your whistle-stop tour in Brooklyn as an antique furniture shop no other.
At RePoP, NYC the owners have an unparalled eye for interior design, making a trip to their shop a sheer delight.
As well as spacious, RePOP, NYC is filled with natural light, making it easy to assess the condition of the pieces on sale.
With each trip to RePOP, NYC there is always something new to find. The final bonus of a trip to RePOP, NYC is interacting with the friendly and extremely knowledgeable staff. All in all, this is a antique store worth going out of your way for, and a great way to round off three days treasure hunting in one of the great cities of the world.
RePop NYC Fact File
Address: 42 West St. Brooklyn, NY 11222
Telephone: (718) 260 8032
Website: www.repopny.com
Open: Monday to Sunday 11am-7pm
Nicholas Martin is the founder of www.fleamarketinsiders.com an online guide to the best flea markets in the world.