Get half-price Antique Collecting and FREE Book
Special Summer Subscription Offer 
Subscribe to Antique Collecting magazine for half-price – that's just £16 for the year – PLUS choose a FREE BOOK WORTH £45 from one of five titles all related to the fascinating world of art and antiques.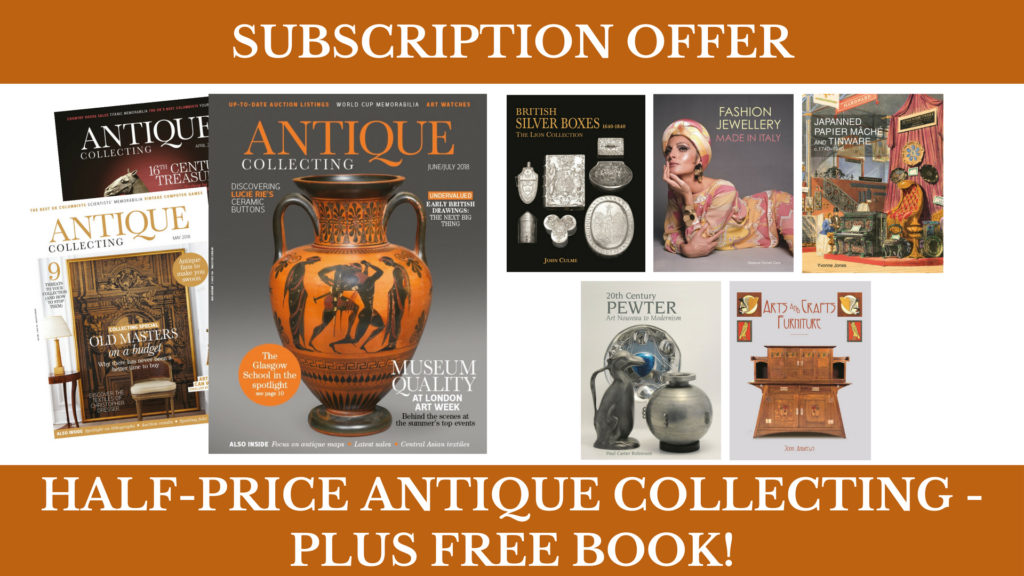 About Antique Collecting magazine
Packed with the latest news, articles and advice from the ever-changing setting of auction houses, fairs and events, Antique Collecting offers a clear insight into fast-moving market trends and developments. Articles by leading experts encompass a huge range of subject areas – all essential reading for both experienced collectors and passionate newcomers alike.
About the free books
Choose from one of the following titles in our special summer subscription offer and we'll post it to you with your new Antique Collecting magazine:
20th Century Pewter – Art Nouveau to Modernism – ACWB01
Japanned Papier-mâché and Tinware c1740-1940 – ACWB02
British Silver Boxes 1640-1840 – The Lion Collection – ACWB03
Fashion Jewellery Made in Italy – ACWB04
Arts & Crafts Furniture – ACWB05
How to get your special summer subscription offer
To get your special summer subscription offer simply click on 'Buy Now' below and then enter the code that corresponds to the book of your choice as listed above – eg, ACWB05 to get Arts & Crafts Furniture

This offer is limited to new UK subscribers with a UK address only and subject to availability.
Please allow 28 days for delivery of your free gift.
This subscription offer closes on 30/06/2018.