Buying an antique Swedish Mora clock – the essential guide to read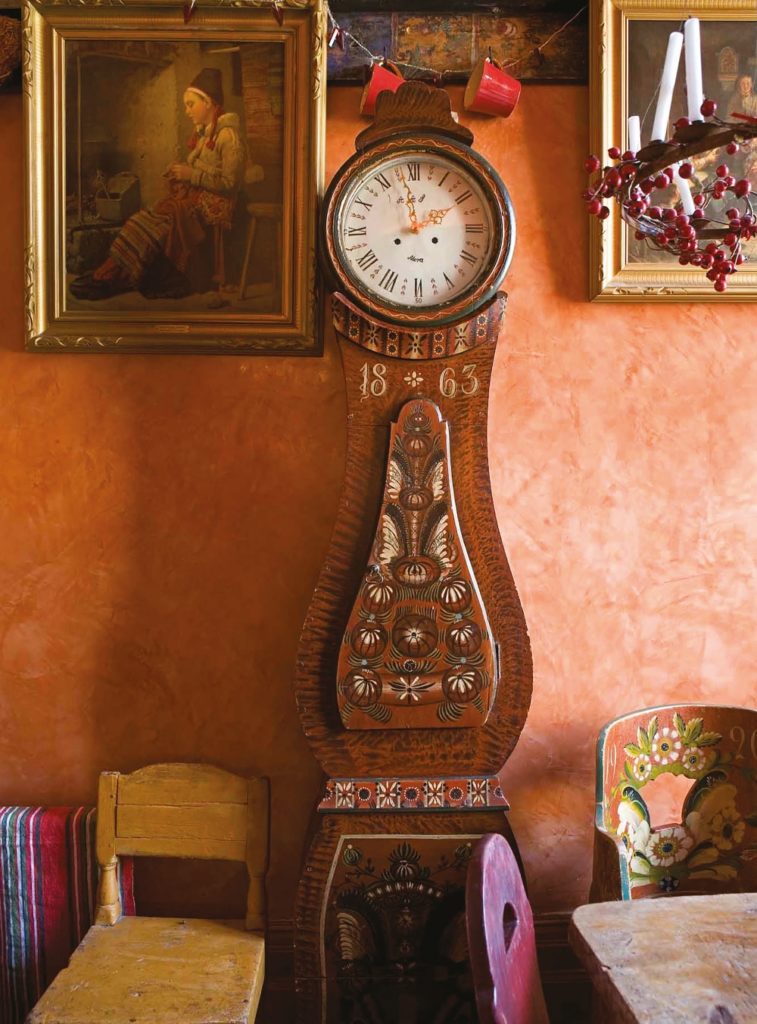 A million miles away from its British counterpart the austere longcase, an antique Swedish Mora clock is a fun addition to any interior, says clock expert Jo Lee
Buying an antique Swedish Mora clock
I urge clients (unless they are serious collectors) to buy a Swedish Mora clock that "calls" to them. You can drive yourself mad making a shopping list with a number of requirements such as the shape, hood ornamentation, belly width, etc. Instead just go to the ones that you feel an emotional connection with because those are the ones which will bring you joy every day. And don't forget to name them!
How much will I pay for a Swedish Mora clock
When deciding to buy a Swedish Mora clock, or start a collection, first of all decide what type of clock you want. The most expensive clocks, such as the top-end bridal clocks or 'city' clocks, come with written provenance and feature original (unscraped) paint. If the body is also in good condition it will set you back £6,000-£20,000, or more.
Alternatively a clock without written provenance, in the same style and condition, will be less expensive but still very eye-catching. Expect to pay £2,000-£6,000. At the lower price range, a country-style clock or a clock with later paint, can be just as appealing and a great addition to your interior, prices start at £1,000.
Demand for Swedish Mora clock
The iconic antique Swedish Mora clock has been part of the design firmament for more than 200 years but, over the last 50, they have become sought after by both the design cogniscenti and collectors alike.
They exude a wonderful sense of peace as they watch over your home. Mora clocks draw your eye with their innate grandeur, while the simplicity of the decorative features mean they suit a range of interior styles from antique to minimalist.
While their unusual, hourglass shape makes them not only fun to collect but, strangely, lend the timepieces a personality. We have five at home each of which has a name and, whether in the kitchen or hallway, watch over us like guardian angels.
History of the Swedish Mora clock
Mora clocks were made from the late 1700s to about 1850, initially around the area of Mora in Sweden's central Dalarna region.
In the mid-1700s, when the agriculture and mining industries were facing a downturn, a cooperative of families in Mora, took up clock-making to supplement their meagre incomes. Each family in the co-operative specialised in a different element of the clock's production.
Design of Swedish Mora clock
The designs were influenced both by the local folk art of each region and the wealth, or otherwise, of the buyer.
The classic country clocks of the Dalarna region were usually very simple, often without a glass clock face or pendulum viewing port as both would have incurred extra cost. Just as much of 18th and 19th-century Swedish furniture was painted, the clocks were decorated in the classic red ochre yellow and oranges of the hand-painted kurbits folk art style of the time (kurbits referring to a big plant, such as a gourd, with leaves and flowers which flourished in Swedish painting from 1790-1850).
Variations in design
The design spread across Sweden and was adapted to the tastes of the different regions, lending a variation in style dependent on geographic location.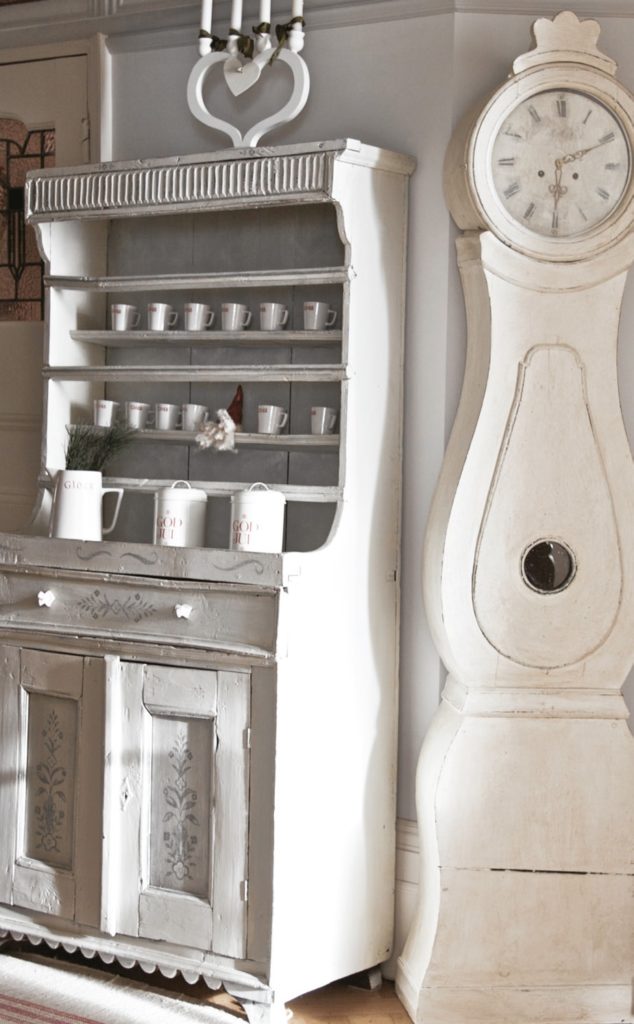 The Mora clock in all its forms differs in style from its predecessor, the baroque clocks of the late 1700s, which had the classic square hood and rectangular body of English clocks of the period. Mora's shape was softened to create a round hood and classic curved belly, influenced by the earlier Rococo movement.
The geographic name soon became synonymous with the clock shape and it is estimated between 50-80,000 clocks were made during this time.
Styles of antique Swedish Mora clock
Dalarna region produced classic country-style clocks decorated with a handpainted kurbits design with its roots in Swedish folk art. Feathers were a common theme.
Southern Fryksdall clocks were painted in grey and white with an exaggerated "pregnant" belly decorated with carved swags at the waist below the hood.
Angermanland and Jamtland produced wildly decorative folk art bridal clocks, with carvings that included flowers, leaves and even bridal crowns.
Typically, the simpler versions were given as wedding presents, with the newlyweds receiving a clock, bed and cupboard to start their married life. The date of the ceremony is hand-painted on the front.
As the fashion for the Mora clocks spread throughout Sweden, they began to be created by individual craftsman, usually to order, which is why you can never find two that are exactly alike.
How the Swedish Mora clock was made
Outside Dalarna, buying a Mora clock involved three distinct processes:
Firstly, the clockwork mechanism had to be sourced
then the buyer had to commission a local artisan to make the body
finally, a painter was enlisted to decorate the finished body. This is why they are all so different.
Mora Makers Marks
Although the majority of Mora clocks carry no markings, Many carry a maker's name or initials such as AAS or CE. AAS refers to the initials of Anders Krang Andersson of Östnor (1727-1799) who was one of the earliest and most famous Mora makers. His initials have been added posthumously over the years to many clocks that he didn't make, so the initials on their own cannot be taken as constructive proof of his involvement without further evidence of provenance.
Construction of a Swedish Mora clock
Most Mora clocks were made from local pine, with a body section and sliding hood allowing access to the clockwork mechanism.
There was usually a door in the body giving access to the pendulum and lead weights, which were held in place by a wooden pin in country clocks, or by a metal hinge in more expensive clocks.
Country clocks tended to have little or no glass in the pendulum viewing port, while the 'city' clocks can exhibit huge glass ports in the door, as well as a glass viewing port in the side of the hood.
Birch and oak Mora clocks
Mora clocks made of birch and oak are more unusual, while one clock we came across was hewn from a single log with the insides scooped out like a canoe.
The hood itself usually houses a hinged glass door that allows access to the hands.
In the more rustic clocks the glass is puttied directly into the hood or, sometimes, there is no glass at all.
Hood decoration of Mora Clock
Regarding decoration of the hood, this was usually, but not always, adorned by a small ornament or crown (in country clocks) progressing to the spectacular carved pediments of the embellished 'city' clock, which can be over the top but always great fun.
The backboards of the clocks were usually unpainted rough pine and clocks can be found with a plinth base, small, turned country-style feet or grander carved feet according to the type of clock.
Incidentally, you will often find small holes cut, or hacked, into the backboard. This is where the clock would have been screwed or bolted to a wall, to overcome uneven flooring, and is an excellent hint towards the authenticity of a clock.
Colour palette of Swedish Mora clock
The Mora clock is predominantly thought of in a palette of whites and greys but, when it comes to colour, like everything else in the Mora, it will depend on the region and owner.
Dalarna clocks are painted in colours including red, yellow, ochre and brown; with a beautiful hand-painted faux wood grain.
Bridal Mora clocks
Bridal clocks come in vibrant blues, reds, greens, yellows and pinks; while the trompe l'oeil on some of the 'city' clocks include hand painted flowers and wreathes or even, in later clocks from 1800, chinoiserie scenes.
Mora clock – Keep it in the family
It is important to remember that, over time, each clock will have built up an individual look. Clocks tended to stay in families – until they were sought out as popular design items in the mid 20th century.
Until this time, clocks were passed down the generations often repainted in the early 1900s and then 'freshened up' by new owners from the 1960s to 1980s.
One thing to be aware of are clocks described as 'scraped back to original paint'.
This is a modern design effect emulating the once fashionable shabby chic look. When the clocks were originally painted they would have had a thick coat of mineral-rich paint in a smooth, flat finish and would have looked nothing like the scraped back finishes offered today.
There's nothing wrong with this effect, and it can look great if done well, but it is only a design style and definitely not the paint finish of the original clock.
Swedish Mora clock makes a style statement
Where you want to put your clock is one factor in deciding the style you opt for, with a simpler country style suiting the kitchen, while a highly-carved, more flamboyant piece is perfect for more formal rooms.
Mora clocks range in height from around 190cm to 250cm (6ft 3in to 8ft 2in) and in width from 50cm (1½ft) to 65cm (2ft), depending on whether it has the Fryksdall-style extended belly. The depth in either case is approximately 25cm (10in).
Colour is another important consideration. Do you want a plain colour clock in white or grey or a more vibrant yellow pink or duck egg blue?
Perhaps you prefer the elaborate trompe l'oeil flowers or chinoiserie scenes?
Face Facts about Mora clocks
Mora clocks have various styles of face. They are predominantly white painted enamel on a metal disc, with either standard Arabic numbers or Roman numerals.
However, on earlier clocks you can find both wooden faces decorated with metal motifs (dating from the early 1800s), or elaborate metal engraved faces on the higher-end clocks.
Mechanics of the Mora clock
These early clocks also feature very simple, rather agricultural, clockwork mechanisms completely unlike the precision-made mechanisms of the English longcase clocks of the period.
They are gravity driven, with two large lead weights working the hands with a single or double bell chime.
Unfortunately, age has not treated these mechanisms very kindly, and they can be very difficult to set up and keep running. Just a change in humidity or temperature can cause the wooden body to change shape, causing the clock to stop.
Dust in the mechanism, knocking the clock accidentally, or any other manner of interference can have a similar effect. Therefore "in working order" will not guarantee them at a remote location.
Battery charged Mora clock
Given the scarcity of good clock repairers and the amount they charge, you may choose instead to fit a battery chiming mechanism, which can be done without harming the clock in any way. This allows you to keep hold of the original mechanism, weights and pendulum should you chose to revert to them. This is what we encourage our clients to do and have done with our clocks at home.
Jo Lee is the owner of Swedish Interior Design which has specialised in Mora clocks for the last 12 years. For more details visit www.swedishinteriordesign.co.uk