Rare Robert Mouseman Thompson dining suite to sell
An important, early dining suite by celebrated furniture designer Robert 'Mouseman' Thompson is to sell in a South Yorkshire auction house later this month.
The collection, consigned by a local seller in Doncaster to Wilkinsons Auctioneers, comprises six arm chairs and a large two pedestal refectory table.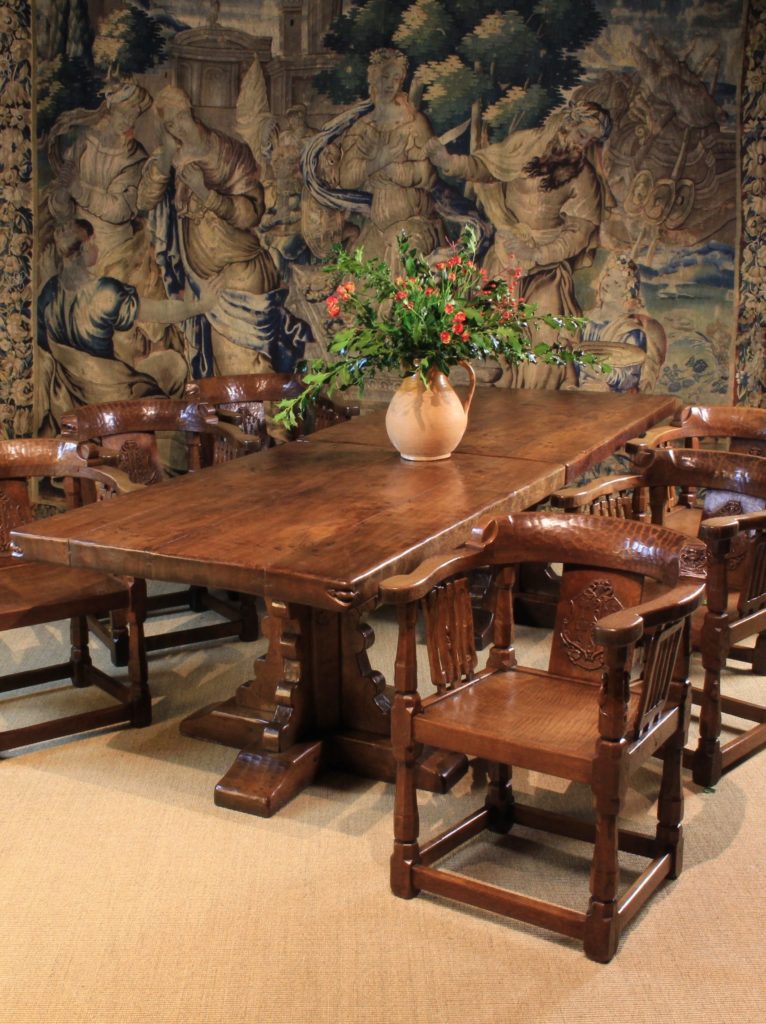 All of the pieces have the hallmarks of being rare, early pieces from the late 1920s, with multiple examples of Thompson's distinctive mice on each chair, alongside unusual bee decorations and crests with the phrase Industria to the back splats.
After undertaking some research, the auctioneers concluded that that items are thought to have been originally commissioned for Brigadier Hargreaves of Castlegarth, Wetherby, near Leeds. The furniture latterly formed part of the collection of the Community of the Resurrection Monastery in West Yorkshire, before being dispersed into a private collection.
The suite includes six early monks chairs which closely relate (if not identical, as the mice appear in all the same places to the present chair) to the one illustrated on page 56 of 'Mouseman The Legacy of Robert Thompson of Kilburn' and thought to be for Stanbrook Abbey. In the book, the chair is described as: "the early monks chair on the left, with no crossed rail at the bottom, is probably one of the first ever made by Thompson"
The chairs all feature Grid-Iron splats to the sides (as seen on early Thompson chairs at Stanbrook Abbey and Ampleforth Abbey as a reference to St Laurence who was martyred on a grid-iron) which not long after changed to the typical interlaced splats which we still see today.
The carved back splat and corner crest are carved with heraldic motifs incorporating bees and the word 'Industria' – most likely relating to Brigadier Hargreaves who was a leading industrialist of the day.
Interestingly, Thompson also used the bee motifs at Stanbrook Abbey where they are featured on the pulpit. The two Monks chairs which form the heads of the table are carved with three mice each, whilst the other four chairs feature two mice per chair, each beautifully and crisply carved.
The suite also includes the large two pedestal refectory table (37.25 inches wide x 108 inches long) by Robert Thompson Circa 1926 – 1927 with six carved mice. One mouse to each monumental pedestal and then a mouse carved to each corner of the table top.
The suite survives in good original condition and whilst 1930's Mouseman regularly appears for sale, good 1920's Mouseman is rarely seen. Wilkinsons said that the extra carved mice, the grid iron splats and the exceptionally early date of the Monks chairs make these undoubtedly some of the finest Mouseman and Arts & Crafts furniture to appear on the market in years.
Learn more about Robert 'Mouseman' Thompson by watching this fascinating film in the Yorkshire Film Archive about the designer's Kilburn workshop in North Yorkshire