Antiques Trade Talks – Phil Mires
Antique dealer Phil Mires is the founder of PM Antiques & Collectables, based in Chertsey, Surrey and online. Phil sells an eclectic array of items, ranging from vintage toys, entertainment & memorabilia, and contemporary art, to decorative ceramics and glassware, automobilia and more.
What is the unique appeal of antiques?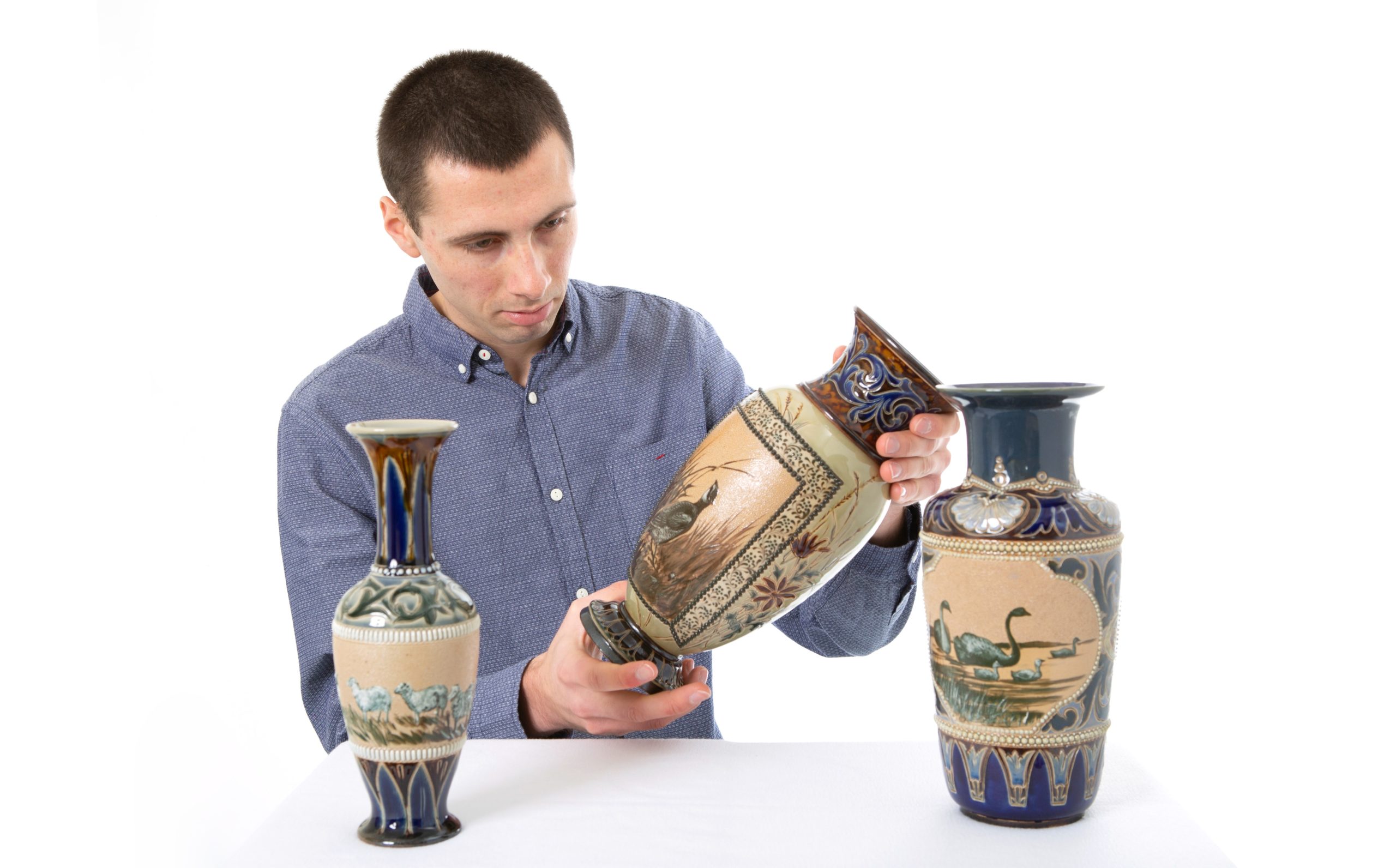 Antiques are great investments for those who want to put money aside for the long-term. Though they might not be the most conventional way of making money, if you know what you're looking for, antiques can provide potentially impressive returns – better than the current bank interest rates that's for sure! The good news is that you don't even need to be an expert to enjoy antiques shopping.
The antiques trade is eco-friendly, too – investing in the future by recycling the past. Not only can antiques provide excellent value for money, they also preserve our heritage for future generations by reducing landfill, carbon emissions and the intake of new goods from abroad. There has never been a better time to buy.
What areas/items are currently selling well?
Contemporary art, vintage film posters, 20th century design, and studio pottery to name but a few. The customer base for these types of item has broadened and is continuously intensifying. Decorators looking for pieces which compliment modern interior trends are key buyers and frequently it is a younger audience, who would not look twice at a piece of 18th or 19th-century furniture, that is leading the way.
That being said, though the brown furniture market is struggling on the whole, particular pieces such as campaign chests, leather chesterfield sofas, Globe Wernicke sectional bookcases and haberdashery cabinets have retained their appeal and are always in high-demand.
Which are the ones to watch/future sellers?
I think you need to observe our current lifestyles and trends. We're very much amidst the age of social media and interactive technology. Instagram in particular is one of the most popular social networks in the world with over a billion active users. Now that more people are engaged in photography it wouldn't surprise me to see the prices of vintage cameras, lenses and equipment reach new heights very soon – the prospect of shooting with film cameras is now deemed quirky too.
The video gaming industry has grown rapidly and it is reshaping the way in which we interact with the world. Retro arcade machines and games consoles from the 80s (such as the Sinclair ZX Spectrum and Sega Mega Drive) are now extremely collectable. It'll only be a matter of time before video games, consoles and related media from the 90s or later follow suit.
What antiques do you have at home/collect and why?
I'm keen on contemporary art so I like decorate the house with some of my stock. As and when a piece sells, I simply remove it from the wall and replace with another artwork. At the moment I've got three Richard Lodey (b.1950) Cornish coastal scene paintings on display.
I don't really collect. Some of the antiques and collectables I come across are certainly fascinating from a personal perspective (for instance a group of original Doctor Who scripts I recently acquired), but not to the extent that I'd want to keep them. I'd much rather sell and then reinvest than start a personal collection.
What do you think will be the antiques of the future?
Mid-century design furniture. Not only is it currently very popular amongst interior designers but it's a household necessity – homes will always need furniture. Younger audiences love it and I don't see that changing anytime soon.
How is the industry changing and are you optimistic for its future?
The internet. Gone are the days of owning a high-street antique shop or getting up at 2am to 'stall-out' at a fair. With the right resources and knowledge, you can start up your own antiques business from home. The industry is progressively becoming more and more internet dependant, and this gives both auctioneers and dealers a platform to reach out to buyers and sellers around the world. These are prosperous times for the antiques industry.
Is new technology good for the trade and buyers/collectors?
Absolutely. With nearly all auctioneers having some form of live bidding platform in place, dealers and collectors now have the opportunity to purchase antiques from the comfort of their own home, or even the other side of the world. Viewing beforehand isn't essential either – simply request an online condition report (a service included within the buyer's premium). It's a win-win situation too because the auctioneers themselves are reaching out to a much larger audience, which in turn increases the number of bids they receive as well as their subsequent sales totals. There are countless examples of how modern technology is advancing the trade of which this is only one.
Tell us some trade secrets – what key questions should buyers ask?
Don't be afraid to negotiate – never expect to pay the full asking price for something.
What antiques/artworks would you buy if money were no object?
As already mentioned, I don't really collect anything. But if money were no object it would have to be an original painting by L.S. Lowry – probably 'The Football Match', which sold at Christie's in 2011.
You're down to your last 50 quid – what antiques/art would you buy?
I'd go back to basics and head off to a car boot fair. It's a great hunting ground for lower value antiquities and collectables such as decorative ceramics, collector's toys and 20th-century furniture. The enticing part of it is that you never know what you're going to find.
Where are your favourite antique hunting destinations and why?
Antiques fairs are great. There's always a huge range of antique goods on display, attracting those involved in the trade as well as general collectors, prop buyers and interior designers. Even if nothing's purchased, you still have the opportunity to interact with other exhibitors and accumulate trade contacts.
What are some of the biggest mistakes that buyers make?
Getting carried away at auction is a common mistake. It's so easy to get immersed in a bidding war, a costly oversight that could jeopardise your potential profits. Stick to your guns – if you're easily led, leave a commission bid instead.
What do you consider the high point of your career in antiques?
It's impossible for me to identify one specific high point. However, looking at the bigger picture I'd say that from starting PM Antiques & Collectables five years ago for less than £3,000 to it becoming a business now worth around £350,000 is an achievement in itself. I was 20 at the time, earning minimum wage at my local golf club and with absolutely no experience in running a business or the antiques industry.
What advice would you give to people new to antiques who want to learn more? 
Start off by engaging in an area of your interest. It could be anything – 18th-century creamware or antiquarian books for example. The antiques industry is a comprehensive field and it's far too rigorous to even attempt learning everything at once. There are some very informative books, courses and talks/events out there for guidance.
Also, remember that mistakes are an essential part of learning.