Space Odyssey Djinn chairs in London sale
Two iconic designer chairs and a sofa that were chosen by Stanley Kubrik for his futuristic classic, 2001: A Space Odyssey, are to be sold in a London saleroom this week.
Designed by Olivier Mourgue in 1965, while he was working for the French manufacturer Airborne International, The Djinn chairs epitomise 60s space-age design and have gone on firmly to take their place in design history. The chairs were originally designed in their own right (not specifically for the film), but were chosen by Kubrick and his team to create a futuristic scene in the movie, when Dr Floyd walks through the Hilton lobby of Space Station Five on his way to the moon.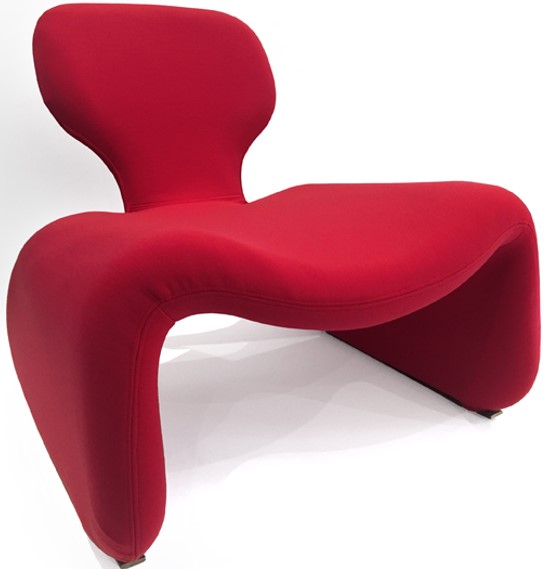 One of the chairs is estimated to fetch £550-650, while the other has an estimate of £500-£800. A sofa in the same design has an estimate of £1,100-1,300.
Kubrik's art and props department for the film invited commercial product manufacturers and designers of the time including IBM, Honeywell, Whirlpool (kitchens), Macy's, Dupont (fabrics), Hilton Hotels, Parker Pens, Nikon, Kodak (cameras), Hamilton (watches), as well as outstanding interior and furniture designers of the time, to create projected versions of how their products they might look decades later in the year 2001 (and in return they would receive exposure in the film). The film therefore remains not only as an outstanding piece of film making, but also as a platform for progressive contemporary design.
The name Djinn comes from an Islamic mythological spirit that can change shape, from human to animal. The chairs have a 'Wave like', low slung silhouette and are made from tubular steel, covered in foam padding. Upholstered in jersey fabric, the single and doubled seated versions of the chair were complimented by an ottoman, a chaise longue and a day bed.
Liz Winnicott, Head of Chiswick Auctions Design & Interiors department comments: "We are thrilled to offer such iconic chairs and a sofa in the same design, specifically chosen by Kubrick for a film that pushed the boundaries on futuristic design and ideology."
The sale takes place on February 11.