Virtual showcase for Church Street dealers
The Kensington Church Street Art & Antique Dealers Association has announced that, due to the coronavirus pandemic, it will hold a Virtual Summer Showcase comprising twelve exhibitors at www.antiques-london.com and on Instagram @antiqueslondon.
The virtual event, which will start on 19 to 30 June, will take the theme 'Fit for Royalty', reflecting the high calibre of works featured, in many cases with regal connections.
Despite not currently being able to welcome visitors to the individual galleries in Kensington Church Street, the organisers said the exhibits will make an impressive show with items spanning the ancient to the modern, all for sale.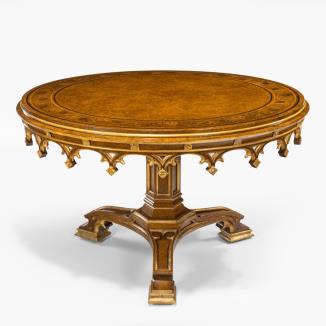 Some of the highlights include a fine gothic table designed by Pugin for Windsor Castle; an elaborate clock probably commissioned by George III as a gift to the royal family of Sweden; a rare C16th mother-of-pearl Indian basin created for a princely palace; modernist British designs by Andrew Grima, one of Princes Margaret's favourite jewellers; fabulous Regency period chandeliers and furniture and a beautiful Meissen figure of Catherine the Great's hound.
Further items of interest are 18th-century Chinese armorial porcelain, exceptional Asian art from antiquity to modern, antique Chinese scholar's objects, Stuart-period furniture from stately homes and the finest 19th-century works of art depicting the natural world in flora and fauna.
The organisers said, "There is a wealth of experience along the Kensington Church Street thoroughfare, home to the finest collection of specialist antiques and art dealers in London. The twelve involved in the Virtual Summer Showcase are an impressive introduction."
Participants taking part in the virtual showcase are:
Gregg Baker Asian Art – Japanese and Chinese works of art, specialising in Japanese screens and Buddhist art
David Brower – specialising in Meissen, KPM, European and Oriental porcelain, fine sculpture and Japanese works of art
Butchoff – dealers in exhibition quality 18th and 19th-century English & Continental Furniture
Denton Antiques – specialist in chandeliers and wall lights of the 18th and 19th-century
Fleur de Lys Antiquités – Chinese wood stands and Oriental works of art
J.A.N. Fine Art – Chinese, Japanese, Korean and South East Asian porcelain and works of art
Amir Mohtashemi Ltd- Islamic and Indian works of art
Reindeer Antiques – fine English furniture from the 17th to 19th century, paintings and objets d'art
Patrick Sandberg Antiques – fine English furniture of the 18th to mid-19th century and associated works of art
Sandy Stanley Jewellery – British & Scandinavian jewellery 1950-1980
Howard Walwyn Fine Antique Clocks – the finest English clocks and barometers
Jorge Welsh Works of Art Ltd – Experts in Chinese porcelain and cross-cultural works of art from Africa, India, China & Japan of the 15th to 18th century.