An oak writing table by Robert 'Mouseman' Thompson sold for £10,000 to become the top lot in a recent sale in North Yorkshire.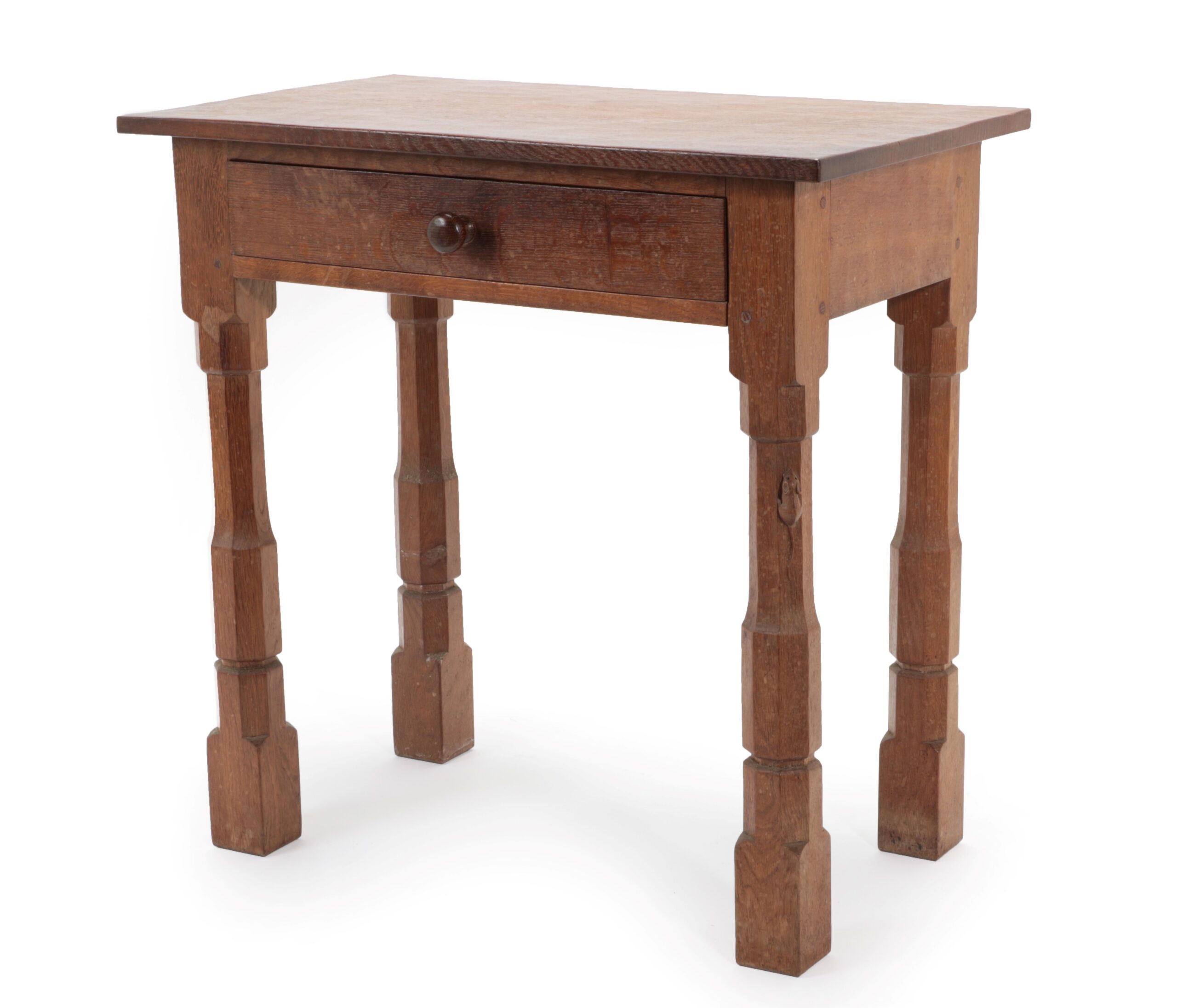 Tennants Auctioneers' 20th-century design specialist Diane Sinnott, said of the sale: "Early Mouseman furniture always sells well at Tennants, but the prices seen on Saturday really were extraordinary. It was a pleasure to handle so many fine pieces with good provenance and see many of them go back into private Yorkshire collections."
At the heart of the sale was a family collection of rare 1930s Robert 'Mouseman' Thompson furniture.
The ten Mouseman lots sold for a combined hammer price of £60,650. The pieces were commissioned by the late William Becket Henderson, a wool merchant from Keighley and later Kettlewell, near Skipton.
Robert Thompson's original sales records held in the workshop archive at Kilburn, North Yorkshire, show that William Henderson began commissioning furniture as early as 1926, when the Mouseman made a table for him.
Highlights of the collection included two 1930s oak panelled double wardrobes, which sold for hammer prices of £9,800 and £9,200, and two 1930s oak panelled bedside cupboards, which sold for £8,500 and £7,500. A Portrait of John Henderson, son of William Becket Henderson by Reginald Grange Brundrit in which the young boy is seated on a Mouseman stool, sold for £950.
A further North Yorkshire family collection of five lots of Mouseman furniture from the 1940s/50s sold for £24,400 and included the top lot of the sale – a 1940s/50s oak writing table which sold for a staggering £10,000. Mouseman sold strongly throughout the sale, with further notable prices seen for an oak mantel clock from the 1930s, which sold for £4,000 against an estimate of £1,000-1,500, and a 1960s oak powder bowl and cover, which sold for £3,100 against an estimate of £400-600.
High prices were also seen for furniture by other 'Yorkshire Critters', whose work is increasingly in demand at auction. For example, an oak panelled sideboard by Don 'Foxman' Craven sold for £1,600 against an estimate of £600-900, and a further oak panelled sideboard by Wilfrid 'Squirrelman' Hutchinson sold for £1,300.
The sale achieved a total hammer price of £143,990 for 122 lots, with a 96% sold rate.