Pillar & Post – Antiques Trade Talks

Daphna Peled runs the antique shop Pillar & Post with the invaluable assistance of her mother, Judith, in Washington DC. The pair share a passion for English antiques and interiors and showcase their finds in their bright and airy outlet which opened in 2017. 
Tell us a little bit about your business/your name(s)/who's involved/where based/how long, etc?
Pillar & Post was established in 2017 after I decided to leave my career in politics and open the shop with my mother. It was inspired by my love of England and home décor/antiques. My parents had lived in England for fifteen years and when I visited them, I fell in love with England and the English aesthetic. We import English antiques, art, and accessories, as well as English home décor brands that aren't sold in the United States. Occasionally I also purchase other special European antiques as well.
My goal with the shop is to create a beautiful space with a mix of antiques and modern home décor brands, so that people can envision using them in their homes. Traditionally in the United States, antique shops could tend to be musty, cluttered spaces and people would be put off by that setting. I try to create a space that looks like how people live today, to give a real sense of the beauty antiques can add to the mix!
What is the unique appeal of antiques – why buy them?
Antiques have a story that simply doesn't exist with modern pieces. Not only have they stood the test of time, but they offer a glimpse into history, what the culture and lifestyle was like at the time. They also offer an opportunity to provide a unique addition to any home: a piece that is one of a kind.
What areas/items are currently selling well/in demand?
Chests of drawers seem to be regularly popular, and antique accessories are always in high demand. I can't seem to get enough antique gongs or copper jugs!
Which are the ones to watch/future sellers?
Pieces that are truly unusual and harder to find. Those pieces add such a special touch. Like an oversized copper tea kettle that I sold that had once served as a shop sign, or an antique painted Swedish marriage chest. Those items stand out in a home – and have a story to tell!
What antiques do you have at home/collect and why?
I love antique floral prints, I have a set of twelve in my dining room over antique sideboards I also acquired on a buying trip. Every once in a while I will keep a piece for myself from trips. But I love everything I buy, or I wouldn't buy it! So it wouldn't be very good business for the shop if I kept all the stock for myself😊.
How is the industry changing and are you optimistic for its future?
This is such an unusual time during the pandemic. I think people are being forced to spend more time at home, but also finding comfort in their homes. So there will be a focus on design, comfort, and happiness in the home.
Is new technology good for the trade and buyers/collectors?
I am a believer in technology, so I would say new technology is always good. In fact, I had to cancel my trip to England in September because of Covid, but am interacting virtually with some of my favorite dealers to put together a shipment. They are sending me pictures, we are doing videos and virtual tours, none of which would have been possible (or even the norm) in the past. Also Instagram and other forms of social media have allowed clients from all parts of the country to find my shop, and of course I am happy to ship!
Tell us some trade secrets – what key questions should buyers ask?
The traditional term is provenance, but buyers should ask what the dealer knows about the piece's history. I only buy from reputable dealers in England, who are credentialed and respected in their field. If you are going to invest in an antique, you want to know that you are getting what you pay for! Dealers will always tell you if a piece has been damaged or altered, or if there is some doubt with respect to its origin.
What antiques/artworks would you buy if money were no object?
Actually, if space were no object, I would buy lots and lots of antique ceramics, I love pitchers, basins, jelly moulds…. But I don't have space in my house for it all!
You're down to your last 50 quid – what antiques/art would you buy?
I love anything with marble – marble-topped dressers, scales, etc. So definitely something with an antique marble top!
Where are your favourite antique hunting destinations and why?
The amazing thing about England is there are SO many wonderful antique shops, literally in every town throughout the countryside (not to mention of course also the well-known ones in London). There are still so many spots for me to explore! And all the dealers are so lovely as well, the English are a joy to do business with.
What are some of the biggest mistakes that buyers make?
For me, personally, early on sometimes I would fail to take proper pictures of pieces. Then it takes months for them to get to me, sometimes they sit in storage, and I don't have a proper picture of the piece. Now I know to always take a terrific picture I can use for my website or to show clients! Also, always take measurements! Just because a piece is beautiful, it also has to fit properly in the space.
What do you consider the high point of your career in antiques?
Honestly just getting the shop open! When I started, I didn't know anything about importing or running a retail shop, my background is in politics. So I started from scratch, getting the proper licenses for the shop, renting and renovating the space, and navigating the buying and importing. Now I look around at the shop I've curated with these beautiful pieces purchased from England, and I feel such a sense of pride that the shop came into being! I love getting compliments from clients about the shop, and a few years back was selected as one of the most beautiful independent shops in America by Architectural Digest. That was a real high point!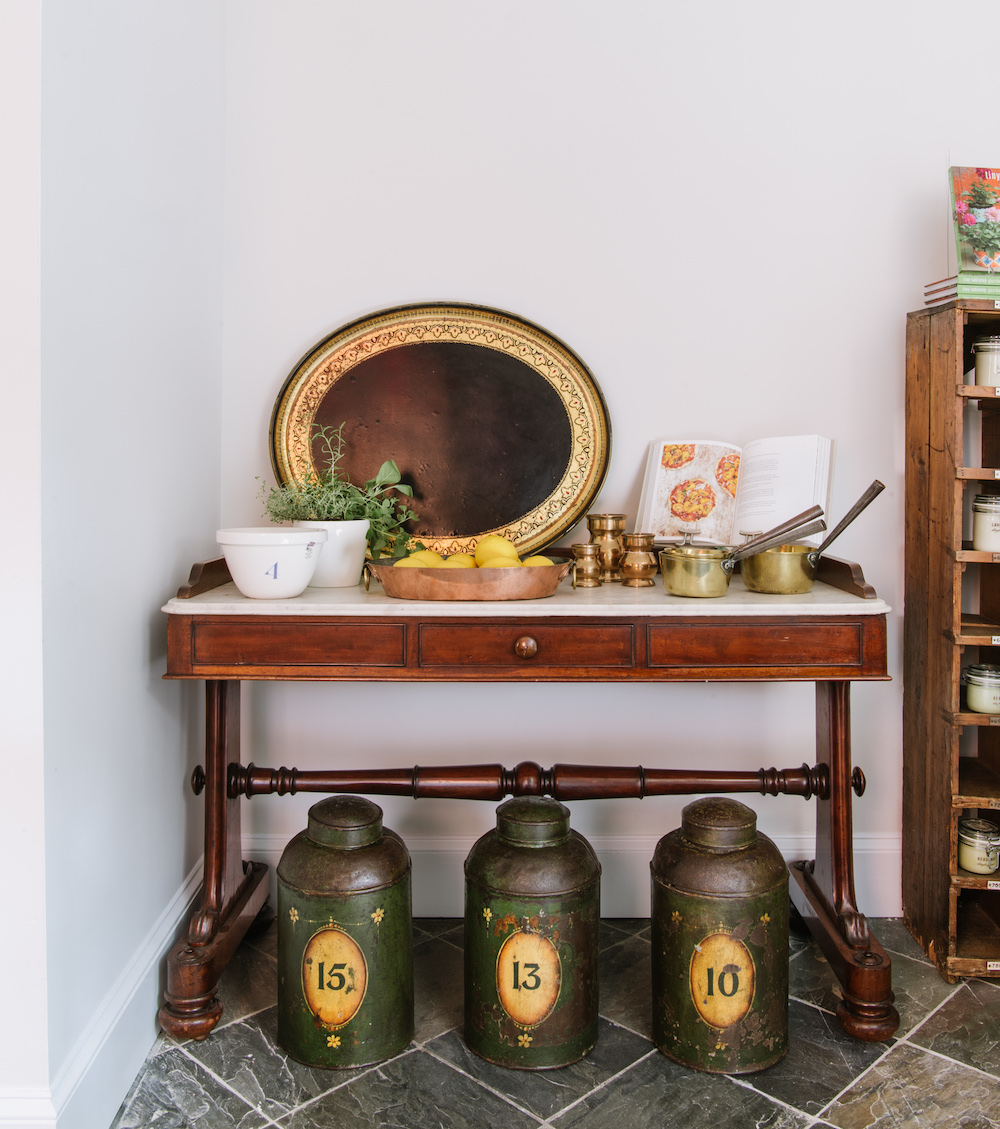 Are antiques attracting younger buyers and, if not, how can the industry reach out to them?
I think in the past younger buyers thought antiques were stodgy and just for an older, more conservative crowd. But as younger generations realize that antiques provide a real way to individualize their homes, and that mixing pieces of all styles and ages is far more interesting than one style, they are becoming more interested in antiques.
What advice would you give to people new to antiques who want to learn more?
You don't need any knowledge to purchase antiques. Just as they say with art, buy what speaks to you, and what you love! You can't go wrong with that.