Mouseman furniture in North Yorkshire sale
A collection of Robert 'Mouseman' Thompson furniture and furnishings from Byland Abbey Inn in North Yorkshire is to be sold at Tennants Auctioneers later this month.
Byland Abbey Inn sits between the villages of Coxwold and Wass, on the edge of the North Yorkshire Moors and only a couple of miles from Kilburn, the home of Robert Thompson's Craftsmen. Facing the remnants of the West Front of Byland Abbey, the Inn was originally built as a farmhouse in the 19th-century using stones from the nearby ruins. However, evidence of a medieval hostelry has been found beneath the Inn's foundations.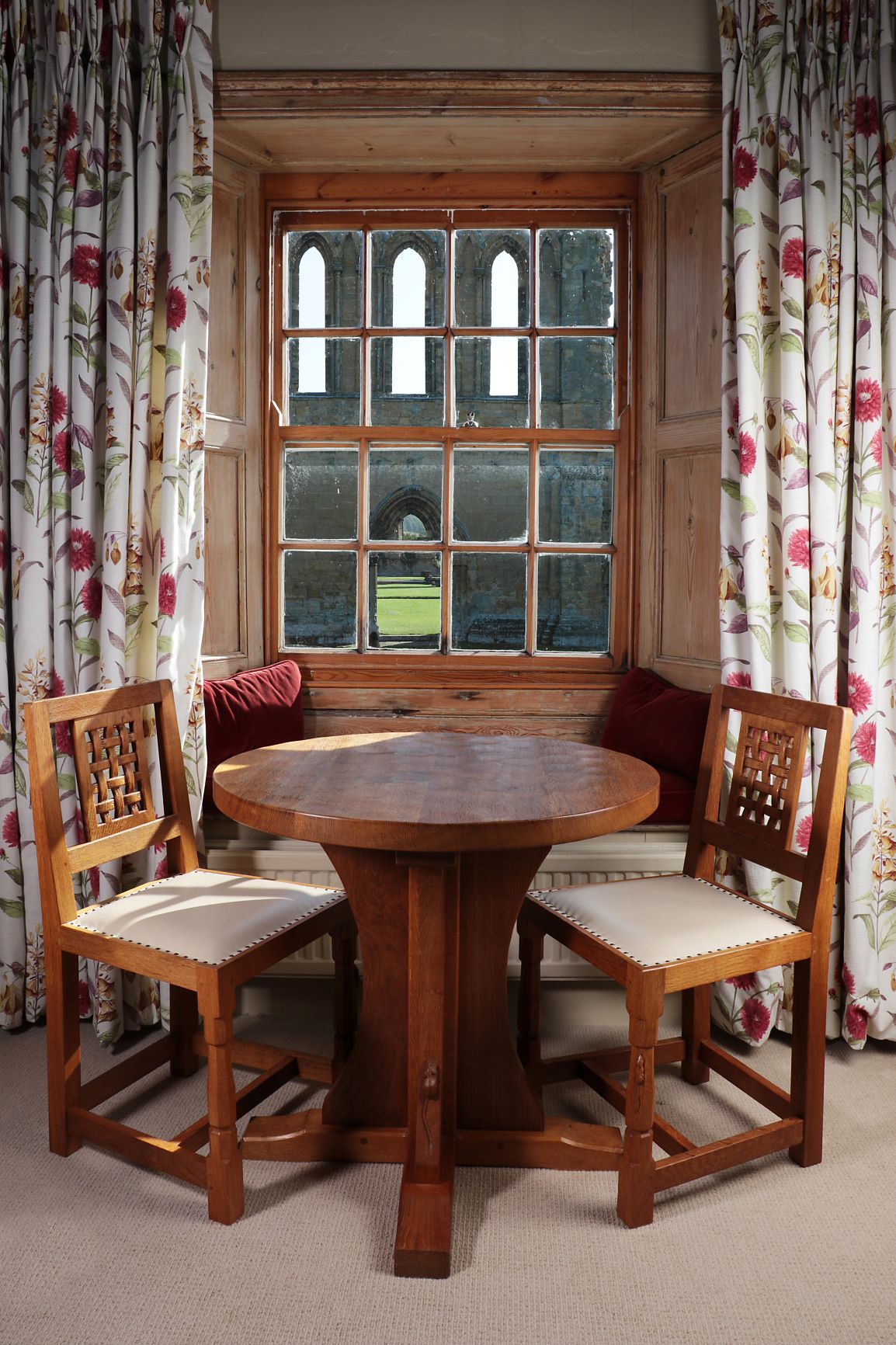 The collection was commissioned by the Inn in 2008 and will be sold in thirty-seven lots, comprising tables, dining chair sets, bedroom furniture, lamp bases and trolleys. Unique to the Inn, and sure to appeal to local collectors, are three carved bedroom nameplates for 'Kilburn', 'Byland' and 'Mouseman', each nameplate adorned with a mouse running up the side and accompanied by a cheese wedge-shaped key fob with the initial of the room and a further carved mouse. Estimates range from £250-350 for an English oak tall table lamp to £3,000-5,000 for a set of eight English oak high lattice back dining chairs.
The Abbey itself is an iconic Yorkshire landmark, with its distinctive skyline of the rose window set atop the west front. Byland was one of the largest Cistercian communities in the country, and one of the three great Northern monasteries whose wealth was founded on sheep and wool. The community found a permanent home at Byland in 1177, after 43 years moving between temporary sites. One of the first buildings in the North to adopt Gothic architecture, Byland was a great influence on monastic architecture and its rose window is thought to have inspire the great window at York Minster.
The Abbey was closed in 1538 with the Dissolution of the Monasteries in the reign of Henry VIII. All saleable items were stripped from the Abbey, including the lead and timber roof, and the buildings fell into ruin. The site was given by the King in 1540 to Sir William Pickering, and it later passed through the hands of the Wotton and Stapylton families before being bought in the 19th century by the Wombwells of nearby Newburgh Priory. Management of the site was passed in 1921 to the Office of Works, who cleared and preserved the ruins before being taken over by English Heritage.
The sale takes place on October 17.