Rare WWII cryptology silk in Tennants' sale

A very rare Second World War cryptology silk, printed with a list of French codes, estimated at £400 to £600, is coming up for sale in North Yorkshire's Tennants Auctioneers' Militaria and Ethnographica auction on December 16.
The silk square belonged to Joyce Mary Pimblott, who was a Cypher Officer for the Special Operations Executive handling communications with the French Resistance and British secret agents operating in France.
Joy, as she was known, was born in Lancashire but moved with her family to Brussels when she was young and grew up speaking French. At the outbreak of the War the family returned to England. Joy lied about her age (she was only 17) and joined the First Aid Nursing Yeomanry.
After her initial training, and upon the discovery that she spoke fluent French, she was transferred to a secret unit – the SOE – where she embarked on her secret wartime career. Joy played a key role in communications surrounding the D-Day landing and later translated documents required for the Nuremburg Trials.
Silk was a durable and practical medium for printing codes; it was light weight and unlike paper wouldn't disintegrate or run if wet and it could also be sewn into the lining of clothes without detection.
Medals awarded to women rarely appear at auction, but a Boer War and First World War Group of Nursing Medals and Badges awarded to Nursing Sister Ellen Mary Smyth are on offer in the sale with an estimate of £900-1,200.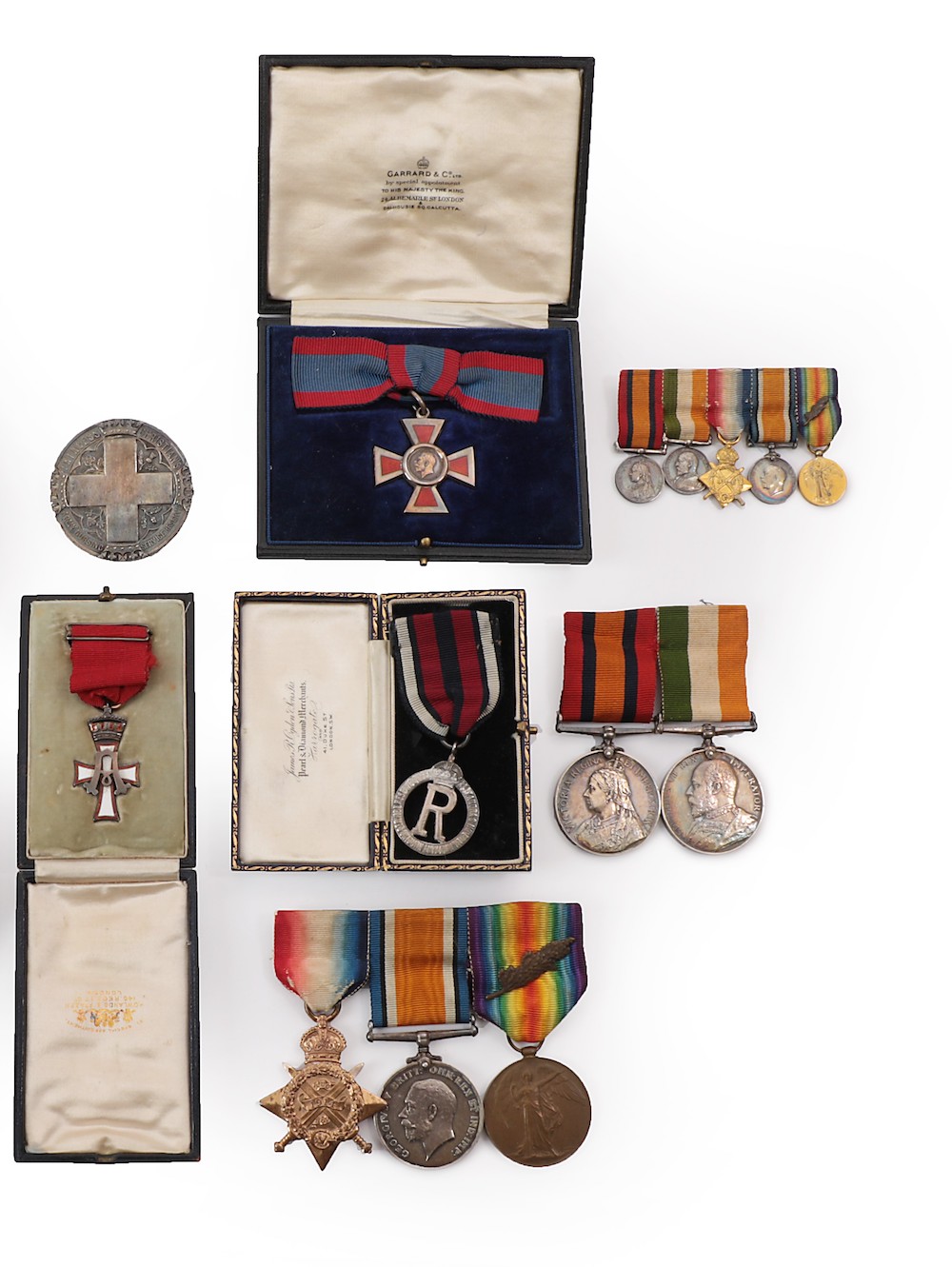 Smyth was a founder member of the Queen Alexandra's Imperial Military Nursing Service Reserve when it was established in 1902. At the outbreak of the First World War, she left private nursing in Portugal to serve at home and in France, and she was mentioned in a dispatch from General Haig. The medals include the Queen's South Africa Medal and King's South Africa Medal, 1914 Star, British War Medal and Victory Medal, the Royal Red Cross 2nd Class (George V), and Queen Alexandra's Boer War Cross and they are sold alongside further items relating to Smyth.
Further good lots of medals include a Second World war DFM Group of Five Medals awarded to Albert (Nobby) Larkins, who flew in Halifax bombers and was awarded a Distinguished Flying Medal for his efforts during a very successful bombing raid of a munitions plant near Berlin. His aircraft came under heavy anti-aircraft fire and was holed a number of times, estimated at £3,000-4,000. The medals comprise the Distinguished Flying Medal, 1939-45 Star, Air Crew Europe Star with Clasp FRANCE AND GERMANY, Defence Medal and War Medal, sold together with photographs, press cuttings and logbooks relating to Larkins. A Victorian group of three medals from the Crimean War awarded to Alexander Dickson of the 62nd Regiment are offered with an estimate of £800-1,200. The medals comprise the Crimea Medal with clasp SEBASTOPOL, the Turkish Crimea Medal (Sardinia Issue) and Indian Mutiny Medal with clasp DELHI.
Also of interest in the sale is an interesting collection of Second World War British Prisoner of War Ephemera relating to Second Lieutenant Herbert Dacker R.A.C.S, estimated at £200-300. Including a War Time Log Book, scrap book, photographs and letters to and from his wife and family, the collection offers a fascinating insight into the life of a prisoner of war. Dacker was taken prisoner in 1942 and was held first at a camp in Italy, before being transferred to Oflag 90 in Germany. He was liberated by the Americans in 1945.