Rare Gerry Anderson archive is Go!
A secret cache of material and items related to Gerry Anderson, the celebrated creator of classic TV shows such as
Thunderbirds
,
Captain Scarlet
and
Terrahawks
, will go under the hammer in Surrey later this month.Cleared from Bray Studios after Anderson's production company wrapped up its final series of 
Terrahawks
 in the mid 1980s, the archive – valued at around £150,000 – became the property of Julian Bell, a driver and handyman at the studios who hid it away for more than 30 years until his death last year.
Auction house 
Ewbank's
, in Surrey, which has been preparing the archive for sale on November 30, has catalogued production puppets, models of aircraft and other machinery, as well as sets.Specialist Alastair McCrea reveals that hidden among the pieces from 
Thunderbirds
, 
Captain Scarlet
 and 
Terrahawks
, he has discovered original production puppets for 
Space Police
, an Anderson project for which only one episode was ever made.It was never aired on television, before the idea was shelved and transformed into 
Space Precinct
 almost a decade later, so the puppets have never seen in public until now.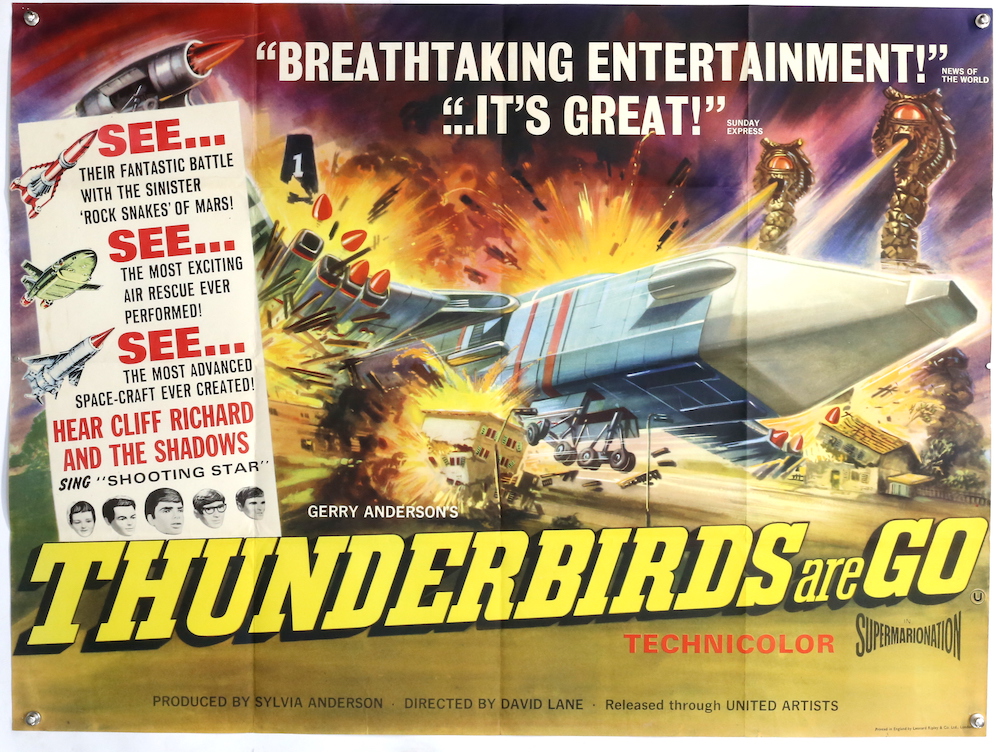 "Going through this consignment has been a journey of discovery," said Alastair. "Boxes and boxes of carefully preserved pieces that haven't seen the light of day for more than 30 years have turned out to be a time capsule of the Gerry Anderson story from the 1960s onwards. It's all been frozen in time, and the thrill of discovery is just how a scientist would feel on discovering one of those 100 million-year-old insects trapped in amber."Among the rarest of the previously unseen pieces is the puppet of Officer Cathy Costello, used in the pilot episode of
Space Police
, along with similar puppets for three of the male characters, Officers Tom, Dick and Harry."It's a miracle these have survived, and are in such good condition, especially as so much production material was scrapped immediately after use," said Alastair "The sale is creating quite a buzz among the Anderson fanbase."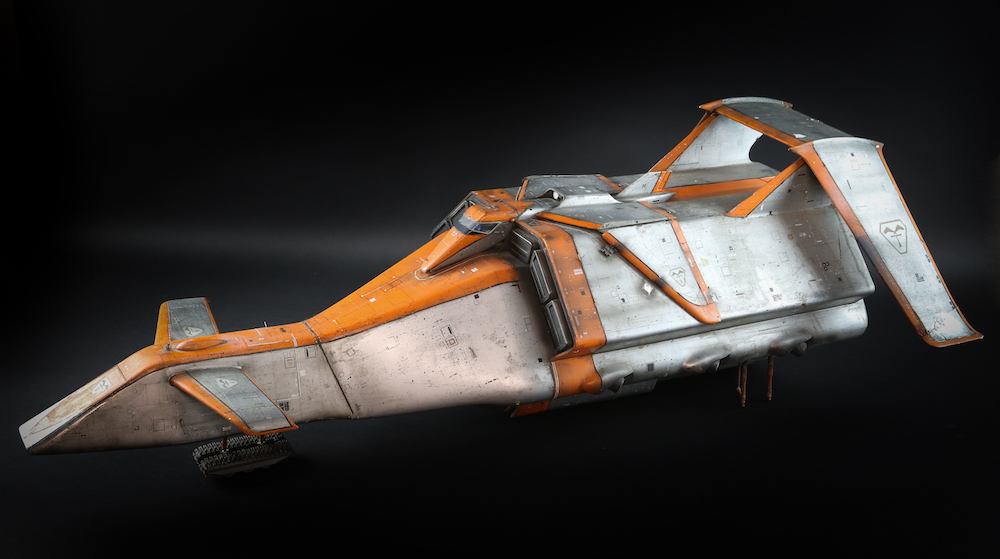 The auction, which features original production used 'hero' craft, each worth thousands of pounds, also includes an extremely rare surviving puppet head from the original 1960s 
Captain Scarlet
 series, Gerry Anderson's personally annotated scripts and even storyboards for a series of 
Thunderbirds
 that was never filmed.David Sisson has spent the last 35 years building replica models and restoring original studio props from the shows, as well as writing books and articles on the Anderson phenomenon and appearing on TV as an expert fan. He has been amazed by the discovery, saying: "It's unique. There'll be a lot of interest. 
Terrahawks
 has a growing appreciation from the younger generation of Anderson fans. When I do my public displays, a lot of these people recognise 
Terrahawks
 even when they don't recognise 
Thunderbirds
."There have been rumours among the fanbase for years that the 
Terrahawks
 production pieces survived, but no one really knew what had happened to them. Bell, who died in 2019, had attended a recent convention and hinted that he had a lot of it, but the trail went cold.Setting the discovery in context is important to understanding its impact. The way that Gerry Anderson and his teams made the programmes means that a great deal of the props, models and sets from series like 
Thunderbirds
, 
Stingray
 and 
Fireball XL5
 never survived."For fans it's always been the saddest aspect of the Anderson programmes that Gerry never kept anything," explained David."As an independent film maker, Anderson would spend money on renting space for productions, so every day he rented it cost him money. Because he worked with puppets and did the voices later, he didn't need a sound stage, so he rented warehouses, but the ceaseless weekly production of new puppets, models, and sets meant that this available space filled up rapidly and disposing of items that could not be reused, or repurposed, became a constant problem."Gerry was always ready to move on to the next project and so needed the sets cleared, so he used to give everything away or have it thrown out."
As a result, special effects teams and others who worked on the programmes got to take items home, some of which have been sold over the years, which is how Julian Bell came to acquire the 
Terrahawks
 and other material.It is an irony that despite the huge demand for puppets, models and other memorabilia from the Anderson programmes today, the man himself never seemed to care about them."The one thing he did keep for many years was a Parker puppet from the original 
Thunderbirds
 series," said David.The fact that Julian Bell preserved so much of the original production material for so long without trying to sell it means that there has been little chance so far to test the market for 
Terrahawks
, he added."It's like travelling back in time. I expect the hero craft to be the big sellers. The Battlehawk is the prize piece, along with Hawkwing and Treehawk, but this is really completely untested ground. What makes this auction so special is that there will never be another chance to see everything together in one place. Once it's sold it will be spread around the world and never be together again. You really can't overstate how special this is going to be."
Ewbank's expects to attract bidders from all over the world. "The fan clubs have been running for 40 years or more in places like Britain and Japan," said Alastair. "This is the biggest news to break for some time and the buzz around the auction is already growing."Highlights already announced from the consignment include:
Captain Ochre puppet head. This was used on screen in the classic 1967 series Captain Scarlet and the Mysterons made by the Century 21 productions company of Gerry and Sylvia Anderson, John Read and Reg Hill. Estimate £5,000-8,000
Battlehawk used in the production of Terrahawks, the 1980s British science fiction television series produced by Thunderbirds creator Gerry Anderson in conjunction with Christopher Burr. This Battlehawk would have been used in various filming scenes throughout the series. Constructed from fibreglass, it features a distinctive silver and orange paint finish with highly detailed panel lines and weathering. The top lifts off and the electrics can be seen from the underside. It is approximately one metre long and 32cm high. Estimate £4,000-6,000
Officer Cathy Costello puppet used in the pilot episode of Space Police, approx. 90cm tall. Estimate £1,500-2,500
Officer Harry puppet used in the pilot episode of Space Police, approx. 90cm tall. Estimate £1500-2500
Fibreglass Terrahawk used in the production of Terrahawks, with a wingspan of 75cm. Estimate £2000-4000
Dr Tiger Ninestein puppet. The lead character of the Terrahawks, with original latex face and full costume, it would have been used in various scenes in the 1980s series. It stands 80cm tall. Estimate £2000-4000
Fibreglass Space Tank used in the production of Terrahawks. It measures 70cm x 40 x 28cm. Estimate £3000-5000
MEV used in the production of Terrahawks. The MEV can be seen in shots on the lunar surface when it faces the Space Cyclops. It measures approximately 57cm long x 24cm high. Estimate £1,500-2,500
Three of Zelda's Cubes used in the production of Terrahawks, each approximately 20 x 20cm. Estimate £800-1,200
A hand-drawn concept design artwork for T Force – a Thunderbirds remake that never happened – showing Penny (Lady Penelope) with Parker in front of the FAB 1, all made famous by the original Thunderbirds series. This artwork has an acetate overlay and underneath showing details of Penny, hand signed lower right by Steve Kyte and dated '83. Estimate £400-600
Thunderbirds Are Go (1966), a 30 x 40in British Quad film poster, created by Gerry Anderson, United Artists. Estimate £300-500
Gerry Anderson's personal script, marked 'GA', for Terrahawks Episode 2 'GOLD', complete with handwritten notes and corrections in his handwriting. Estimate £300-500
"This is just the start," said Alastair. "Having cleared the studios on the instructions of Gerry Anderson and the Supervising Art Director Bob Bell (no relation), Julian Bell carefully stored this huge cache of material for more than 30 years."Bearing in mind that much of the Anderson production material was destroyed or ended up in skips to make way for the next project, this is close to being a miraculous survival. It's been the talk of legend among fans across the decades, but no one really knew what happened and whether anything was rescued. This auction finally solves the mystery."