Charles Rennie Mackintosh cabinet makes £250K
An important work by Charles Rennie Mackintosh (1868-1928) made a sensational £250,000 at  a recent online auction. The bedside cabinet, the pair to another in the collection of the Victoria & Albert Museum, proved the star lot in auction house Lyon & Turnbull's Decorative Arts: Design since 1860 auction. 
Last sold at auction in 1988, the piece was made c.1916 for the industrialist Wenman Joseph Bassett Lowke (1877-1953) whose house 78 Derngate, Northampton was remodelled and furnished in the modern taste. 
In the wake of his success in Glasgow, Mackintosh and his wife Margaret Macdonald had moved to Suffolk in 1914 with Bassett Lowke, founder of the tinplate toy maker of the same name, becoming his main client.
At 78 Derngate, Mackintosh's style evolved to focus on broad planes of polished and waxed timber enhanced by abalone inlay. His production methods changed too. Unable to supervise the manufacture of these pieces, Mackintosh provided drawings that were worked up by German craftspeople working on the Isle of Man. 
The cabinet had a guide of £10,000-15,000 but attracted bidders from around the world, eventually selling to a private British collector. 
The auction also boasted important works by many luminaries of Victorian and early 20th century design. It attracted some 1600 international bidders (1400 of them bidding online across four bidding platforms) who together spent £985,000. The sale total was double pre-sale expectations with some 82% of lots finding new buyers. 
Another masterwork of Scottish Art Nouveau was Francis Macdonald McNair's design for the cover of Das Eigenkleid Der Frau (Women's Own Dress) selling for a remarkable £125,000. With its experimental female forms and decorative linear patterns, this original pencil on brown tracing paper design from 1903 epitomises the Glasgow School avant-garde and forms a bold feminist statement. The book itself, authored by Anna Muthesius, is considered a seminal text in the development of early 20th-century women's fashion. Muthesius and her husband Hermann, the architectural writer, became close friends with 'The Glasgow Four' after several trips to the city and the Willow Tearooms. 
A rare extra-size 'Tudric' pewter and abalone clock design c.1900 by Archibald Knox (1864-1933) sold for £26,000. 
Knox's designs for Liberty & Co are very well documented. However, this 10in (25cm) model – a minimalist form thought to have been inspired by the Celtic standing stones of Knox's native Isle of Man – is usually seen in a much smaller size of just over 6in (16cm) high. 
Knox is known to have produced a small number of extra-sized clocks during his Liberty period and it may be that this rare example was produced as a special commission. 
Lyon & Turnbull has an established record selling the best work of Christopher Dresser (1834-1904). Here a 5in (13.5cm) high spherical form electroplated teapot with an angular ebony handle commanded £12,500. This is one of around 80 designs by Dresser that appear in the Dixon 'Calculation Books' from 1879-83 – it appears alongside the inscription '1 gill teapot 2278/ Designed by Dr Dresser' – but, due to the expense of manufacture and the sometimes daring forms, not all made it into full production. In addition to maker's marks and Dresser's facsimile signature is a lozenge registration mark for 1880. 
Another important work of the Aesthetic movement, an ebonised birch occasional table with incised and gilded decoration designed by E.W. Godwin sold at £17,500. Godwin's design for this piece appears marked 'Coffee Table' in an interior setting in one of his line drawings created for the 1877 brochure Art Furniture issued by the manufacturer William Watt. However, the quality of construction and the incised gilding suggests the superior cabinet-making skills of a firm such as Gillows & Co – another of Godwin's employers.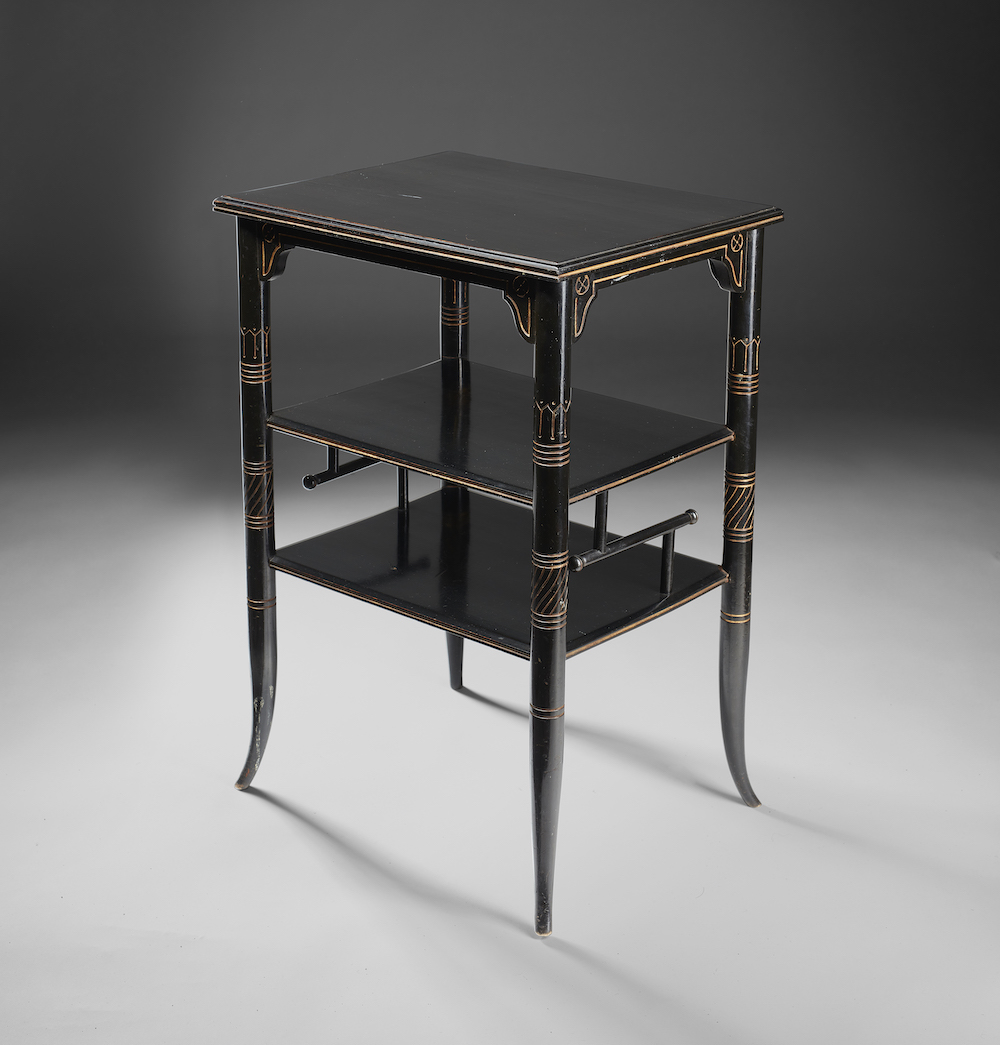 A ruby lustre two-tile panel of galleons and sea creatures by William De Morgan c.1890 made £6000 while another textbook object from the Arts and Crafts movement, an oak centre table designed by Philip Webb (1831-1915) for Morris and Co sold for £13,750. The table with a circular quarter-sawn top and its signature six ring-turned legs with corresponding stretchers is similar to another in the collection at Standen, the Arts and Crafts house Webb designed in 1891 that is now in the care of the National Trust. 
Objects from the Art Deco period included the Ferdinand Preiss (1882-1943) patinated bronze and ivory figure The Bat Girl c.1925 sold for £10,625 and a cocktail set by the German cutler J.A. Henckels fashioned as an aircraft that brought a punchy £15,625. The latter is among Henckels' most popular drinking novelties and the epitome of 1930s glamour. The 15 or so component parts of the nickel-plated steel set – marked DRGM (Deutsche Reichs Gebrauchs Muster) – include a pair of spirit flasks that form the wings, a cocktail shaker (the fuselage) plus four interlocking beakers, a funnel and four spoons and a corkscrew. With the shaker fully assembled it measured 13in (32cm) long, larger than the more common 9in (23cm) version.