Guide to Collecting Election Memorabilia
The US election may have been one of the most contentious in living memory, but does that mean memorabilia and marketing materials from contenders will have collectors battling it out in years to come? Memorabilia expert Paul Fraser reveals some winning election collectables from past and present
The infamous hanging chads
Just 537 votes difference won the election for George W. Bush in 2000. Central to the extraordinary outcome was Florida's use of punch voting machines and the infamous hanging chads – tiny pieces of paper that had not properly detached after being punched. You can snap up a vote punching machine for around £200.
Now here I'm seemingly at odds with the rest of the collecting world. I think these Florida voting machines from the 2000 election are valuable pieces of election history. Yet despite their rarity at auction they can be yours for just £200. Or for those on a budget, an unused Florida voting card from the election will set you back just £5.
And what of the tiny pieces of paper themselves? In the run up to Christmas 2000, eBay was swamped with framed pieces of chad, selling for around £25. What became of them all?
Election Results Newspapers
The day after the 1948 US election, Chicago Daily Tribune readers were greeted with the headline 'Dewey defeats Truman'. Unfortunately for the newspaper editor, and for Dewey, it was the other way round.
Truman took great glee in the mistake, posing for photographs with copies of the newspaper. They achieve up to £3,000 today.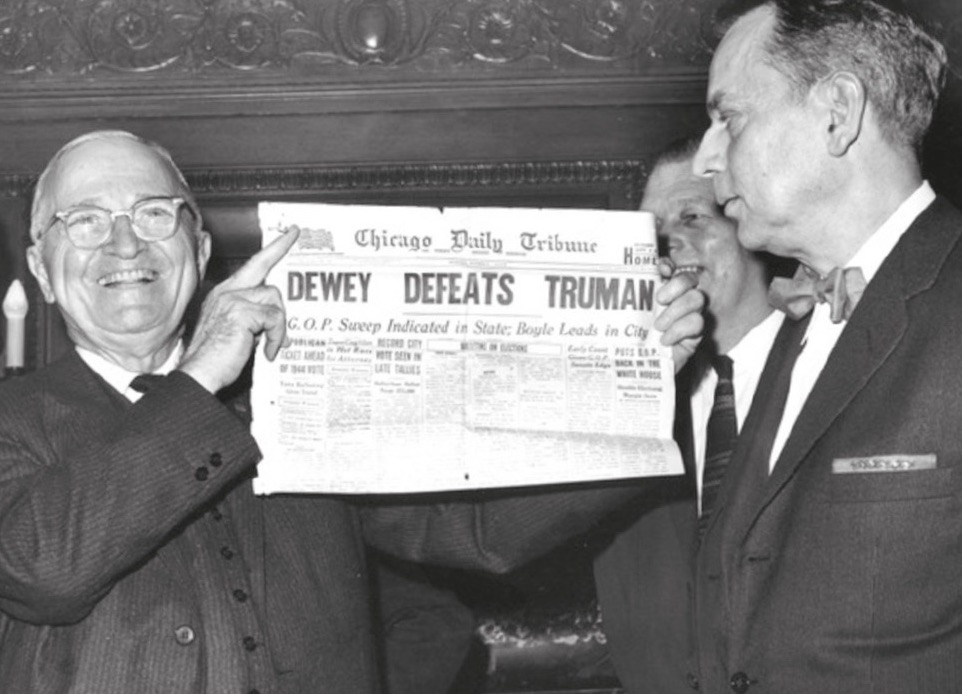 Collecting Election Badges
Badges are a great way to enter the political memorabilia market without spending signifi can't sums. You can find John F Kennedy badges from the 1960 election for around £30, while Democrat badges declaring "Reagan is only an actor", a reference to his earlier career as a Hollywood heartthrob, are available for £5-10. Abraham
Lincoln badges are among the most valuable. Those supporting Lincoln's 1860 run for office achieve £750 at auction, such is their scarcity and the high demand for Lincoln history.
And then there are the true rarities. One of only two known "Winfield Scott for President" campaign badges auctioned for $25,000 in 2015. Scott – a Whig – lost the 1852 election to Democrat Franklin Pierce. Auctioneer Heritage Auctions explained at the time: "For dazzling display appeal, rarity, and importance in the evolution of political campaign items, this Scott piece must rank among the most desirable such items in the hobby."
Collecting Election Posters
Original campaign posters tend to be more valuable than badges – especially those in good condition.
That's testament to their greater "wall power" and also their scarcity. Most haven't survived the intervening years. Yet in many cases you can find vintage examples for less than £100.
Notable exceptions are John F Kennedy. Expect to pay up to £4,000 for one in good condition.
What's more appealing to collectors than a poster? How about a flag? A Lincoln campaign flag for the 1860 US presidential election sold for $20,000 at Heritage Auctions recently.
Looking for Something Different?
A pair of chairs from Barack Obama's 2008 presidential campaign tour bus sold recently. Offered as a single lot, they realised $28,500.
The chairs were accompanied by a letter of provenance from Glenn Childress, who drove the bus. It reads: "Obama's world essentially revolved around these two chairs. [They] were situated in the middle of the bus, side-by-side, along the right-hand wall.
Barack Obama always sat in the chair that was closer to the back…The second chair…was usually filled by a top advisor, campaign surrogate, Senator Joe Biden, or Michelle Obama on the few occasions when she travelled on the bus with us."
Or how about…
Fragments of Abraham Lincoln Wallpaper
In the early hours of November 7, 1860, Abraham Lincoln lies awake. Staring at the wall. Abe has just learnt he's been elected the next president of the United States.
These fragments of wallpaper are from Lincoln's bedroom at his small home in Springfield, Illinois. The room where he laid his head after learning he'd won.
This wallpaper stayed up until the late 1890s, when Lincoln's grandniece Mary Edwards Brown, (1866-1958) redecorated the house. She kept these fragments as a memento. You can own them today for £2,950 at Paul Fraser Collectibles.
British Election Collectables
British election memorabilia lacks the large collecting base of its American cousin.
However, landmark elections can stir interest, if not big prices, such as memorabilia connected with Labour's landslide 1997 victory, with bone china mugs celebrating the win available for £20.
I often receive calls from expectant clients, hoping to sell their Margaret Thatcher thank you letter. Thatcher received thousands of letters of congratulation following her three General Election victories. While she occasionally replied to thank the sender, most letters were in facsimile handwriting with a facsimile signature, which are of little financial value. Genuine examples achieve around £200.
Remember Ed Miliband's infamous 'EdStone'? The 8-foot limestone monolith on which Labour unveiled its six pledges five days before the 2015 election? It was an object of ridicule for people of all political persuasions (Boris Johnson, then mayor of London, called it "some weird commie slab"). Can you own it? Rumour has it Labour destroyed the slab after the election loss.
The 2020 US Election
And what of the 2020 US campaign? Any memorabilia that could be worth investing in for the future? Unlikely. In these days of mass production, few pieces will have the scarcity required to gain in value in the years to come.
But don't let that stop you collecting "Trump 2020 Keep America Great!" posters (£10) or "I'm Ridin' with Biden" badges (£3).
They'll help you look back on an extraordinary era for US politics.
Paul Fraser is the founder of Paul Fraser Collectibles, for more details go to www.paulfrasercollectibles.com