Try on royal tiara with Sotheby's Instagram filter
A tiara passed down through generations of the Royal family of Italy will star as a highlight of Sotheby's flagship "Magnificent Jewels and Noble Jewels" auction in Geneva on May 11. Steeped in the rich history of the House of Savoy, among the world's oldest royal families, the jewel in natural pearls and diamonds is one of the most important tiaras to appear on the market in recent years and will be offered with an estimate of $1-1.5 million (CHF 930,000 -1,395,000).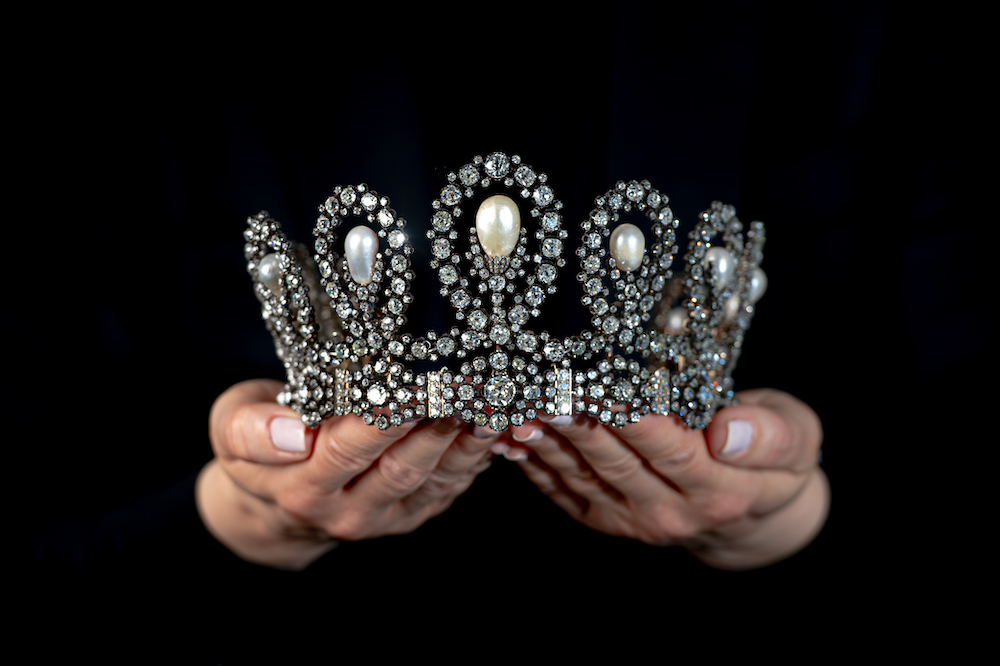 To mark the inaugural appearance of the tiara on the global market, Sotheby's has launched a new Instagram filter which presents this important historic jewel to a 21st century audience. Available on Sotheby's main Instagram handle @Sothebys and dedicated jewellery account @SothebysJewels from today, the filter enables followers to virtually 'try on' the tiara and capture a picture of themselves wearing the headpiece against the 360-degree background of an Italian palace, the Palazzina di Caccia di  Stupinigi in Turin – formerly a royal hunting lodge for the House of Savoy).
Benoit Repellin, Head of Sotheby's Geneva 'Magnificent Jewels' auction, said: "Tiaras have always been the crowning glory of major jewellery collections but in the past decade, their popularity has soared to unprecedented heights. These storied pieces are prized around the world, not only for their craftsmanship and the quality of their materials which makes them true works of art, but also for their historical and emotional resonance: a mix of magnificence and intimacy.
Combining two ancient symbols of wealth and status (natural pearls and headpiece), the tiara we have the privilege to present in Geneva in May encapsulates all the pomp, power and presence associated with royal jewels, and with an option to be worn as a necklace, the versatility of this beautiful jewel will undoubtedly make it a very covetable piece for many collectors".
Dating to the second half of the 19th century, the tiara hails an extraordinary provenance, having belonged to two Royal Collections of Europe. Likely to have been presented to Maria Vittoria dal Pozzo as a wedding gift on the occasion of her marriage to Amadeo I of Savoy, Duke of Aoste, later King of Spain (1870-1873) in 1867, the tiara, which has remained with the family for over 150 years, is believed to have been created by Musy Padre e Figli – Court Jeweller of Turin, and one of the oldest goldsmiths in Europe.
Composed of graduated scroll motifs set with cushion-shaped, circular- and single-cut diamonds, framing eleven slightly baroque drop-shaped natural pearls, the jewel has more recently been seen worn as an elegant necklace.
Produced in partnership with Poplar Studio, the new filter is modelled directly on the historic headpiece, and is among the growing number of ways in which Sotheby's is integrating immersive technology to showcase artworks and luxury objects in new and culturally relevant ways. Users need to scan the QR code using their phone camera to try the effect.