Princess Margaret brooch set to shine
A Cartier aquamarine and diamond brooch dating from 1932 and purchased by Her Majesty Queen Elizabeth the Queen Mother from the celebrated jewellers on January 23, 1947 for £175, will be offered for sale by Dix Noonan Webb in their auction of Jewellery, Watches and Objects of Vertu on November 23.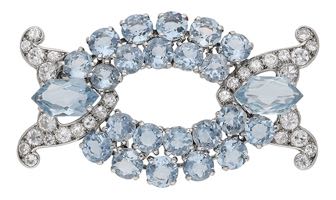 Engraved with the ownership mark 'M' beneath Princess Margaret's coronet, it is estimated to fetch £40,000-50,000.The brooch was formerly from The Collection of Her Royal Highness, The Princess Margaret, Countess of Snowdon and was sold at Christie's in June 2006.Frances Noble, Head of the Jewellery Department and Associate Director at Dix Noonan Webb, explained: "Princess Margaret's love of brooches was evident throughout her life, and this particular brooch seems to have been a favourite, as there are numerous photographs of her wearing it throughout her life. Known for her sense of fashion and style, Princess Margaret always coordinated the brooch to match her outfits, seemingly always in shades of blue. In 1950, at the age of 20, she was photographed wearing this brooch with a stunning strapless ballgown in ice blue brocade, at a dance at the Dorchester Hotel.
"On the Royal Tour of the Caribbean in 1958, we again see her wearing the brooch with a floral summer dress. In 1959, at the opening of an exhibition, the Bulletin newspaper reported Princess Margaret had pinned 'a delicate ornament in aquamarines and diamonds' to the side of her pale blue chiffon hat. She is seen again seen wearing the brooch in a charming photograph after the birth of her first child, David, in 1961, where she and Lord Snowdon are introducing the baby to his grandmother, Queen Elizabeth the Queen Mother."Frances continued: "We are thrilled to be offering this particularly beautiful Cartier brooch in our November 23 auction, following on from the success earlier this year of the sale of Princess Margaret's iconic Art Deco pearl and diamond bracelet, which she wore in her 19th birthday portrait by Cecil Beaton in 1949, and which subsequently sold at DNW for the astonishing price of £398,000. DNW have of course also sold this year the medals belonging to Group Captain Peter Townsend, for £260,000, who was famously romantically involved with Princess Margaret when she was 22 years old. Both these recent high prices confirm the strong interest currently at auction for items with a Royal provenance, in part probably due to the Netflix series The Crown, which has introduced a new younger audience to the stories and personalities of our Royal Family."