Uncorrected Harry Potter proof set to cast a spell
A rare uncorrected proof of the first Harry Potter book, Harry Potter and the Philosopher's Stone by J.K. Rowling, is to be sold at Ewbank's in Surrey on November 18 with a conservative pre-sale guide price of between £8,000 and £10,000.
The book, first published in 1997, is in original white and yellow wrappers, is one of approximately 200 copies produced, and includes error to title page, presenting the author as 'J.A Rowling'.
The team at Ewbank's is predicting huge interest from Potter fans. A similar uncorrected proof of the same book was sold by the auction house earlier this year, and a bidding war saw the final price hit just over £27,000.
"The one on sale in the mid-November auction is in a better condition," said auctioneer, Alastair McCrea. "Plus, the timing of this sale comes just ahead of celebrations for the 20th anniversary of the launch of the first film, so we're expecting bids in from Potter fans all over the world."  
Elsewhere in the sale, Michael Jackson fans will clamour for the chance to snap up a Versus Gianni Versace black cotton jacket with gold metal buttons and sequins, which was made for and worn by Michael Jackson. It bears a made in Italy label and is a size 50. Carrying an estimate of between £1,000 and £2,000, it was worn to the car and left in it by Jackson, and is consigned for sale by the family of a private chauffer who regularly looked after artists and executives of Warner Films, Warner Music and Sony Music.
Other lots of note include an Ivor Novello Award, engraved Tony Carr March of the Mods 1965, which has been valued between £700 and £1,000. The award is a stylised bronze figure modelled as Euterpe, muse of music and lyric poetry, on a stepped circular wooden base.
A framed handwritten score for the song We'll Remember, by Welsh composer and actor Ivor Novello (1893 – 1951) is on sale with a guide price of £150 to £250. It is sold with a copy of the book The Queen's Book of the Red Cross from 1939, which on page 209, shows a printing of the handwritten score.
Among the pieces are rock memorabilia on sale is an original poster promoting the Sex Pistols' debut single, Anarchy In The UK, which has a guide price of between £300 and £500, and a signed Rolling Stones album page.
The Rolling Stones album page is signed by band members Mick Jagger, Brian Jones, Keith Richards, Charlie Watts and Bill Wyman, has an estimate of between £500 and £800. It is sold together with a souvenir programme and other signatures of the support acts the night it was signed, including The Le Roys, Don Spencer, The Mojos, Inez & Charlie Fox and Simon Scott.
The items were signed in person for the vendor on 29th September 1964, who attended the concert with her mother who was working with St John's Ambulance during the event. The signatures were collected backstage, and the lot includes a supplied with a handwritten letter from Mrs Sherred, the vendor.
An original shooting script for 1955 movie, The Ladykillers, dated 8th April 1955, has a pre-sale guide price of between £400 and £600. It comes with the Ealing Studios stamp on front, original cover, and alterations pages to inside dated 29th April and 4th of May 1955, 117 pages with end page.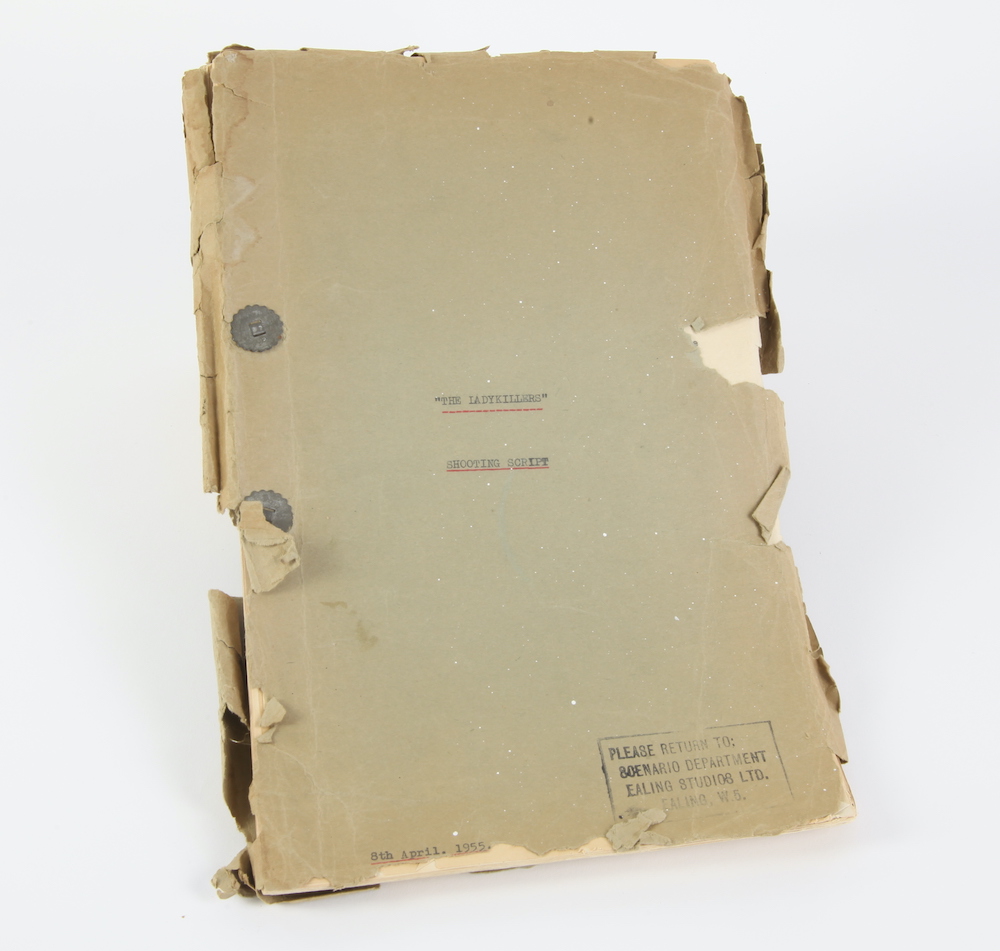 The British black comedy featured actors including Alec Guinness, Cecil Parker, Herbert Lom and Peter Sellers, and its screenwriter, William Rose, was nominated for an Academy Award for Best Original Screenplay and won the BAFTA Award for Best British Screenplay.