Waistel Cooper celebrated in exhibitions
Last year marked the centenary of British potter Waistel Cooper's birth in Ayr on the west coast of Scotland and The Fine Art Society is celebrating his work with a series of concurrent exhibitions in Edinburgh and London with the first one opening on January 13, 2022.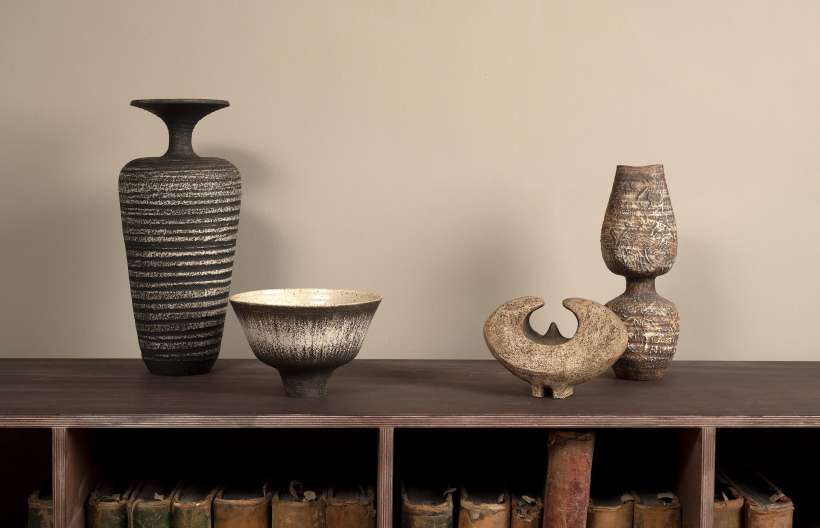 Along with the notable potters Hans Coper and Lucie Rie, Waistel was a major force in the evolution of ceramics, instigating what would become a revolution: elaborately decorated Victorian pots were eschewed in favour of rough, textured, sculptural pieces and pure forms.
Although he studied art in Scotland, he spent most of his career in the South of England, in Somerset and Cornwall, after spending four years in Iceland where he established himself as a potter.
In 2021, The Fine Art Society had the opportunity to acquire a large single owner collection of his ceramics, with over one hundred pieces dating from the 1950s through to his final years. They were amassed by a resourceful young woman based in Edinburgh, who by chance had met the artist in 1956, when he visited her 'chippy', and invited her along to his Edinburgh Festival exhibition.
She became a life-long friend and collector of Waistel's pots, and her daughter, who also knew the potter well, continued to add to the collection. Now, with this unique overview of the artist's output, it is time to reconsider Cooper's place in the pantheon of great British artists.
In his early years, Waistel attended the Ayr Academy, a traditional school with a strong art department, and from there he went on to attend the Hospitalfield College of Art in Arbroath, where he stayed for two years. While at Arbroath, Cooper had the opportunity to study alongside many up-and-coming young artists of the day. He became good friends with Robert Colquhoun and Robert MacBryde, who would achieve a certain notoriety after the war for their anti-establishment behaviour.
The 1930s was also the time when Cooper was becoming aware of the important new developments in contemporary British sculpture, such as the organic work of Henry Moore and Barbara Hepworth.
In 1939, he was awarded a scholarship to Edinburgh College of Art, although his studies were soon interrupted by the war. In 1941 he was invalided out of the Army, and in 1943 he resumed his studies in Edinburgh, where he first experimented with pottery in 1945. He relocated to London where he shared a house with the Icelandic art historian Björn Theordor Björnsson.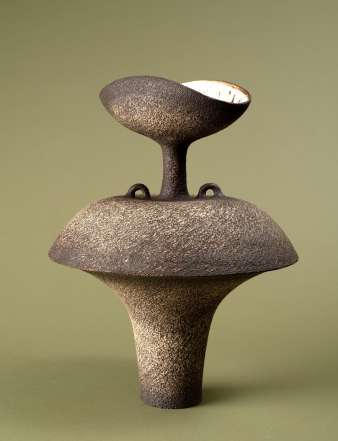 By 1946, he moved to Reykjavik where he was offered a teaching position. Together with the Icelandic artist Gesture Thorgrimsson he built a kiln and prospected for clay, making earthenware pots decorated with coloured slips. Their pottery would become known as 'Laugarnesleir', its aesthetic values of form and colour inspired by Inca, Aztec and Mayan pottery, fused with elements of European abstract art.
He returned to the UK in 1950, and Henry Rothschild, the owner of Primavera – an influential gallery – began to stock Waistel's work. Some of these were featured in the first exhibition of contemporary British studio ceramics en masse: 'Engelse Keramiek', at the Stedelijk Museum, Amsterdam, in 1954.
In 1955, he held a solo exhibition at Primavera and further success came via the Department Stores, Liberty's, Dunn's of Bromley, and Heal's. He reached even greater heights in 1959, with his inclusion in the British Artist Craftsmen exhibition organised by the Council of Industrial Design and the Smithsonian, where his pottery was shown alongside works by Barbara Hepworth, Henry Moore, John Piper, Sir Jacob Epstein, Ben Nicholson, Elizabeth Frink and Graham Sutherland.
At this time, he was living in Porlock, in a lodge isolated and surrounded by woodland, not easily accessed by vehicle. Here Waistel, inspired by flora and fauna, introduced fungi and other forms to his pottery.
The 1960s were his most successful period. His pottery had a clear and distinctive voice; a rough surface texture, earthy organic tones, ribbed, patterned or incised with glazed interiors. His later pieces when he was living and working in Penzance, Cornwall, became even more abstract. His earthy woodland tones were exchanged for rough white and grey textures with azure blue interior glazes, and he produced monumental carved abstract sculptures of organic interlocking forms.
Exhibitions of his work were held in Reykjavik, Bristol, London and Edinburgh throughout the 1960s and '70s. In 1961 an important show was held at the Scottish Crafts Centre in Edinburgh, held during the Edinburgh Festival, which resulted in many purchases by leading Scottish museums, such as Glasgow, Edinburgh, Paisley and Dundee.
1994 saw a resurgence of interest in Waistel's work with his retrospective at Manchester City Art Gallery which motivated Waitsel to start exhibiting again. Since his death in 2003, Waistel Cooper has faded into near obscurity. The four exhibitions this year will endeavour to secure his position as one of the leading artists in the post-war revolution in ceramics.