Musical portraits set to hit right note

A collection of musical portraits will lead the sale of British and Continental Pictures, Prints and Sculpture at London auction house, Olympia Auctions
The collection has been consigned to the sale on April 21 by Tony Bingham who has been one of the leading figures in the world of antique musical instruments for over fifty years. He started in a shop on the King's Road in the 1960s, followed by premises on Soho's Poland Street and finally a gallery on Pond Street, Hampstead which was his base for almost four decades. Tony has dealt in instruments from all over the world, specialising in those from Western Europe and America. He has sold to the world's leading institutions in the United States, Europe and Japan. The present pictures were hung in the various premises he occupied for many years, and Tony and his wife, Irene, have now decided it is time for them to be enjoyed by new collectors and music enthusiasts. 
Among the forty paintings of singers, string, wind, and brass players spanning the 17th –20th centuries, highlights include a rare depiction of a female flautist painted during the first half of the 19th century at a time when playing the flute was considered un-ladylike.
An Apollo lyre player also features among the portraits. The lyre-guitar enjoyed great popularity as a salon instrument. Great guitarists of the day such as Fernando Carulli, Fernando Sor, Matteo Carcassi, Mauro Giuliani (believed to be the sitter in this portrait) and Pierre Jean Porro wrote music and method books based on the instrument.
It is believed that the lyre depicted was made by Robert Wornum, an example of which is in the Victoria and Albert Museum. It is one of a variety of rare instruments depicted in the collection of portraits which also includes Bell Cittern and Theorbo players. 
Also included in the collection are paintings by notable Continental artists such as A portrait of a Man playing a Guitar by Jan Zamoyski, (1901-1986), a Polish painter, stage designer and decorator. His style represented the traditionalist trend in art during the 1930s and socialist realist aesthetics in the post-war period. 
From 1921-1922, he studied under John Kauzik, Wladyslaw Skoczylas and Mieczyslaw Kotarbinski at the Municipal School of Decorative Arts in Warsaw. He continued his study at the School of Fine Arts under the tutelage of Tadeusz Pruszkowski during 1923-1928. In 1925 he, along with fellow creatives, founded the Brotherhood of St. Luke. The most notable exhibitions by the group were at the Warsaw Society for the Encouragement of Fine Arts (1928, 1929, 1932, 1938.), the Institute of Art Propaganda (1938) and the Palace of Art at Krakow (1930, 1938). Zamoyski exhibited extensively abroad, including the Musée Rath in Geneva (1931), the Brooklyn Museum in New York (1933), Preussische Akademie de Künste in Berlin (1935) and the Dutch Association of St. Luke in Amsterdam (1936). In the 1950s and 1960s Zamoyski painted portraits of prominent political figures of the 20th century and in the 1960s, he participated in exhibitions of sacred art. Zamoyski's paintings are found in, among others, the Polish Army Museum and in the Historical Museum of the Capital City of Of Warsaw.
Earlier works in the collection include the painting 'Kammermusik' (pictured above) by an artist in the circle of the Polish painter Daniel Nikolaus Chodowiecki (1726-1801). Born in Danzig, (present day Gdansk, Poland), Daniel Nikolaus Chodowiecki lived in Berlin from 1742. After receiving artistic training, Chodowiecki was admitted to the Berlin Academy in 1764. In 1788, he became Vice-Director under Bernhard Rode (1725-1797) and by 1797, he was appointed Director of the Academy of Arts in Berlin, where he died in 1801. This work carries an estimate of £3,000 – £6,000. 
Paintings A portrait of a Violinist smoking a pipe and A portrait of a Cellist are by established Belgian artist Jean Baptiste Madou (1796 – 1877), estimated at £600 – £800. Born in Brussels, Madou studied at the Academie Royale des Beaux-Arts, tutored by Pierre Joseph Celestin Francois. After a brief period of
service with the topographical military division at Kortrijk, Madou was commissioned to complete a series of lithographic work from a publishing company in Brussels. In the 1820s, he began his career as an artist. During 
1825-1827, Madou made some of his more notable contributions which include: Les Vues pittoresques de la Belgique and Life of Napoleon. His work in La Physionomie de la société en Europe depuis 1400 jusqu'à nos jours and Les Scènes de la vie des peintres in the 1830s, gained the artist a great reputation. Only in the 1840s, did Madou change medium and began working with oils. This change of medium granted the artist even greater success, which resulted in his creation of a series of pictures representing scenes of village and city life. During this time, he also created the Société Royale Belge des Aquarellistes which held annual exhibitions. During his later years, Madou completed a series of decorative paintings for King Leopold I, which were hung in the King's chateau at Ciergnon. Madou died in Saint-Josse-ten-Noode in 1877.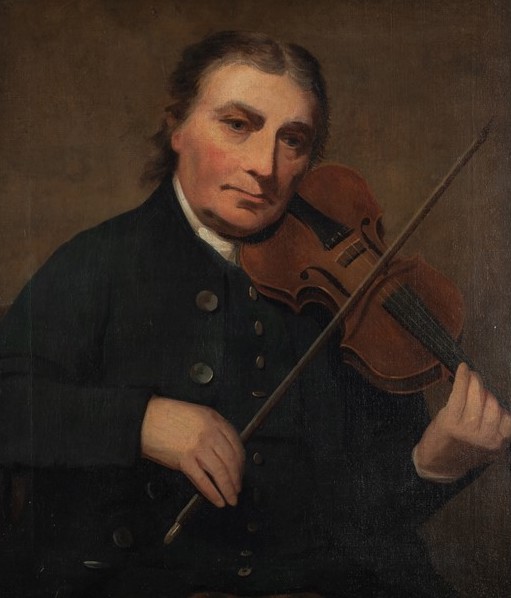 A portrait of the Fiddler Neil Gow is a copy of one of Sir Henry Raeburn's most well-known portraits. Neil Gow was the most famous Scottish fiddler of the eighteenth century. Gow received patronage from the Duke of Atholl and it is believed that this was the result of Gow's performance in a musical competition, judged by John McCraw, a blind musician, who awarded Gow first prize, stating that he: 
"Would ken his bow hand amoung a hunder(d) players" 
This patronage meant Gow performed in balls and dance parties organised by the local nobility, and he became a renowned musician and composer. Raeburn's complete portrait of Neil Gow is currently on display at the Scottish National Portrait Gallery.
This work has an estimate of £400-600.