John Frearson of Derby clock in sale

One of the oldest and rarest clocks ever uncovered by an auction firm has been found in a Derbyshire loft – and such is its importance it's worthy of a museum. It will carry an estimate of £6,000-£7,000 in an upcoming sale.
The centuries-old John Frearson of Derby verge lantern clock was discovered near Wirksworth by Hansons Auctioneeers' clocks valuer Mike Wetton. And when he grasped its historical significance, he could hardly believe his eyes.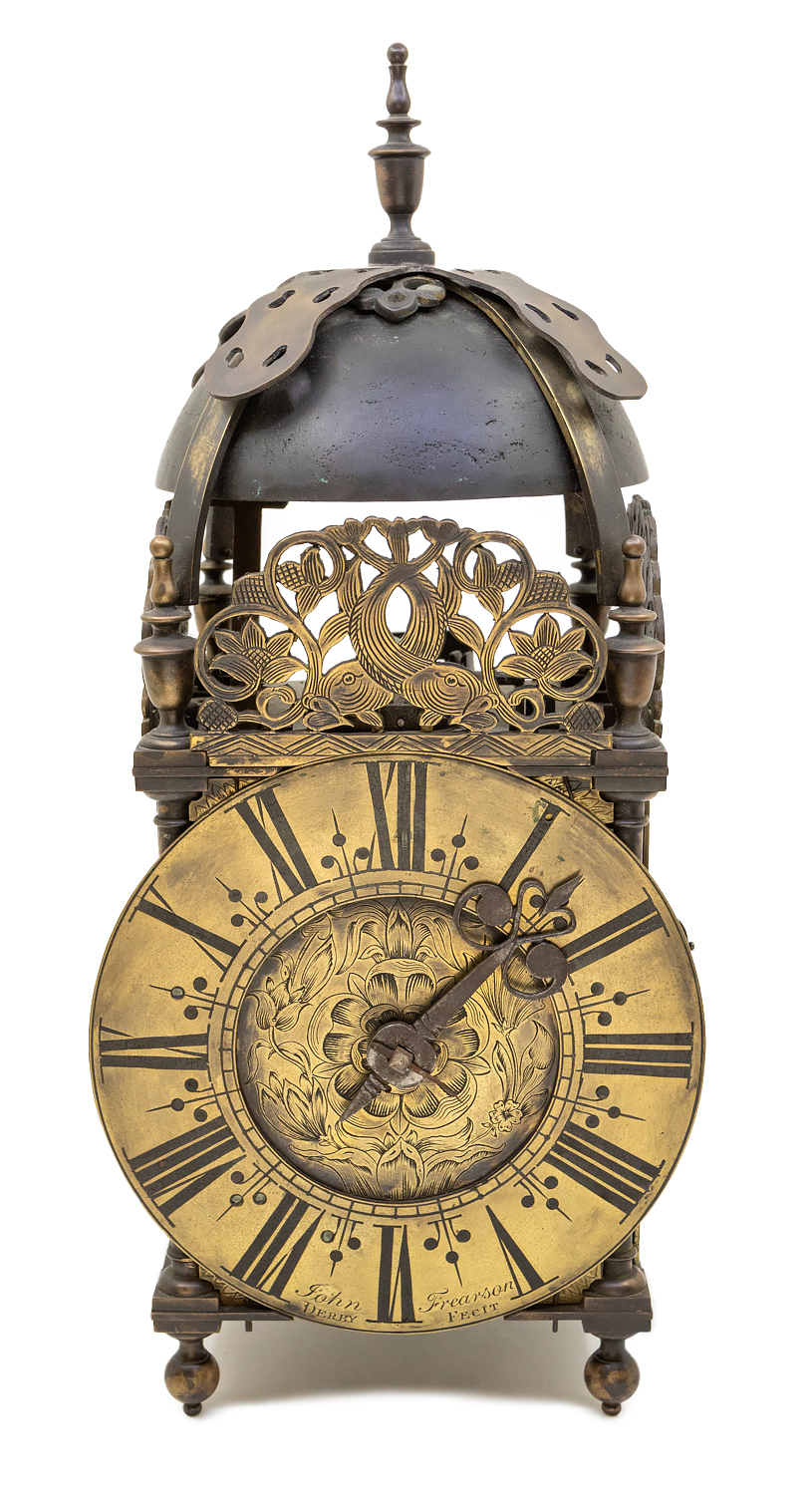 He said: "This is an extremely important find for Derby and Derbyshire. Only one other lantern clock is known to have been made in the county. That was by William Blore of Derby, dated about 1730. No others have come to light until now – and this is an even earlier example. It was made between 1690 and 1700 making it around 330 years old.
"Lantern clocks are thought to be the earliest type of domestic clocks in England. They are weight-driven wall clocks in brass cases with a single bell.
"I made the find when I was called to a cottage near Wirksworth to value some items. The owner, Neil Gilbert, showed me a collection of clocks including this one. As soon as I saw it, I became excited and curious. Could this really be what it looked like? I carried out more research and consulted Derby historian Maxwell Craven's excellent book on Derbyshire clockmakers. It soon became apparent this find was special.
"We know that John Frearson – or Freirson – was born in 1663. He was apprenticed in London in 1680 and, by 1689, he'd entered the ranks of The Worshipful Company of Clockmakers, a corporate body for all clockmakers which received its Royal Charter in 1631. He later moved to Derby where his father, William Frearson, had been recorded as a clockmaker from 1630-1682.
"Frearson's lantern clock with its brass circular dial engraved with flowers is a thing of great beauty. Its facade is enhanced by a brass pediment engraved with dolphins and waterlilies.  In my opinion, this clock is of such relevance it belongs in a museum. But when it goes under the hammer in June it could go anywhere. And what a prize for any collector who wants to own this historical piece.
"The vendor bought it around 17 years ago and kept it in his loft. When he purchased it, the seller told him it had come from a house near Aston-on-Trent in Derbyshire. It was sold to him by the son of the property owner who'd passed away.
"It's rather nice to know this historical timepiece, produced in Derbyshire by an important maker all those years ago, has stayed close to its roots for three centuries. Extraordinary finds like this make my day. I am excited to see what price it achieves at auction.
"The movement has not been tested and it will require some restoration but any passionate clock collector would relish that challenge."
The seller Neil Gilbert, 48, who runs an electrical services business, said: "I started collecting clocks about 20 years ago after my grandfather gave me his retirement clock. I actually acquired some through my job as an electrician. When I was visiting high-end homes, people would sometimes mention they did not want a particular clock.
"I have owned several clocks over the years but always went for quality over quantity. They are well-made investment pieces with a lot of engineering. I realised the Frearson clock was important. He was a very clever man who would have trained around the same time as Thomas Tompion (1639-1713), who is regarded as the father of English clockmaking. I am interested to see how well it does at auction and if it sparks strong interest."
The John Frearson of Derby verge lantern clock will be offered in Hansons Auctioneers' June 30 Fine Art Auction.