Georg Jensen – master silversmith
85 years since his death, work by the Danish silversmith Georg Jensen has never been more popular writes Mark Littler
Georg Jensen – Master Designer
Known mostly for his jewellery, Georg Jensen (1866-1935) was one of the masters of the Danish art nouveau movement, epitomised in his 1905 design classic, the 'blossom' teapot, as well as his enduring grape range.
During his relatively short life (he died at 65) he collaborated with pioneering designers to produce some of the most sought-after silverware of the 20th century.
Georg Jensen the Knife Maker's Son
Georg Jensen was born in Radvad, a small town north of Copenhagen, to a knife factory grinder and a housemaid. His family noticed his gift for creativity in the young Jensen who spent hours modelling sculptures at a nearby clay pool. At the age of 14, when the family moved to Copenhagen, Jensen become an apprentice goldsmith.
His early passion for sculpting never really left and he continued to take classes in drawing and modelling until, in 1887, he was admitted to the Academy of Fine Arts to study sculpture.
In 1891, a piece of Jensen's work was exhibited at an annual exhibition at the city's Palace of Charlottenborg. Despite this auspicious start, Jensen had trouble earning a living as a sculptor. He could not depend on his family for money, and his financial responsibilities were increased by early marriage and fatherhood. Thus began a series of design jobs with poor and uncertain remuneration that took Jensen further and further away from sculpting. During this period he worked for various ceramic firms, which made use of his talent for modelling.
Art Noveau Influence
By the turn of the century, Jensen's views had changed and he saw metalwork as compatible with his artistic vocation, rather than an escape from penury. In 1900, work exhibited at Exposition Universelle in Paris was critically well received. It sparked two years of European travel during which time he became increasingly influenced by art nouveau. He returned to Copenhagen determined to create beautiful, handmade, and useful objects, as opposed to mass produced products that were being made increasingly by machines.
Jensen became good friends with Johan Rohde (1856-1935) a painter, designer, architect, sculptor, and writer. Along with the Danish painter Joakim Skovgaard (1856-1933), Rohde founded an alternative exhibition, named Den Frie Udstilling, which was intended to challenge the traditional values of the Palace of Charlottenborg show.
Mogens Ballin
The Danish Arts & Crafts movement, which was known as Skønvirke (for "beautiful work"), flourished from 1880 to 1920. One influential figure in Skønvirke circles was Mogens Ballin (1871-1941), the painter turned craftsman, who ran an influential metal workshop in Copenhagen.
Ballin was inspired by English Arts and Crafts designers like William Morris and C. R. Ashbee. He made jewellery and hollowware, using inexpensive materials like bronze and pewter. He spotted Jensen's talents and by 1901, Jensen was the foreman of this workshop, which employed about 30 people. Ballin nurtured Jensen's talent, and allowed him to exhibit his designs under his own name, even paying Jensen a commission.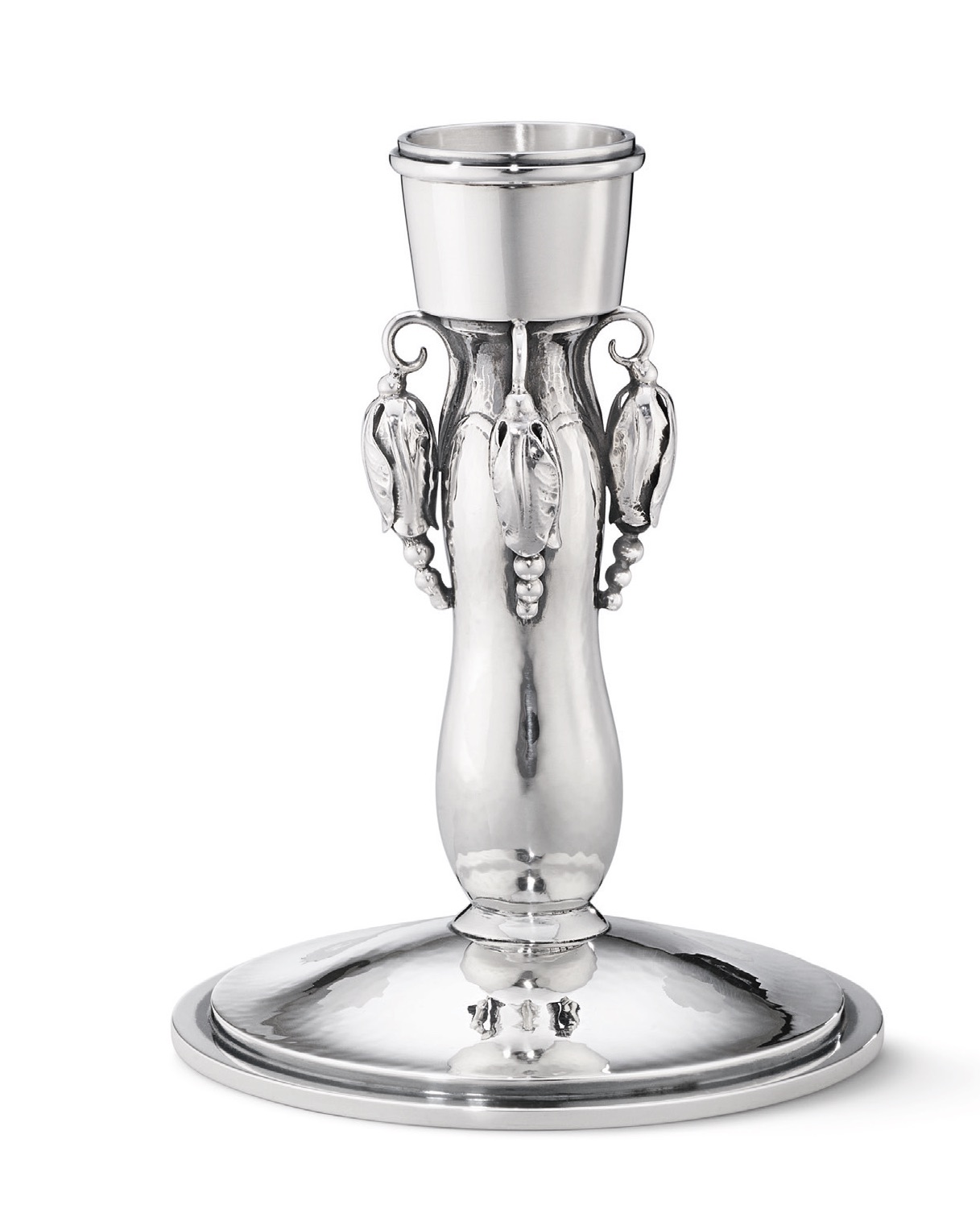 Georg Jensen Shop
In 1904, with financing from a local businessman, Jensen set up his smithy – a cramped, second floor space – in a fashionable part of Copenhagen. Jensen specialised in silver jewellery, which was a field that required less investment than hollowware.
His fortunes received a considerable boost when, in the same year, he exhibited at the Museum of Decorative Art in Copenhagen as an independent silversmith. The exhibition put Jensen on the map and when Johan Rohde visited with clay models of flatware he wanted to make in silver a partnership was struck up.
Although the two men were opposites in character, they shared the same vision in design terms. They wanted to create everyday useful objects of the finest quality, influenced by stunning art nouveau design.
The collaboration was fruitful and became a permanent arrangement. One of Jensen's most famous flatware pieces was designed by Rohde – Acorn. In 1906, Jensen finished his first set of flatware, named Continental, a nod to his time travelling in Europe.
Eye for Talent
Georg Jensen had an eye for talent, just as Ballin had when he took Jensen on. Some of the most influential designers that worked for Jensen include Just Andersen (1884-1943), Gundolph Albertus (1887-1970), Arno Malinowski (1899-1976), Count Sigvard Bernadotte (1907-2002) and Henning Koppel (1918-1981).
Jensen continued to gain collaborators and workers for his shop. The staff grew to nine plus two apprentices. In 1909, his third wife's youngest brother, Harald Nielsen (1892-1977), became an apprentice engraver for Jensen, but quickly displayed a talent for design.
He began collaborating on designs with Jensen and Rohde, often creating designs so in tune with theirs that it was difficult to tell who the designer was. Harald Nielsen became one of the most famous and valued designers for Georg Jensen, even taking over as creative director upon Jensen's death in 1935. The flatware pattern – Pyramid – is a design by Nielsen.
Worldwide Expansion
Between 1907 and 1918, business thrived. In 1918, Jensen had 125 staff and had to move to a larger premises. By 1923, a Georg Jensen store was opened in New York, and sales boomed. Jensen had cemented himself as an international success.
Jensen was ambivalent about this growth, which resulted in a large staff and financial complexity. He felt that his creativity was being dulled, and spent much of his time alone in his small workshop, only travelling to the large workshop when he was truly needed.
After Georg Jensen
After Jensen died aged 69 in 1935, the company continued to flourish with new designers.
Henning Koppel (1918-1981) was one example of the many important designers who worked at Georg Jensen. He joined the company in 1945 after studying painting and sculpture in Paris and in Copenhagen.
He was a generation younger than Jensen and came to silver design with different artistic references. The Swedish silversmith Vivianna Torun Bülow-Hübe (1927-2004) was another designer who made a name for herself at Georg Jensen. She started with the firm in the 1960s and soon became one the country's foremost silversmiths and the designer of Georg Jensen's famous 'Mobius' bracelet.
Mark Littler is an independent antiques consultant providing a brokering service for people wishing to sell their valuables. For more details go to www.marklittler.com