Planet of the Apes costume in sale
A complete ape costume worn in the 1968 iconic movie, Planet of the Apes, is going under the hammer at Ewbank's in Surrey on March 4, alongside more than 400 other lots in its memorabilia auction.
The sale will feature music, movie, sport and other popular culture memorabilia, including movie props, posters and records.
The Planet of the Apes costume, which is approximately six feet tall, carries a pre-sale guide price of between £5,000 and £8,000.
It was worn onscreen by actor James Daly, who played Dr Honorius, an orangutan elder and the Deputy Minister of Justice who was appointed to present the case for the prosecution of Taylor. It was also worn in the sequels, Beneath the Planet of the Apes and Battle for the Planet of the Apes.
The costume includes a custom-made head by Hollywood make-up professional Brian Penikas, which was created from original make-up moulds. Penikas also worked on other films including Batman, Pirates, Jeepers Creeper, Face Off, and Guardians of the Galaxy.
The team at Ewbank's described it is a rare find as it also features the original chest glyphs.
Another high-value lot sure to attract a lot of interest from collectors is an uncorrected proof copy of the first Harry Potter book, Harry Potter and the Philosopher's Stone, by J.K. Rowling, which was published in 1997.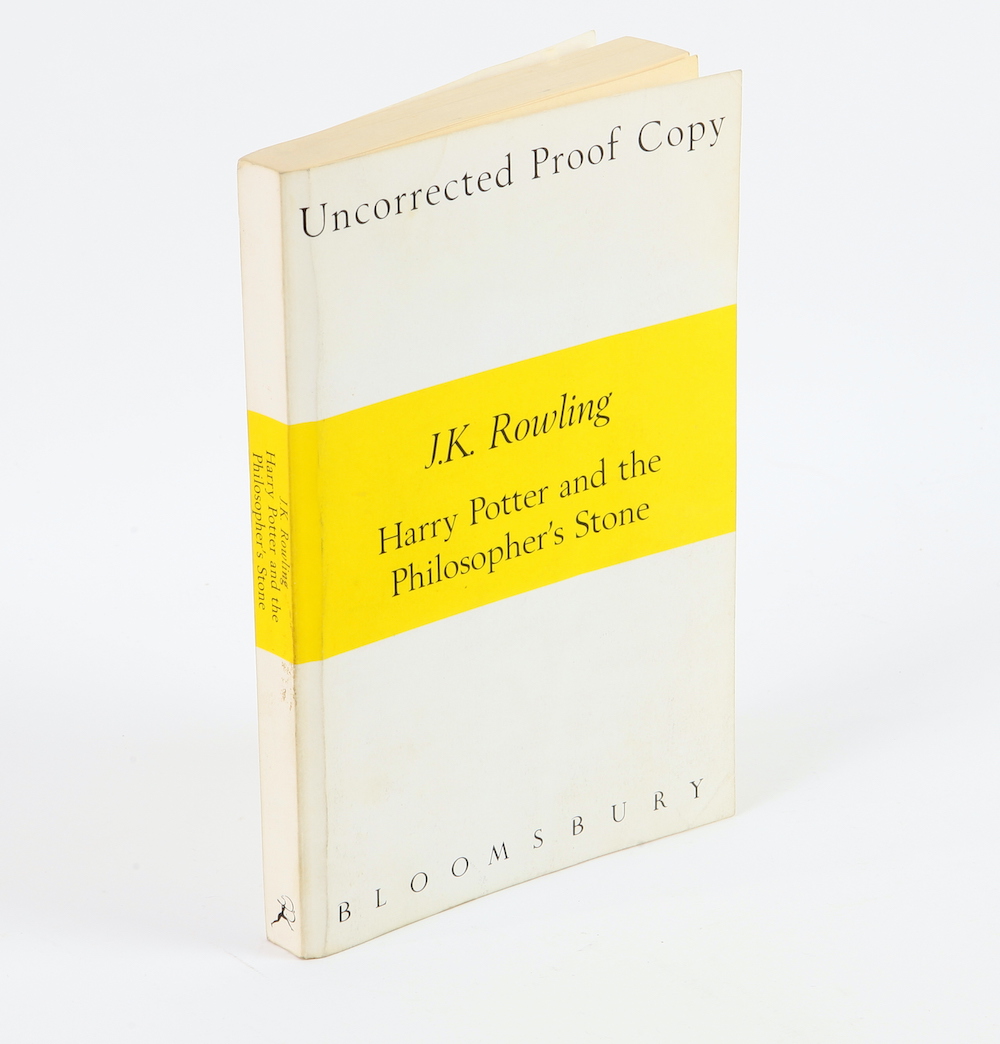 The book is in original white and yellow wrappers and is one of approximately 200 copies produced. It includes error to title page "J.A Rowling", and has been valued between £5,000 and £8,000.
There many autographed items on sale for those looking to expand their collections, including a signed, framed and mounted colour photograph of Diana, Princess of Wales. It carries an estimate of £800 to £1,200, and comes with a certificate of authenticity and signed letter from St. James's Palace, dated September 28, 1992.
An early signed publicity photograph from around 1927 of Charlie Chaplin, has been valued between £300 and £500. The vintage sepia photograph printed on card stock features a young Charlie Chaplin, and is signed in ink 'Compliments of Charlie Chaplin 19 27' to the lower border.
Rugby fans will be keen to bid on a Counties Steelers' rugby shirt signed by renowned New Zealand player Jonah Lomu. Lomu was the youngest-ever player to play for the All Blacks when he made his debut aged 19. He tragically died suddenly aged 40 after a heart attack connected to serious kidney condition he was diagnosed with just a year after his first All Blacks game.
The limited-edition shirt, numbered 186 of 500, is framed and glazed, comes with a certificate of authenticity and carries a guide price of between £100 and £150.
Other lots of note include a limited edition hardback copy of Bowie By O'Neil, in a presentation case and signed by Terry O'Neill, which has been valued between £300 and £500; an original movie poster for 1986 classic Ferris Bueller's Day Off, starring Matthew Broderick, has an estimate of between £400 and £600; and original hand-painted poster artwork on board for Bertram Mills Circus Olympia Season 1955-56, has a guide price of between £200 and £400.